Perfectly Portable Pup Tent for Easy Summer Shade
From picnics in the park to barbecues in the backyard, there's one thing that is a doggy essential: a sun-shielding, dog-sized tent.
We're sorry, there seems to be an issue playing this video. Please refresh the page or try again in a moment. If you continue to have issues, please contact us here.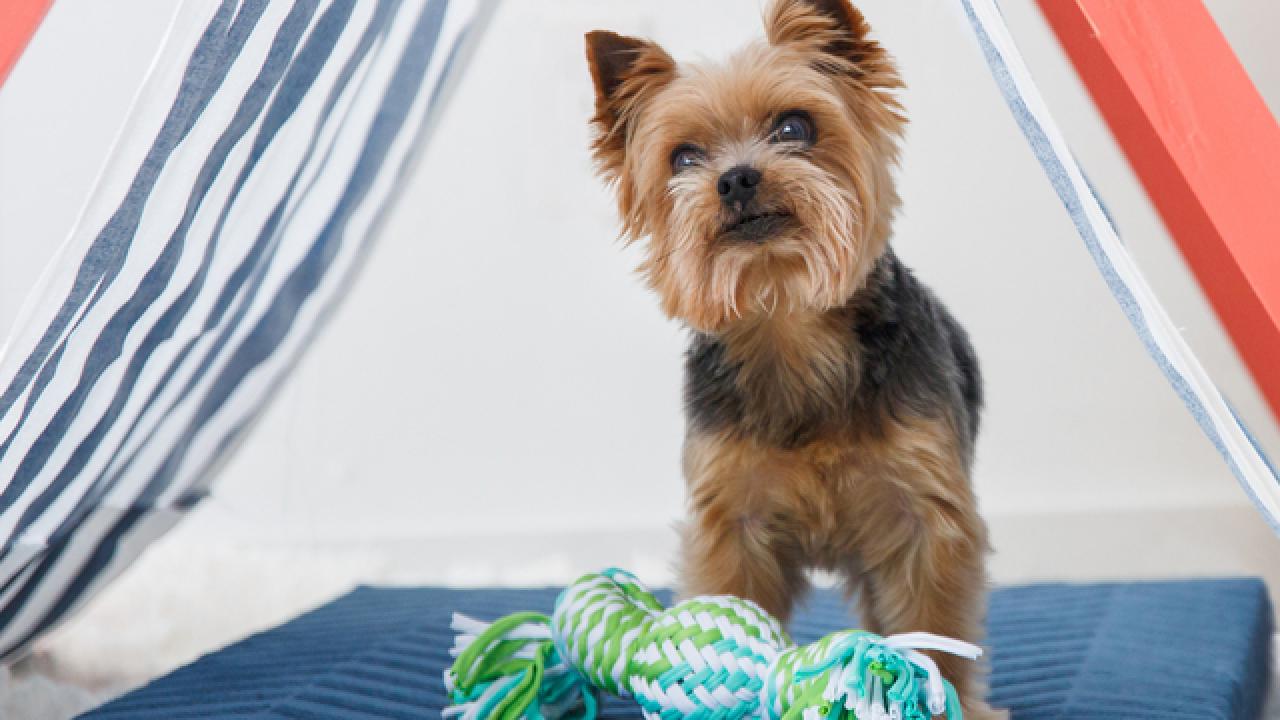 Warm weather means days relaxing by the pool, backyard parties and picnics in the park. And we know you want to take your best pal on every adventure! Be sure to help your buddy beat the heat with this portable dog tent that can be easily packed in the car and is perfect for protecting your pup from the summer sun. Simply add a bowl of water, and Fido will have it made it the shade.
(4) 3' -x- 1-1/2" wood pieces
ruler
marker
drill + spade bit
(3) wooden dowels
spray paint
fabric
rubber mallet
straight pins
iron-on fabric adhesive
Mark all four wood pieces at 1-1/2 inches, and drill through using the spade bit that corresponds to the size of your dowels. Once all necessary holes have been drilled, lay out all wood pieces on a flat surface, and cover in an even layer of spray paint for an added "pup" of color.
Now it's time to construct your tent. Create an "x" shape with two of the wood pieces, lining up the drilled holes. Slide a wooden dowel into the holes and repeat with the remaining two wood pieces on the other end. A rubber mallet may be needed when fitting the dowel into the frame to ensure that the dowel fits tightly all the way through.
Next, drape the selected fabric piece over the tent frame and begin measuring. Once evenly distributed, use a ruler to visually measure at what point the fabric will need to be hemmed. Create a fold in the base of the fabric and secure with straight pins if necessary. Place a thin line of iron-on fabric adhesive in between the layers and secure the fabric to itself, being sure to leave enough space for the dowel rod to slide through. Once one side is complete, drape the fabric once again over the frame and measure the other side of the fabric piece so that the fabric will be taunt once the tent is finished.
Once the fabric is ready, slide the dowels into the fabric loops, and insert the dowels into the frame holes. Again, use a rubber mallet to ensure the frame is sturdy. Now your pup tent is complete! Leave the tent open when in use, and easily fold it together for easy transport. Now simply sit back, and watch your furry friend enjoy his portable relaxation station.