Salmon Eggs Benedict Recipe
This visually stunning eggs Benedict recipe gets its flavor from lemon juice, roasted tomatoes and baked salmon.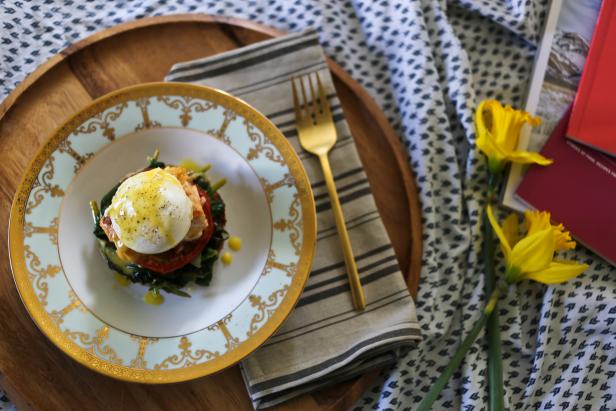 Salmon Eggs Benedict
Add a twist to classic eggs Benedict with baked salmon, sauteed spinach and roasted tomatoes.
2 eggs
2 whole wheat English muffins
6 ounces fresh salmon filet
olive oil
2 garlic cloves, chopped
fresh thyme
2 lemons, sliced for roasting and for juice
1 tomato
1/2 red onion
10-ounce bag of spinach
2 egg yolks
4 tablespoons butter, melted
1. Preheat oven to 350 degrees F. Place salmon in a baking dish, and drizzle with olive oil, fresh thyme, garlic, cracked pepper and lemon slices. Arrange tomato discs around the fish and coat with remaining garlic and a drizzle of olive oil. Bake for 20-25 minutes.
2. In a skillet, sauté red onion and garlic until soft. Add spinach, and squeeze half a lemon. Sauté until wilted, and set aside.
3. Poach eggs in boiling water, and set aside.
4. Bring a small pot of water to a simmer on the stove top. In a bowl, whisk egg yolks and one tablespoon lemon juice. Place bowl with yolks on top of the simmering water to create a double boiler. Slowly drizzle melted butter into the mixture, whisking until sauce thickens.
5. Toast English muffins, and assemble benedict in layers. Place the poached egg on top, and drizzle sauce.