Whether your household furniture or accessories are solid brass or brass-plated, here are cleaning tips for making anything brass bright and shiny again.
Brass is a popular material for household furniture and accessories. Over time, though, brass tarnishes and loses its warm gleam. You can make it shiny and bright again with our guide on how to clean brass.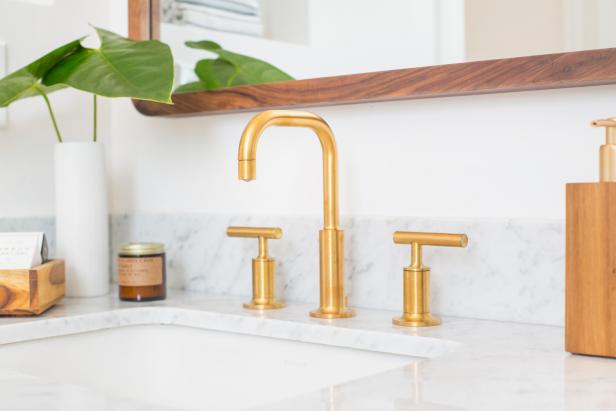 Bathroom Countertop and Brass Fixtures
Brass fixtures dress up the cool marble countertop in this bathroom. The brass's warm hues are continued via wood accessories, like the mirror and soap dispenser.
First, check to see if your item is solid brass or brass-plated. Do this by grabbing a refrigerator magnet and placing it on the piece. Magnets don't stick to solid brass, so if the magnet sticks, your item is brass-plated. This distinction is important because if you scrub a brass-plated item too hard you can remove the plating. How do you clean brass items if they're plated? Wipe with hot, soapy water and dry thoroughly.
How to clean brass depends on how dirty or tarnished it is. For light cleaning, hot, soapy water and a soft cleaning cloth may be all you need. Wipe down the surfaces with the cloth. Use a toothbrush to scrub in crevices. Rinse the item with clean, warm water and dry thoroughly.
If your brass is really dirty or tarnished, you can use commercial cleaners. Use them sparingly, though, because they're abrasive, and frequent use can scratch the surface of the brass.
To clean brass naturally and more gently, use the ingredients found in your kitchen.
The first natural cleaner for brass is ketchup. Yes, ketchup. The mild acid in tomatoes removes tarnish and dirt from brass. Rub ketchup onto your brass item with a soft cloth, rinse with warm water and then dry thoroughly. You can also soak small brass items in a bowl of tomato juice to clean them. Put them in the juice and let them sit for 5 minutes (longer if they're really dirty). Pull them out, rinse with warm water and then dry thoroughly.
Lemon juice also contains a mild acid that will clean brass. There are two lemon-based cleaners you can make that will leave your brass shiny and bright. For light tarnish, cut a lemon in half and sprinkle it with table salt. Rub the salted lemon over the surface of the brass. Once you've covered the surface with the lemon juice and salt mixture, wipe with a soft cloth and then buff until the piece shines. For heavy tarnish, make a paste using two parts cream of tartar to one part lemon juice. Apply the paste to the brass item and let sit for a minimum of 30 minutes. Rinse the item thoroughly with warm water, then buff with a dry cloth.
Say bye-bye to store-bought cleaners and give these homemade solutions a try. Each one has four-ingredients -- or less!
How to Prevent Tarnishing
To prevent your newly clean brass from tarnishing, rub it with a thin coat of mineral or linseed oil. Also, avoid touching brass items as much as possible because the oil on your hands will hasten tarnishing.
Knowing how to clean brass will keep it shiny and beautiful with a minimum of work.
Use these essential cleaning tips to impress your parents.
Say goodbye to streaks and smudges.
Keep your washing machine working for years to come.