Baked French Toast Recipe
Satisfy Mom's sweet tooth with this easy to prepare French toast loaded with fresh fruit and whipped cream.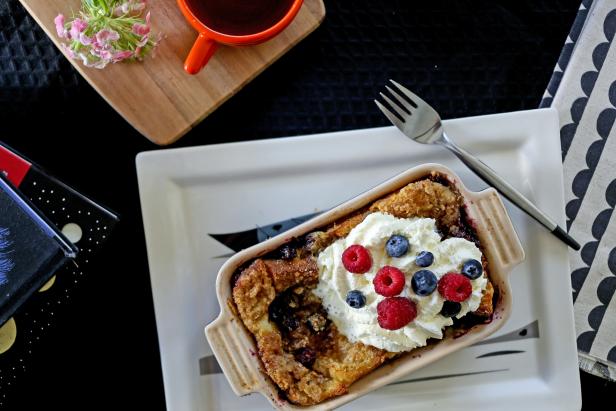 Baked French Toast
This extra sweet take on French toast is packed with fruit and whipped cream, which will satisfy Mom's tastebuds on Mother's Day.
Yield: One individual skillet
4-6 thick slices of French rustic loaf, crusts removed
2 eggs
3/4 cup milk
2 tablespoons cream
1 tablespoon sugar
1 tablespoon brown sugar
2 teaspoons vanilla
fresh seasonal fruit (blueberries, strawberries or peaches)
1 tablespoon butter
2 tablespoons brown sugar
3 tablespoons flour
whipped cream
1. Whisk eggs, milk, cream, sugars and vanilla in a bowl. Set aside.
2. Line a small individual skillet with French loaf strips.
3. Pour liquid mixture over bread strips, cover with plastic wrap and leave in the refrigerator overnight.
4. The next day, preheat oven to 350 degrees F. In a bowl, mix butter, flour and brown sugar with hands to create a crumble.
5. Add fresh fruit between the slices of the French bread mixture and top with the crumble mixture.
6. Bake for 30-45 minutes, and let cool. Top with whipped cream and more fresh fruit.