Tired of tossing spoiled lemon left from recipes? Try freezing this fruit. The process is easy and stocks your kitchen with a supply of fresh lemon.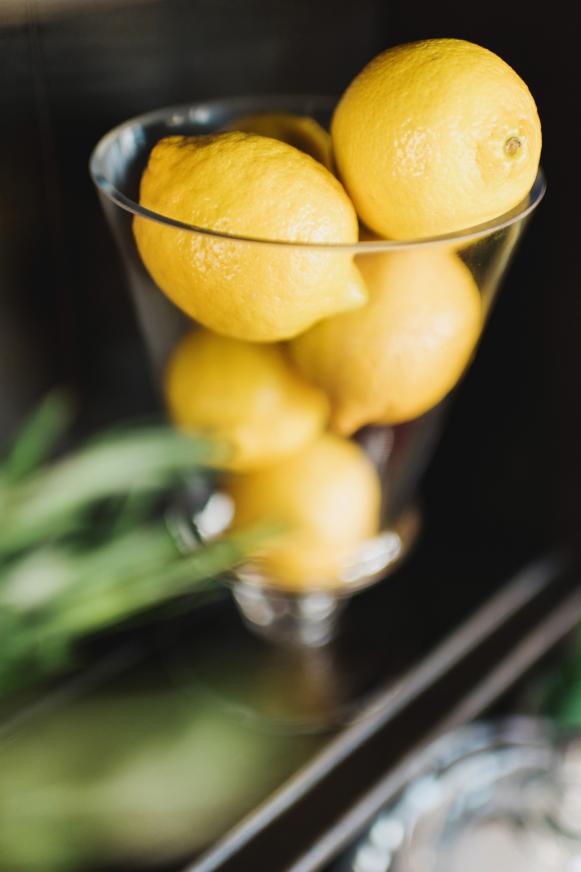 Lemon Vessel
Keep lemons within arm's reach and stylishly contained with a glass vessel, hurricane or apothecary jar. As the lemons are sliced and used up, fresh lemons can easily be grabbed and used throughout the event.
Flynnside Out Productions
Can you freeze lemons? Yes, you can. The method is simple, and the result is fabulous. You'll find many uses for frozen lemons, and you can use nearly every part of the fruit in the process. Freezing lemons means you'll always have fresh lemon on hand to add zip to dishes and tang to drinks.
Lemons tend to be harvested in two seasons in the United States. Coastal California groves yield from late winter through early summer, while growers harvest Arizona trees in fall and early winter. Stock up on lemons when they're in season and on sale and freeze them. Choose lemons that are heavy for their size and lack dark or soft spots. Smaller lemons are juicier, so if you're planning to freeze lemon juice, grab the small fruits—which are usually cheaper, too
You can freeze lemon wedges or slices, lemon zest, lemon juice, or whole lemons. Always wash fruit with soap and water or a fruit and vegetable wash before starting the prep work for freezing. Use a microplane to create lemon zest from the peel. Stash this in a small container, and you'll have plenty for flavoring baked goods, sauces, and hot dishes.
To freeze whole lemons, place them in freezer bags, removing as much air as possible before sealing. Use whole frozen lemons for juicing. To thaw, microwave for a few seconds, or place the lemons in cold water for 10 to 15 minutes. Slice the lemon and juice. To freeze whole lemons that you've grated the zest from, wrap them in plastic wrap or aluminum foil to prevent drying out. Tuck the wrapped lemons into freezer bags, remove as much air as you can, and place them in the freezer.
Freeze lemon wedges or slices to flavor drinks. A wedge of frozen lemon enlivens a glass of iced tea, gives water a cleansing kick, and is the perfect complement to fresh lemonade. Drop a frozen lemon wedge into hot tea to cool it enough for sipping.
To freeze individual lemon wedges or slices, place the items on a parchment-lined baking sheet. Stick the sheet into the freezer until the lemon pieces are frozen. Tuck these pieces into freezer bags or containers. Bags are better because you can remove as much air as possible. Individually quick freezing lemon pieces means you can grab just the number you need, even if it's just one for your morning tea.
If you'll be serving punch or large pitchers of drinks that would benefit from fresh lemon, freeze lemon slices in muffin tins to create a larger cube-type item. Freeze slices plain or add water. Once lemon is frozen, toss the cubes in a zipper-style freezer bag.
Juice lemons and freeze the juice in ice cube trays. Once cubes are frozen, slip them into zipper-style freezer bags. Remove as much as possible before sealing. Fill one cube space with water to determine the volume of one cube—it should fall between one and two tablespoons. Indicate the measurement on your bag of lemon juice cubes so you'll know how many cubes to thaw for recipes.
For extra-special lemon juice ice cubes perfect for brunches or baby showers, tuck a mint leaf, fresh raspberry, strawberry slice, or kiwi chunk into cubes before freezing.
After prepping and freezing lemons, if you have any rind sections left, grind them in your garbage disposal to freshen it. Or use it to give a quick polish to a chrome or stainless steel fixture in your kitchen.
Learn methods for freezing fruit so you can have fresh taste long after the growing season ends.