Salmon Tartare in Baked Wonton Cups
These small hors d'oeuvres are so light and refreshing. The cucumbers and crispy wonton cups pack a big crunch perfect for warm weather, and amazing paired with a cold white wine.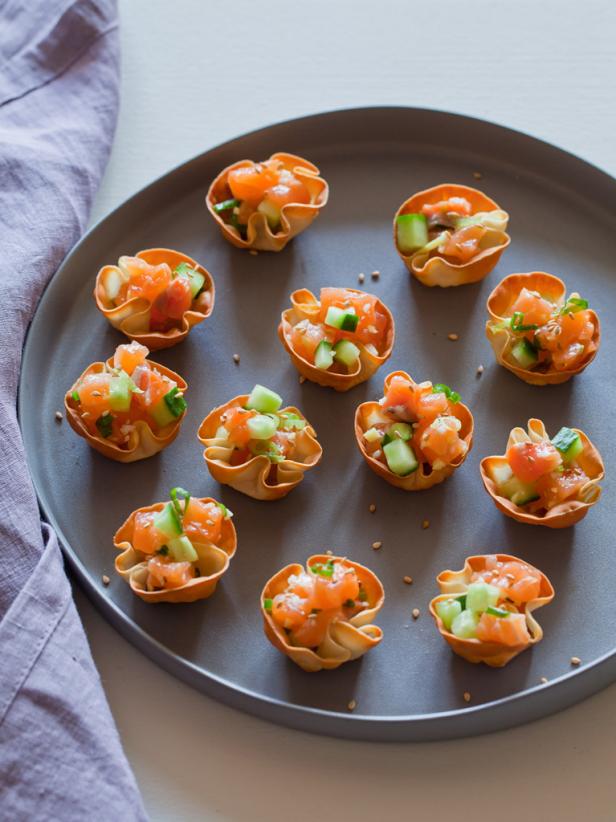 Salmon Tartare in Wonton Cups
Cool and crisp, this lighter holiday appetizer is the perfect foil to the season's richer offerings. Use a mini-muffin pan to create these wonton cups, then fill with chopped salmon and cucumbers in a spicy sauce. Get the recipe.
Salmon tartare
1/2 pound sushi-grade salmon fillet, diced
1/2 cup seedless cucumber, diced
1 teaspoon sesame oil
1/2 teaspoon low-sodium soy sauce
1 teaspoon ginger, peeled and minced
1 green onion, thinly sliced
1 garlic clove, minced
Sea salt and cracked pepper to taste
Garnish
Toasted sesame seeds
1. Preheat oven to 350° F.
2. Using a 2 1/2-inch circle cutter, cut 24 circles from the wonton wrappers.

3. Spray a mini muffin tin with a small amount of cooking spray and press the wonton circles into each hole. Spray tops with more cooking spray and bake for 12 to 15 minutes or until golden brown (keep an eye on the cups as they can burn easily).
4. Remove mini muffin tin from oven and place cups onto a cooling rack and allow to cool completely.
5. For the tartare: Place all ingredients into a mixing bowl and season with salt and pepper. Gently fold ingredients together.
6. Cover and refrigerate for 30 minutes to allow flavors to marry.
7. Allow mixture to sit out at room temperature for 7 to 10 minutes before scooping into baked wonton cups.
8. Top with toasted sesame seeds and serve.