Better Brunch: Kale Salad With Roasted Vegetables and Eggs
Take a healthy approach to brunch with a colorful kale salad featuring tangy vinaigrette, poached eggs and roasted vegetables and pears.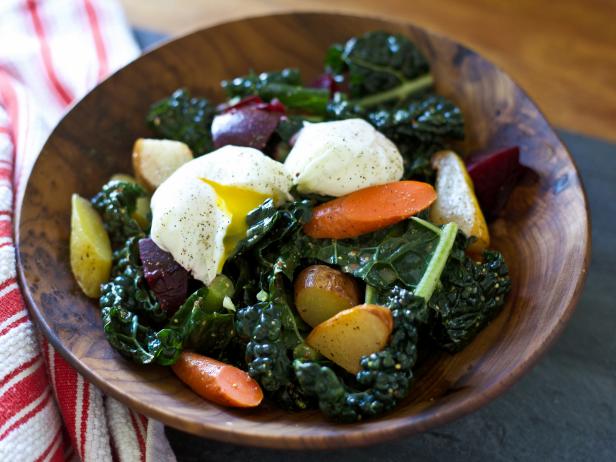 Kale Brunch Salad
Add vegetables and two poached eggs to kale to make a delicious brunch salad for holiday guests.
roasted carrots, potatoes and pears
steamed beets
lacinato kale
poached eggs
4 tablespoons extra virgin olive oil
1/4 cup champagne vinegar
juice of 1/2 lemon
1 tablespoon whole grain Dijon mustard
cracked pepper to taste
1: Preheat oven to 375 degrees F. Toss carrots, potatoes and pears with olive oil and cracked pepper, and roast for 20-25 minutes until soft.
2: While vegetables roast, combine vinaigrette ingredients and toss on chopped kale, massaging the kale with dressing occasionally for 20 minutes to soften and wilt greens (image 1).
3: Add chopped roasted vegetables and steamed beets on kale, and top with two poached eggs (image 2).