Candied Bacon Cinnamon Rolls Recipe
Add a surprise kick to your morning cinnamon rolls with spicy caramelized bacon. Each bite delights with the perfect balance of sweet and salty comfort.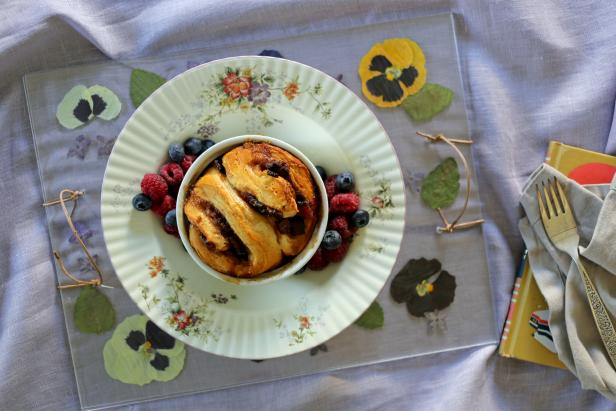 Cayenne Candied Bacon Cinnamon Rolls
Spicy caramelized bacon adds a surprising flavor to this cinnamon roll recipe.
Yield: 8 rolls or 4 individual ramekins
1 can of pre-made biscuit dough
3/4 cup brown sugar
2 tablespoons cayenne pepper
2 tablespoons cinnamon
4 pieces of thick-cut bacon
1. Pre-heat oven to 350 degrees F. Generously coat both sides of bacon with brown sugar and a pinch of cayenne pepper.
2. Line bacon on a baking sheet, and bake for 12-15 minutes or until caramelized and bubbling. Set aside to cool, and chop into small pieces.
3. Roll out biscuit dough into one large rectangular piece, approximately 1/2-inch thick.
4. Coat the top of dough with brown sugar, cinnamon and another pinch of cayenne pepper. Sprinkle the chopped bacon on top.
5. Start rolling dough from one end to the other, starting at the long end of the rectangle. Tuck in bacon and sugar as you go.
6. Once rolled into a tube, cut into 8 slices. Place two slices into each ramekin. Bake for 20-25 minutes or until tops are golden.