The Last Food Storage Bags You'll Ever Need to Buy
Make reducing single-use plastic easy with these reusable toxin-free silicone bags perfect for packing lunches, freezing foods, sous vide cooking and so much more.
Keep in mind: Price and stock could change after publish date, and we may make money from these affiliate links.
Updated on February 10, 2023
If one of your goals this year is to minimize single-use plastic, you need to know about Stasher bags, a reusable alternative to the zip-top sandwich bags you probably reach for almost every day. In the last couple of years, I've tried to rid my home of as much single-use waste as I can, but disposable plastic bags were one of the harder items to find an alternative for that I'd *actually* use.
Kat Nouri launched Stasher in 2016 after realizing premium toxin-free silicone was the answer to the problem of ubiquitous single-use plastic baggies. She'd become very familiar with the material at Modern Twist, the first company she founded that specializes in stylish, silicone home products. Nouri took Stasher on "Shark Tank" in 2018, has turned the company profitable and collected several awards and accolades for the product, disrupting the food storage industry along the way.
Stasher's bags feature a patented Pinch-Loc technology and are constructed of durable toxin-free silicone. Since they're heat-safe up to 400 degrees, dishwasher-safe, microwave-safe and freezer-safe, you can use them for just about anything. They come in several fun colors and nine sizes: pocket, snack, sandwich, quart, half-gallon, stand-up mini, stand-up mid, stand-up mega and the go bag.
You can also check them out for yourself at pretty much any of your favorite retailers — Amazon, Target, Walmart — you name it. Many offer bundle options so you can try a variety of sizes at once, and you can always shop bundles on Stasher.
I have a variety of sizes and used them for packing lunches, popping popcorn, carrying my toiletries, storing frozen fruits and veggies, corralling cords and more. I've also polled fellow HGTV staffers who are avid users of Stashers to get their honest opinions on the product. Here's what we thought after living with the bags for several months.
The Biggest Pros of Stasher Bags
First and foremost, we all love how Stasher's bags help us cut down on single-use plastic. I previously used three to four plastic baggies a day, but now, I rotate through my snack-sized Stashers instead.
Sustainability is at the core of Stasher's mission as a company, and they walk the walk by serving as a Certified B Corporation and a partner of 1% for the Planet, two organizations that require members to meet specific standards for sustainable and transparent business practices and commit to giving one percent of gross sales each year to approved nonprofit partners.
We also love the design. "Aside from the obvious eco-friendly factor, my second favorite part about Stasher bags is the tight, interlocking top and the sturdy silicone material," Molly Miller, an assistant editor at HGTV, says. "I don't have to worry about leaks or tears."
They're also better than the alternative reusable snack bags we've tried. "I used (and still use) (re)zip reusable bags," Miller says. "The material is thinner and not as structured as Stasher bags, but because they're slimmer, (re)zip bags fit well in lunchboxes. (re)zip bags are also a little bit harder to close and wash since they don't open as wide as Stasher bags."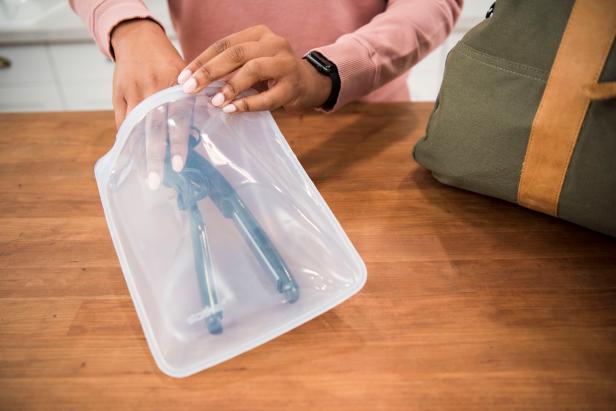 How to Pack a Flat Iron
Since Stasher's reusable silicone storage bags are heat safe up to 400 degrees, you can use them to protect your suitcase from a warm straightener or flat iron instead of bringing an oven mitten. Plus, then you can use the bag to store other things throughout your trip, if needed.
Because of their premium construction, you can literally use them for almost anything. Just look at all the photos people have tagged Stasher in on Instagram.
"Overall, they are easy to clean, sturdy, multipurpose and very cute," Miller says. "Can reusable bags be cute? Whatever — these are!"
The Biggest Cons of Stasher Bags
Our biggest complaint about Stasher bags is the same one we have for all reusable products: You have to clean them.
Michele Purcell, an executive producer at HGTV, says she flips her bags inside out to clean. Although Purcell hasn't had any issues yet, Stasher does not recommend turning them inside out because they say it can compromise the binding and eventually cause the bags to rip. So if staying on top of cleaning is also your biggest obstacle to using the bags and you want to follow this hack, just be aware that you may need to replace your Stasher bag sooner.
For light use, we found that rinsing them with warm soapy water and placing them on the top rack of the dishwasher usually gets the job done, but for tougher messes, baking soda, distilled white vinegar and lemon juice is the way to go. Check out more cleaning tips on Stasher's blog.
One con Purcell noted is the "flatness" of some of the sizes because it limits the type of things you can store in them. It's a good idea to consider what foods or products you plan to store in the bags before choosing which of the five sizes to purchase, or just get a mix of sizes initially and plan to expand your Stasher collection once you realize which ones you need most frequently. The stand-up style bags allow you to store wider items, and Stasher recently launched bowls, too, which have wider openings.
Are They Worth the Money?
Although Stasher's bags are more expensive than other reusable bags and we had to get over our laziness about cleaning them, we think they're worth the value considering the number of ways you can use them, their durability and food-safe silicone construction.
More Earth-Friendly Buys We Love