Playful Design Ideas All Around the House
Check out these fun ideas from HGTV Magazine that are sure to liven up any spot. It's game time!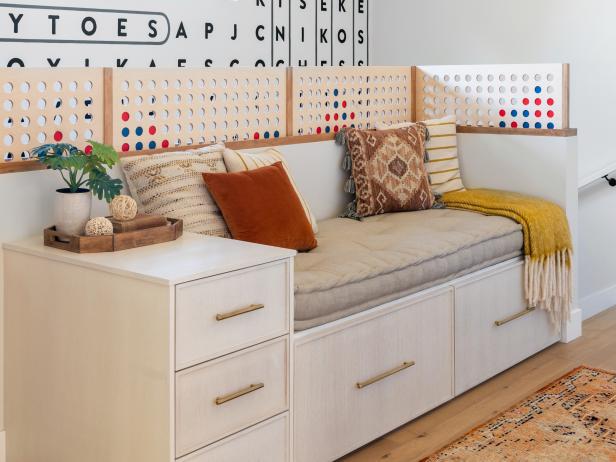 Playful Upstairs Landing Area
This landing features a giant word search wall mural and a Connect 4 railing.
Playful design isn't limited to game rooms or playrooms. Embrace your inner kid and get inspired by these smile-inducing styles, from the living room to the backyard.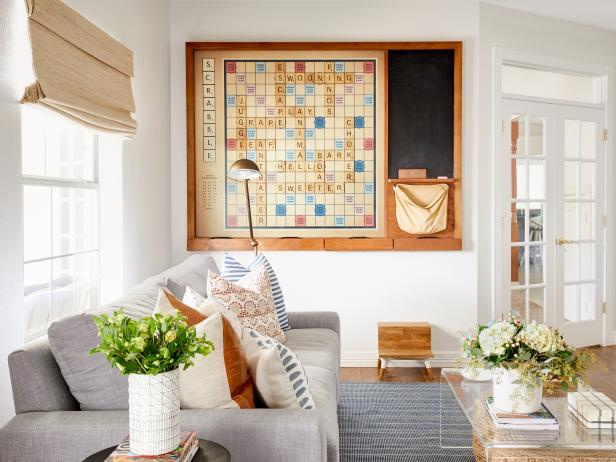 Neutral Living Room With an Extra-Large Scrabble Board as Wall Decor
This neutral living room features a large game of Scrabble on the wall.
Designer Lexi Westergard knew just what to hang in her Scrabble-obsessed client's Mesa, Arizona, home. The giant board, from RH, informed the rest of the decor. "We tied the pillows and rug to the pink and blue blocks so the design felt cohesive," she says. So, does anyone really use the board? "All the time!"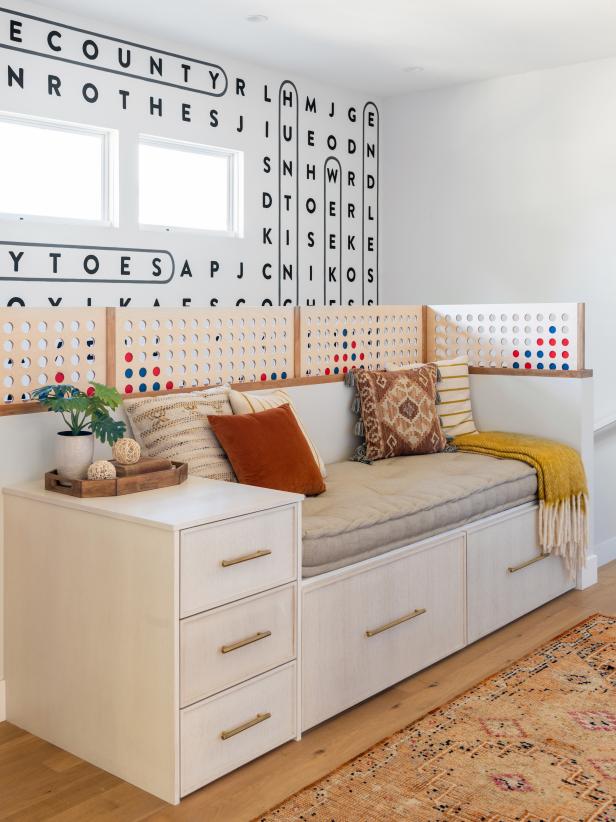 Playful Upstairs Landing Area
This landing features a giant word search wall mural and a Connect 4 railing.
"You have to give yourself permission to play around with design," says Jasmine Roth, host of Help! I Wrecked My House, who had this custom word search painted on a stairwell wall. She leaned into the game theme even harder with a Connect 4–inspired railing. "At first my husband was like, 'You've gone too far,' but now it makes us both smile."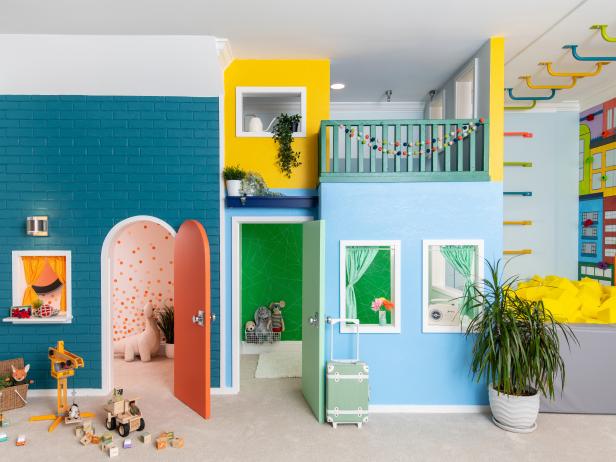 A Colorful Kids' Basement
This multicolor basement was turned into a playground with monkey bars, a foam pit and a climbing wall.
With "buildings" inspired by New York City, this Chevy Chase, Maryland, basement takes the idea of a playhouse to a new level. "My clients wanted to bring big-city magic to their home," says Anne Gillyard of grOH! Playrooms. Monkey bars, a foam pit and a climbing wall complete the cool setup.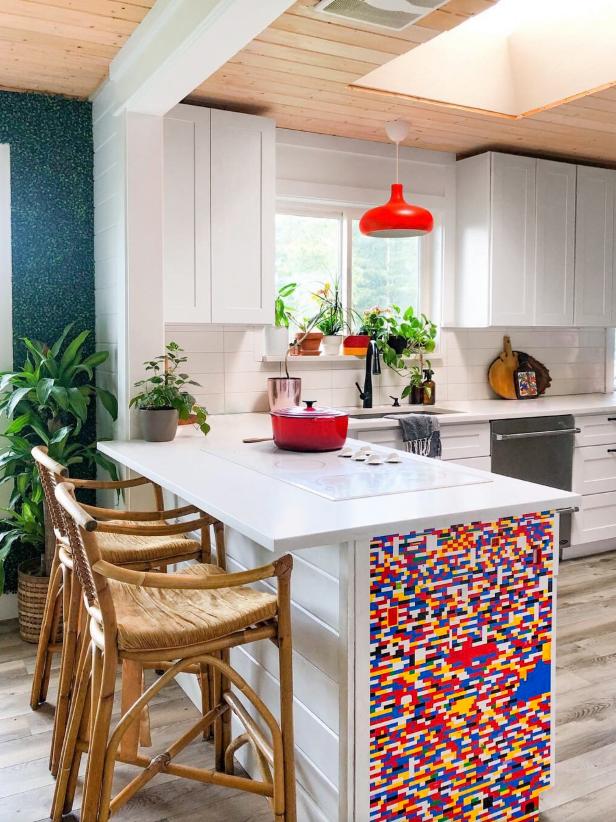 Eclectic Kitchen With a Lego Island
This colorful kitchen features a playful Lego wall on the side of the island.
"I'd been dreaming of putting Lego bricks in a kitchen since I saw the idea 10 years ago," says designer Racheal Jackson. She finally got the chance after moving into her Vancouver, Washington, home. She stayed up all night stacking and then wedging pieces between the peninsula's trim.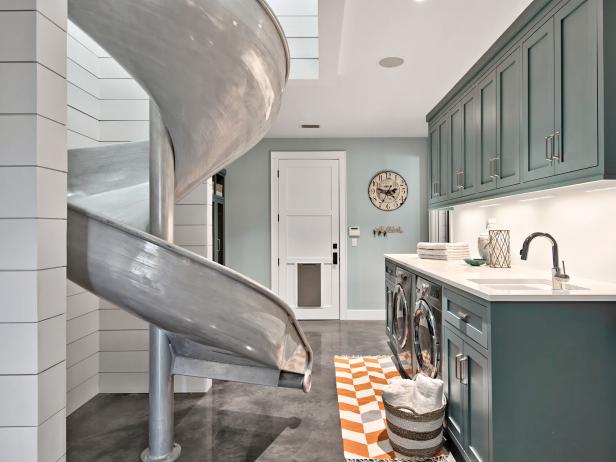 Laundry Room With an Indoor Slide
This gray laundry room features an indoor slide that doubles as a laundry chute.
This was a first for Austin, Texas, architect Tim Brown, whose client suggested a slide as a way to connect a space between kids' rooms and the laundry. It's made by a company that supplies slides to firehouses. Now the whole family loves it, says Tim. "They even use it as a laundry chute!"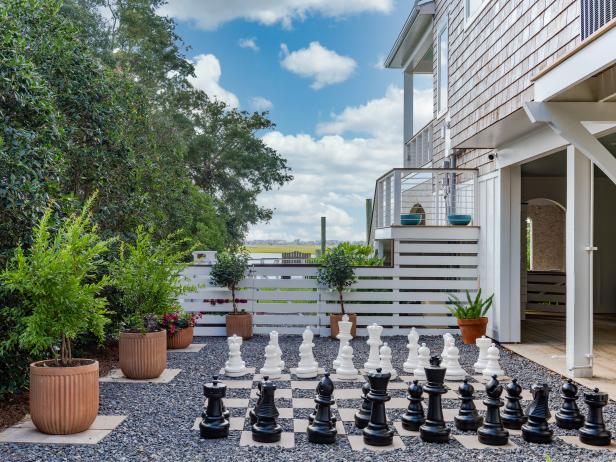 Backyard With Life-Size Chess Game
This backyard features an extra-large chess set.
Homeowner Candace Barber had been looking for a sophisticated but whimsical way to finish her Wilmington, North Carolina, side yard. She worked with the team at Konrady & Son to build a chessboard using simple square pavers laid over gravel. Then, she added oversize game pieces from MegaChess. "I like bringing a little competition to a party," she says.