Corian vs. Silestone: Pros and Cons
Each offering pros and cons, Corian and Silestone are two popular countertop options to choose from for your kitchen or bath. Find out which material is right for your space.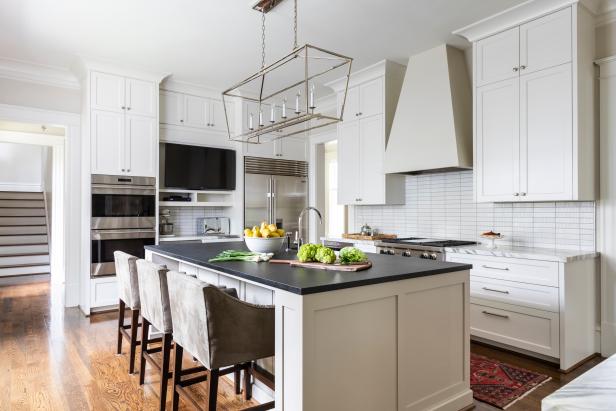 Crisp White Kitchen
Corian countertops, a brand of solid-surface countertops, are stain resistant and don't require sealing. Read on to find out how they compare to Silestone countertops.
Julie Soefer
Corian countertops, a brand of solid-surface countertops, are stain resistant and don't require sealing. Read on to find out how they compare to Silestone countertops.
It's true — matching your countertop's surface material to your daily use needs and style is crucial. With all the options out there today, we've narrowed the list down to two to compare. Corian and Silestone are both commercially manufactured (unlike natural stone) but include different internal and visual components that make them vastly different.
Corian is a solid-surface countertop material introduced by DuPont in 1967 that quickly became a welcome alternative to the ubiquitous plastic laminate countertops of the 1970s. Corian is essentially mineral dust blended with pigments and bound with a variety of resins. It is created with a blend of roughly 33 percent synthetic polymers and 66 percent natural material.
Silestone is an engineered stone that can be used for countertops, wall cladding, sinks and flooring. It is highly regarded for its durability and non-porous elements that stand up to scratches and stains, and it brings a high-end look to rooms that requires little maintenance. Silestone is made from natural quartz crystals that are mixed with polyester resins, color pigments and antibacterial ingredients. The final product looks similar to granite and marble, with a little extra shine.
One of Silestone's most attractive features is its versatility, as it can be used on countertops, sinks, floors and walls in any size or shape. Silestone also looks right at home in both modern, contemporary home designs and vintage, rustic looks.
Extremely durable
Extensive range of color options
Customizable to nearly any design plan or room size
Various finish options such as polished, soft matte and rustic
Many edge design options including beveled, bull nose, ogee and mitered
Scratch and heat resistant; great for busy kitchens
No sealing required and easy to clean
Surface must be wiped often to keep clean
Heavy items dropped onto Silestone can cause cracks or chips
Cloudy patches can develop on the surface over time
Corian offers a more contemporary appearance and gets bonus points for the ability to form into curved or flowing shapes. In fact, Corian offers a host of design alternatives not found in other countertop surface materials. It can be installed without visible seams and easily adapted for sinks and related water features.
Stain resistant
Does not require sealing
Scratches and dents can be sanded out and repolished
Generally lower cost
Heat resistant
Available in solid white and easy to clean
Corian attracts scratches
Can be easily dented
Somewhat more limited color choices
Manufacturing process is not eco-friendly
Style, Cost and Substance
When it comes to cost, Corian and Silestone countertops are nearly identical, depending on style, color and complexity of design. In general, Corian tends to be a little cheaper. From an earth-friendly perspective, Silestone gets a few extra points for using a natural component.
Silestone and Corian each come with their own advantages and disadvantages. Whichever you choose, both materials offer a wide range of shape, size and edging options while remaining streamlined. Now the question is: Which color will you choose for your next kitchen or bathroom remodel?
More Kitchen Countertop Info and Ideas