Kitchen Countertop Materials
Consider this wide range of kitchen counter materials when designing the surface area of your dreams.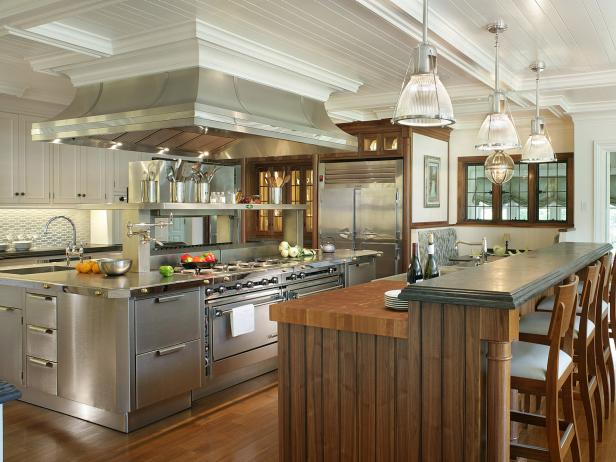 Traditional White Kitchen With Stainless Steel Island
This traditional kitchen features white cabinets, lots of natural wood and industrial-grade stainless steel appliances.
By:
Caroline Shannon-Karasik
A wide variety of kitchen countertop styles, colors, textures and materials means your options are endless when choosing a surface area. A few to consider are granite, laminate, stainless steel, Corian, wood, glass and tiles.
Granite countertops are available in a variety of colors, ranging from creamy whites to deep grays and forest greens. Visit a home or kitchen design store and look through their selection of guides and samples to begin determining the color that will work best in your kitchen area. Ask if they allow customers to purchase or borrow samples so you can see how they'll look in your home.
Laminate countertops are another popular countertop material. Made from layers of plastic that are bonded to particleboard, these countertops are available in a wide variety of colors, textures and patterns, ranging from options that look like marble to ones that mirror the appearance of stainless steel.
Speaking of stainless steel, this countertop option can also come in a number of finishes and textures, including a brushed finish or reverse hammered surface, which looks like it's decorated with raised dots. The surface pairs well with a variety of cabinetry and themes, including white, light and dark wood, and bold colors.
Corian and solid-surface countertops are some of the most durable surfaces available on the market. The countertop is available in a variety of colors, ranging from white to fire engine red to a speckled cobalt blue. The color and pattern are consistent throughout the countertop, so it will not change its appearance with wear and tear that naturally occurs over time.
Glass, wood and ceramic tiles are a few other countertop styles that should be considered when choosing a surface that will work with your kitchen design. Be sure to keep in mind how you will be using the kitchen surface; this will help you choose the best material for your level of activity.
Other Kitchen Countertop Materials
More Kitchen Countertop Ideas