Browse tile backsplash ideas, and get ready to install an attractive and protective backsplash in your home.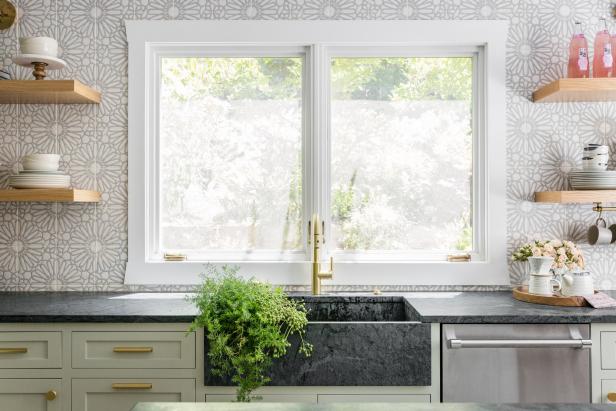 Contemporary Kitchen With Floral Backsplash
The kitchen was updated with backsplash tile features a dainty floral pattern. Countertops are soapstone and paired with gorgeous seafoam green lower cabinets.
Whether you're getting ready to install a brand new tile backsplash or just want to update your current backsplash, you'll first want to explore as many kitchen tile backsplash ideas as possible.
Explore dozens of beautiful kitchen backsplash ideas comprising all different materials, colors and designs.
One of the great benefits of a tile backsplash—setting aside the fact that it'll protect your kitchen's walls from unsightly, unsanitary food spatter—is that it can add great aesthetic appeal, visual diversity and color to your kitchen design. The tile backsplash in a kitchen—especially one that features an otherwise understated, contemporary design—is often a great place to experiment with bold designs, patterns and colors.
2. Cleaning Is One Definite Advantage
Additionally, many homeowners find that a tile backsplash is exceptionally easy to clean—an essential feature if the kitchen in your home is an active one where plenty of meals are prepared. Many tile backsplashes will wipe clean with a rag and some cleaning spray after meal preparation has left them laden with splashes and other cooking spatter.
3. Tile Lends Personality to a Kitchen
On top of its ease of use and utility, tile is also highly customizable, making it an attractive backsplash option for anyone looking to mirror an existing kitchen design or add visual interest via a backsplash. Various tile materials are available in an almost endless array of styles, colors, shapes and sizes.
4. Where to Buy and Find Tile Ideas
Tile materials can be purchased at just about any home improvement store, online or in-store. If you can't find what you're looking for at the local home improvement store, many tile specialty retailers are available online or, most likely, in your area. Whichever style of tile you choose for your backsplash, you shouldn't have any trouble finding it close by or via the Internet.
5. Timeless Tile Designs to Consider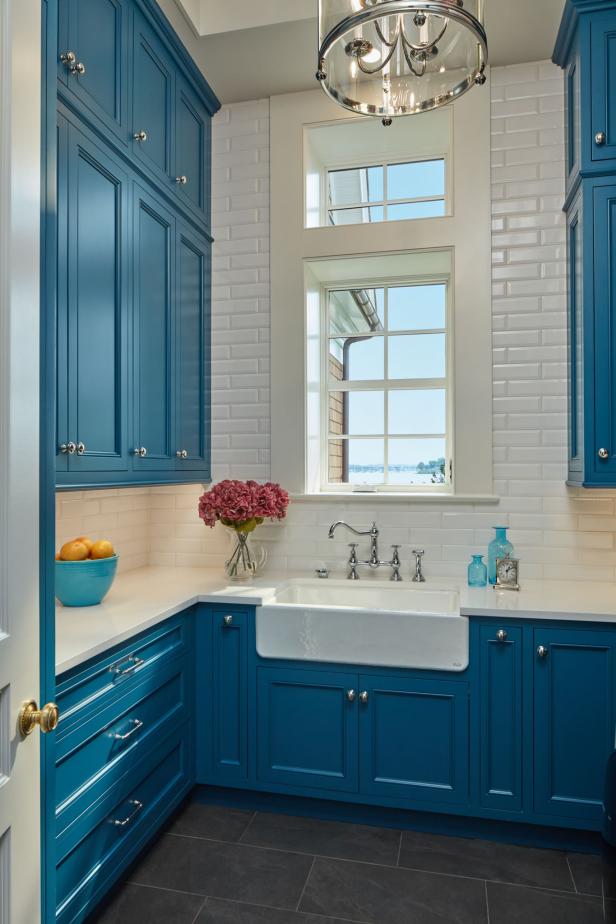 Blue and White Coastal Kitchen With Pink Flowers
Royal blue cabinets join forces with crisp white subway tiles and counters for a shipshape look in this room.
Durston Saylor and David Burroughs, Builder: GYC Homes, Landscape Architect: Campion Hruby Landscape Architects
Some common styles have become popular choices because of their wide availability and visual appeal. Subway tile is a classic choice that can be found in many commercial and residential kitchens. Subway tile's straightforward style is defined by rectangular ceramic tiles (usually in white or light colors) paired with light grout. This understated color scheme is popular, but a wide variety of colors can suit your kitchen design, and the rectangular tile allows for many pattern choices, as well.
Stylish and classic, the gorgeous subway tile backsplash trend is here to stay. But we have just the thing to set your kitchen apart.
Warm & Inviting Neutral & Blue Kitchen Space
This kitchen is a comfortable, yet sophisticated, space. With mostly-neutral countertops, flooring and backsplash, the blue cabinetry in this kitchen space brings a needed pop of color adding just enough wow-factor.
Mosaic tile is another popular tile backsplash choice, especially for anyone interested in adding some visual interest to their kitchen. Often made of glass, ceramic or stone, these small tiles stick to a mesh backing and are arrayed in a diverse pattern. The mesh backing means homeowners don't need to worry as much about cutting the tiles, which makes mosaics a popular choice among DIY-ers looking for a simple, attractive and easy-to-install option.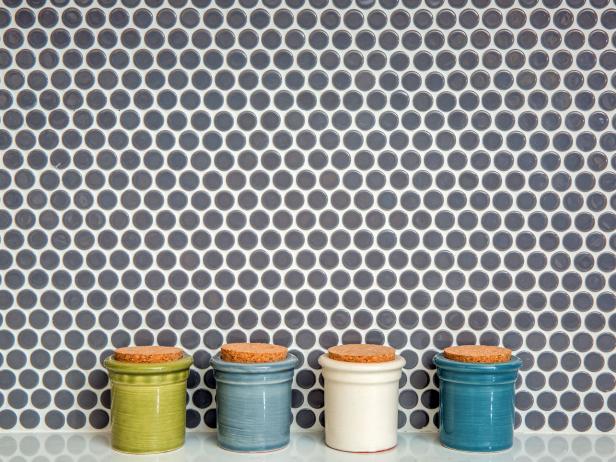 America's Most Desperate Kitchens Episode 104
After the renovation by cousins and licensed contractors, Anthony Carrino and John Colaneri, the Hutchison's kitchen of their Nashville, TN home now features new penny tile back splash, as seen on America's Most Desperate Kitchens. (After)
From:
America's Most Desperate Kitchens
Last, but not least, penny tile is a popular choice for anyone with an eye for vintage styles. Often featuring small, light-colored tiles surrounded by dark grout, this style recalls bygone eras and lends an air of classic elegance to any kitchen design.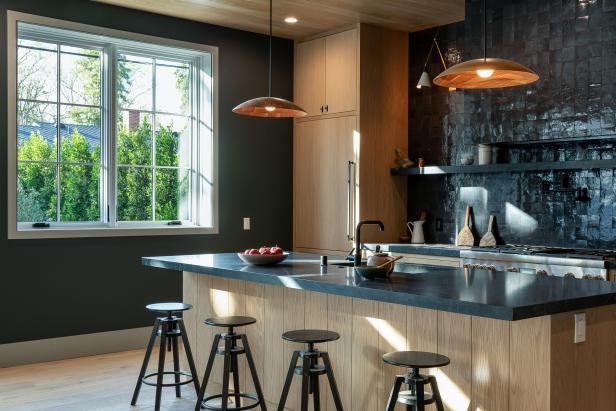 Chef's Kitchen With Black Tile Backsplash
The open floor plan includes the kitchen, purposely designed to take advantage of So Cal's natural light. Rob chose an airy feel to balance the modern design aspects, including a zellige black tile backsplash. Rob likes how it adds texture, depth and visual interest to the otherwise neutral kitchen.
Todd Goodman of LA Light Photo
A newer, but increasingly popular tile option for then texture and dimension it adds to a backsplash, zellige tile is handcrafted clay tile that offers variations in shine and depth due to the glazing process. It can add a more contemporary edge to a classic kitchen and add greater visual interest to any kitchen.