Take a look at the unconventional tile bedroom floor for its beauty and durability.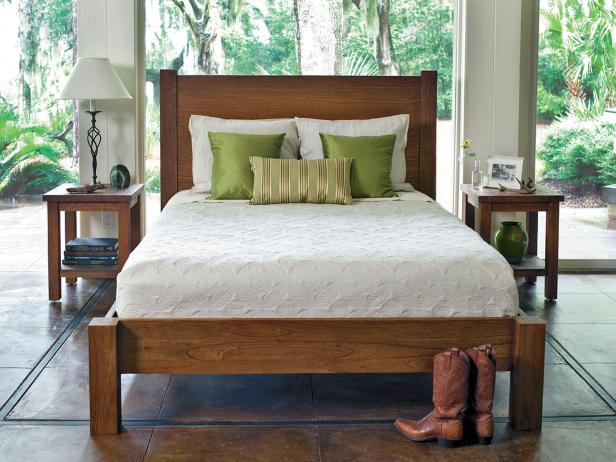 Southwestern Bedroom With Wood Bed
Clay tile flooring traditionally fills Mediterranean-style homes, but it collaborates with various design styles. It isn't as cold on the feet as standard tiles, and it's durable yet softer to the touch. Once sealed, these tiles are bacteria-, allergen- and water-resistant, which gives your sleeping quarters a clean environment.
Tile may seem like an unconventional choice for a bedroom floor. But with its amazing durability and wide range of colors and finishes, it's worth a look.
Whether or not it's right for your bedroom depends on your decorating style and the climate in which you live. If you live in a warm climate and like a Mediterranean or tropical style of decorating, tile may work for you. Tile floors also work well in bedrooms decorated in a modern or contemporary style.
From a structural standpoint, tile works best in bedrooms that are on the first floor of the house or in a room built on a concrete slab. These rooms aren't prone to shifting and settling, which can cause tile to crack.
There are many types of tile, from ceramic to travertine to vinyl, and few flooring types match its versatility. You can lay tile in a solid color for a uniform look, or create a unique look with the pattern of your choice in any color scheme for your tile and grout.
Porcelain tile is durable and can mimic the look of natural stone to create the look of an old-world Mediterranean retreat. Try a slip-resistant slate in a contemporary space or bachelor's bedroom.
Cork tile is growing in popularity. It is durable and easy to install (you can put it down over an existing floor), and it provides extra cushioning for your feet, which is a nice touch when walking across a bedroom. Cork is also an environmentally sustainable product. You'll need to keep a cork floor swept to prevent pitting, and be sure to put a fresh sealer on it every few years.
In a master bedroom suite, you can carry the same tile theme throughout the space, including the bathroom. Or you can vary the look; small mosaic tiles are a classic look for a bathroom, and they work particularly well in small bathrooms.
For a kid's bedroom, it's difficult to beat tile for durability. Also, you can let your child help choose the colors and pattern if he or she wants to have a say in the bedroom's decor.
Tile flooring is relatively easy to install (if you're ambitious and want to save some money, you can do it yourself), and it's easy to clean. It's a good choice in warmer climates, since tiles feel cool underfoot. If your location does have chilly days, tile is a good choice over radiant heating systems. You can also lay down area rugs over to provide warmth in your bedroom.
More Bedroom Flooring Ideas and Options
Get More Ideas for Bedrooms