Basement Flooring Options, Costs and Ideas
Explore today's choices for basement floors including luxury vinyl tile, hardwood, carpet, porcelain tile, specially dyed concrete and yes, even laminates.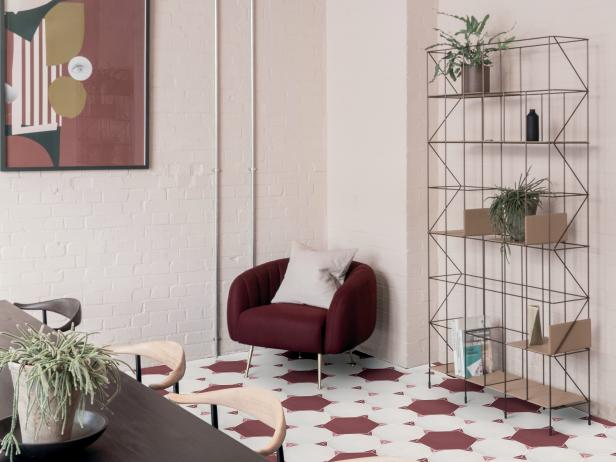 Bee Hive Medley Porcelain Tile Floor by Daltile
Tile is an excellent flooring choice for finished basements. It comes in innumerable colors, shapes and sizes and is beautifully used in all types of spaces, from utility to living. Tile is largely impervious to water, and porcelain is a type of ceramic tile fired at a higher temperature so the clay is denser, making it even more water resistant and durable. This Daltile floor is a combination of a porcelain solid Bee Hive Medley, Marsala ($9.79 per square foot) and decorative Bee Hive Medley, Sun Marsala ($19.17 per square foot).
Daltile, Dal-Tile Corporation, Mohawk Corporation
If you're shopping for basement flooring, we have good news: Technological advances have made most above-grade flooring categories appropriate for basement environments, so you really don't have to worry about finding the right style. The ability to handle moisture is the absolute top consideration in basement flooring, so if you haven't waterproofed your basement yet, consult our waterproofing guide to better understand the specific challenges of basement moisture. Next, consider intended room use. A work or utility space requires a floor that is both hardwearing and easy to clean, whereas comfort is key in living areas and playrooms. Other factors to consider are ease of installation, cost, warranty, sustainability and the floor's contribution to good indoor air quality (in other words, having low- or no-VOC emissions).
Before laying flooring, it's necessary to choose a basement subfloor that will provide you with protection and stability.
Subfloors and Underlayments

Before we get to the finished flooring options available, let's take a moment to consider the starting point: the foundation floor. When researching flooring, you'll hear a lot about subfloors and the term can be confusing. Subfloor really refers to the bottom layer of flooring, so in an unfinished basement, the concrete slab is the subfloor. However, the term can also be used to describe a layer in between the concrete slab and the finished floor covering that provides moisture protection, insulation and a level surface for your flooring choice. This layer is more accurately described as a subfloor sleeper if it's heavily constructed with 2x4s and plywood or oriented strand board (OSB) to create a secondary subfloor, or as underlayment, when it's thin or a single layer. An additional term you'll hear regularly is moisture barrier (or vapor barrier) — a type of underlayment that is commonly a sheet of heavy plastic when used as a standalone product. Floor covering manufacturers use the term subfloor to mean the flooring surface below their product and they are very specific about what type and condition of substrate they want in order to honor warranties. If your concrete slab is not the preferred subfloor for your finish flooring choice, you may be able to construct a subfloor sleeper or install proper underlayment and use the product. The bottom line is this: An intermediate layer (or layers) between concrete and floor covering will be required for some choices, unwise for others and, for the rest, may come down to whether your budget permits this step — as underlayments and subfloor sleepers will add both durability and comfort to many floor covering types.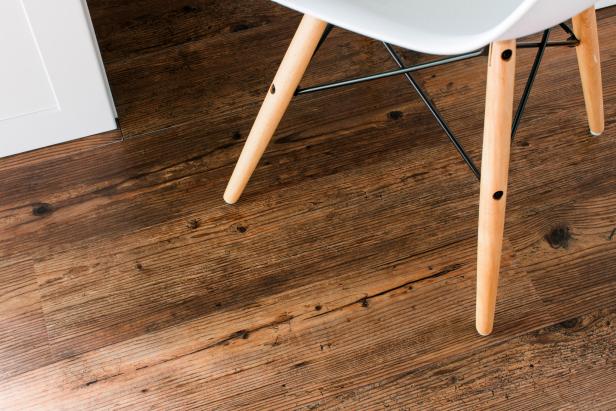 Vinyl Plank Flooring Creates Look of Wood Floors for Less Money
Sick of your old, dated carpet or linoleum? Get the look of wood floors, but with even more durability and less maintenance, with vinyl plank flooring. This is an excellent option for homeowners with basic DIY skills since all you'll need to install the flooring is a utility knife.
Photo By: Flynnside Out Productions

We are all familiar with the vinyl sheet flooring that has been around for decades, but vinyl flooring now comes in planks and tiles in an array of colors and prints, including hardwood and ceramic looks. Often marketed as luxury vinyl tile (LVT) and luxury vinyl plank (LVP), this flooring category is loaded with industry terms and acronyms. The thing to know is that the luxury stuff is layered much like engineered wood and laminate, but vinyl is PVC, so it can handle water and flooding in a way the others cannot. Designer McKinley Miller with FBC Remodel in Chicago explains, "The waterproof aspect is really important because if your basement floods, you could pull the flooring up, let it dry and reinstall." She says to be careful with reinstallation, however, so as not to affect the product warranty. Shaw, Montserrat and Smartcore all have offerings in this category.
Installation: Vinyl tiles and planks click together and float over your concrete slab with a moisture barrier. Underfloor heating is a possibility.
Price: $2-$5 per square foot and HomeAdvisor estimates $3-$10 per square foot to install.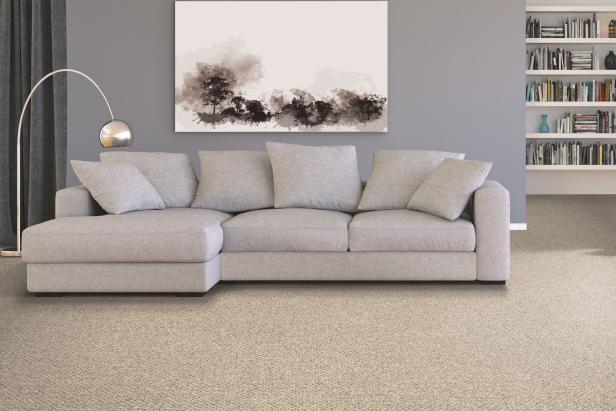 Mohawk Cozy Classic Everstrand Carpet
Everstrand carpets are made using Mohawk's patented Continuum process. The ultimate innovation in PET carpet, providing the best in cleanability and performance by utilizing the highest grade polymer from recycled plastic bottles. Perfect for a finished basement installation. Everstrand is $9 per square yard and the recommended SmartCushion is $4 per square yard.

Carpet comes in a variety of colors and styles and will always be a favorite for living, sleeping and play spaces where we want something soft underfoot. Synthetic carpet fibers include nylon, polyester, olefin, triexta and proprietary mixtures – all of which are suitable downstairs. Carpet should still be considered only for dry basements, and natural fiber and synthetic carpets with jute backings should be avoided no matter what. Mohawk has some interesting basement-appropriate offerings from a sustainability perspective: Its polyester Air.o is VOC-free and 100% recyclable and its EverStrand Berber collection is made with 100% recycled bottles.
Installation: For dry slabs, carpet can be installed on a pad atop a moisture barrier but the preferred installation — for comfort, warmth and moisture protection — is on a carpet pad over a subfloor sleeper.
Price: Synthetic carpet averages $1-$7 per square foot plus $1-$2 per square foot for installation and padding. (Remember that carpet is sold by the yard; we're just giving it in square footage here for comparison purposes. So keep in mind, 9 square feet = 1 square yard.)

If you have your heart set on real wood in your basement, engineered hardwood is the only option to consider. Engineered hardwood is a layer of hardwood or bamboo atop a durable core like plywood, it offers the appearance of solid wood but won't warp and buckle under moist conditions like solid hardwood flooring. Engineered hardwood is also environmentally friendly because it uses scraps and can be refinished a few times if the veneer layer is thick enough. Product downsides include its expense, the same surface vulnerabilities of solid wood (like scratches) and its appropriateness only for basements that won't see moisture, especially seeping up from below. Low-quality versions of the product should be avoided at all costs as they skimp on the durability of the core layer and the thickness of the veneer. Lumber Liquidators, Armstrong and Mohawk have products intended for below-grade installations.
Installation: These floors are floated over concrete, attaching to one another using a tongue-and-groove system, with the edge sometimes glued. Engineered hardwood requires a moisture barrier at a minimum but installation atop a foam underlayment is often preferable for comfort. Follow the manufacturer's installation instructions to the letter to preserve your warranty. Some versions allow for radiant heating.
Price: $4-$16 per square foot and HomeAdvisor estimates $6-$15 foot to install.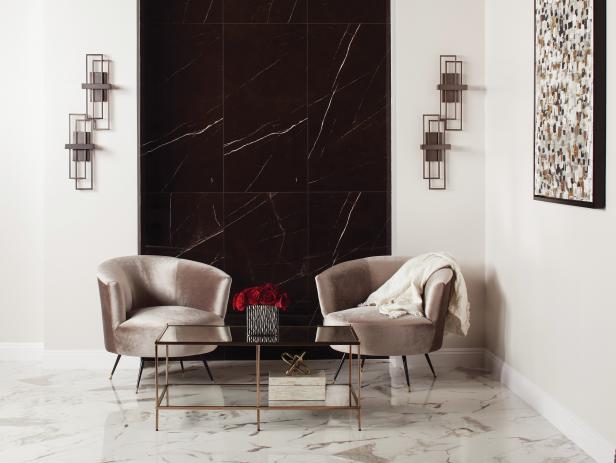 Porcelain Marble Attache by Daltile
Tile is an excellent flooring choice for finished basements. It comes in innumerable colors, shapes and sizes and is beautifully used in all types of spaces, from utility to living. Tile is largely impervious to water, and porcelain is a type of ceramic tile fired at a higher temperature so the clay is denser, making it even more water resistant and durable. This porcelain Daltile floor is Calacatta Marble Attache in a 24x48 polished.
Daltile, Dal-Tile Corporation, Mohawk Corporation

Tile comes in innumerable colors, shapes and sizes and looks beautiful in all types of spaces, from utility to living. Tile is largely impervious to water, and porcelain is a type of ceramic tile fired at a higher temperature so the clay is denser, making it even more water-resistant and durable. It is important to note that it's the glazed surface of the tile that is water-resistant; the unglazed portions of the tile and the grout used for installation are often not, so proper sealing (and then regular resealing) of tile is imperative. Downsides to this flooring option include staining problems (particularly with grout lines), noise amplification and the material itself, which is hard and cold. To minimize those features, radiant heat works well with tile floors. Tile installation is more expensive than some other basement flooring, but the material cost varies substantially so it can fit within most budgets.
Installation: Tile can be installed directly on your slab if it is in good shape, clean and level. Also, Daltile offers click-together porcelain in wood, marble and stone looks called RevoTile that is intended for floating floor DIY installations in half the time.
Price: Ceramic and porcelain tile run $0.50-$35 per square foot and HomeAdvisor estimates $4-$25 to install, with porcelain more expensive. Daltile's RevoTile costs $4.99 a square foot.

Laminate is a layered floor covering consisting of a wood-fiber core with a surface photograph of wood, tile or pattern that is then clear-coated for protection. A tough product that is both easy to clean (with manufacturer-approved methods) and can handle some wear and tear, laminate cannot be refinished. Though conventional laminate should be avoided in the basement, newer laminate products marketed as waterproof have entered the market and may be well worth entertaining. We hedge because the products still have a wood-fiber core. Also, any water-resistance applies to spills on top of the product, not seepage coming in from below, and is contingent on the spill not penetrating the seams. The advantage of laminate is that it can offer the look of wood at a fraction of the cost of engineered wood, but this is not a flooring category in which to bargain shop because a substandard product won't perform well in a basement. Pergo, Mohawk and AquaGuard are popular manufacturers.
Installation: Like luxury vinyl, the flooring clicks together. It can be installed directly atop a moisture barrier on a concrete slab, but certain products require underlayment or a sleeper. Follow manufacturer installation instructions as it can be the difference between a waterproof floor and a floor that actually traps moisture.
Price: $1-$7 per square foot and HomeAdvisor estimates $2-$8 per square foot to install.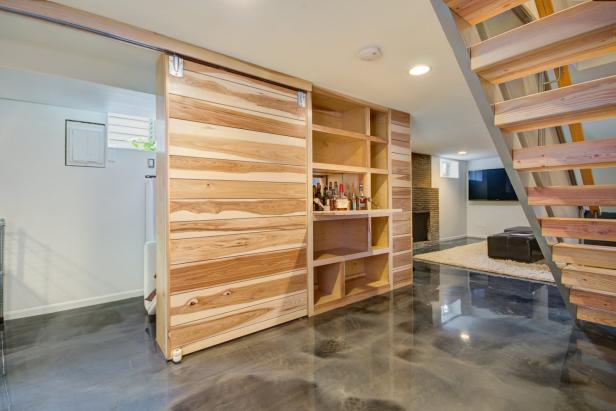 Urban Basement Features Bar Wall & Polished Concrete Floors
A shelving unit doubles as a bar in this urban-inspired basement. Polished concrete floors finish the look.

Concrete slab finishing may be the way to go if you like a modern look for living spaces, you're using your finished basement as a workspace or studio or intermittent flooding might be a possibility. This flooring option is customizable, affordable and offers a durable and easy-to-clean surface. That said, it doesn't offer warmth or insulation to the space so you may want to compensate with soft furnishings. Concrete finishes can be simple or intricate and involve polishing, painting, staining or dyeing. Add a concrete overlay to your foundation floor and radiant heating can be installed beneath, also creating a surface for stamping or scoring. The products used to finish concrete floors generally aren't expensive, so the cost is mostly labor, and a portion of that price will come down to the condition of the subfloor.
Installation: Concrete is polished by grinding the surface down at which point colors can be added before it's polished. Concrete paint is rolled on and in its most durable form is a high-VOC, two-part epoxy product. Water-based concrete paint is available but will need to be reapplied every few years. Concrete staining is similar in process to wood staining — sand, clean, apply stain, remove residue, seal. Solvent-based and water-based concrete dyes in your chosen hue are absorbed quickly by prepared concrete floors to the desired degree, translucent to opaque. Reasons to consider hiring a pro for anything other than painting include the specialized equipment that may be needed, the fact that mistakes are permanent and the impressive talent of some concrete finishers.
Price: $2-$30 per square foot for materials and installation.
We've considered affordability, ease of installation, durability and appearance in our basement flooring choices. If you are realistic about your basement's moisture status and pay careful attention to the floor manufacturers' installation requirements, you will have plenty of options for a gorgeous, long-lasting floor. Don't forget to check your selection's FloorScore: Many floor coverings, underlayments and adhesives are now provided with this measure of the product's contribution to indoor air quality. If you are creating multiple basement spaces — even within a single room — it makes sense to consider them separately. When you're ready to head to the store, note that Mohawk recommends buying 10% more carpet and padding than the amount you calculated for your space. For hard flooring, Consumer Reports advises purchasing 7%-10% extra for installation mistakes plus an additional box for future repairs. It's also wise to make your entire purchase in one trip, ensuring that the batch or dye lot number on each box matches, so your flooring is consistent. Allow hard flooring to sit for a few days in your basement before installation so it can acclimate.
More on Finishing Basements
Finished Basement Inspiration
Fixing cracks in your basement floor doesn't have to be a difficult process. Learn how to make simple repairs with this step-by-step guide.