Yellow & Gray Master Bedroom
Designer Paisley McDonald gave this master bedroom a mature makeover, relying on classic design sense blended with a touch of modern flair.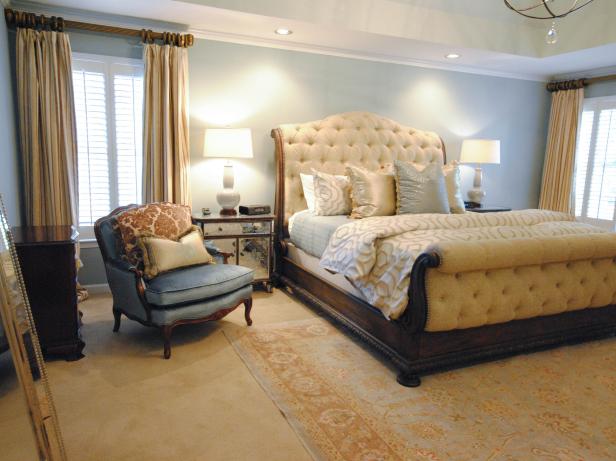 Soft Blue and Yellow Transitional Master Bedroom
This transitional master bedroom presents traditional pieces with contemporary touches. The muted yellows and blues of the room complement the color of the upholstered sleigh bed for a comfortable look.
When putting together a relaxing yet welcoming master bedroom for these Georgia homeowners, designer Paisley McDonald blended contemporary furniture choices with an elegant gray and warm yellow color palette. The end result is a chic upgrade that feels more like a retreat than simply a place to catch some shut eye.
What were the main items on the family's wish list?
This couple desired a master bedroom that reflected them as a couple and provided a space that in which they could relax. A space that was hotel chic and comfortable. They were tired of traditionalism and wanted an age appropriate bedroom that was still trendy enough that if their kids walked in they still thought it was cool.
What was the single largest challenge you wanted to address for this client?
The biggest issue in this room was the furniture. It was dated and out of scale. The headboard was short and didn't give a Grand Master Bedroom vibe. The next biggest issue was the ceiling fan. I hate ceiling fans.. they are functional but esthetically ruin a room. I convinced the husband to let us install a chandelier and purchase an attractive floor fan for air circulation. Changing the fan to a chandelier added drama and ambient lighting, as well as visual interest to the vaulted ceiling.
How does the end result match up with your original vision for the space?
In design, something unexpected always pops up. The bedding that we ordered for this master suite came in and was much grayer than it appeared in the pictures. We sent it back to the supplier and in a matter of days I had to design, shop for fabrics and have the bedding custom made. I always believe everything happens for a reason –– even in interior design –– and this hiccup worked to our advantage as we love the custom bedding more than we could have imagined!
What was your biggest obstacle in this space?
My biggest obstacle in this space was designing the sitting area. The overall master was very boxy and didn't provide many options in where to incorporate a sitting area. I didn't want the sitting area to look as though we just shoved it in the corner, so we added two floor lamps to either side of the sofa and a mirrored cube table to add dimension and light to that corner of the room.
What surprised you the most about the project?
What surprised me the most about this project is how much chandeliers and light fixtures really have a HUGE impact on a room. It seems trivial but the chandelier of this room really makes and completes this room. I will always continue to encourage my clients to have form and function by adding a light fixture and letting go of ceiling fans. Fortunately, there are attractive and small floor fans these days that you can tuck in a corner and provide as much if not more air circulation because they are at ground level instead of circulating hot air way up in the ceiling.
What are the hidden gems in your plan?
I subtly used a damask motif throughout this master suite. The damask is in the rug, bedding, chair fabric, wall art and even nightstands. I also used the play of mirrors to reflect light and give the room some glamour. The grand feeling of this master bedroom comes from the over-scaled, European styled furniture. We also incorporated an Oushak rug which sets the tone of opulence. We used a darker color on the walls and a lighter color going into the ceiling in order to give the room a fresh feeling and compliment the vaulted ceiling.