The best choice for your bedroom floor depends on your decorating style, budget, and even the climate where you live.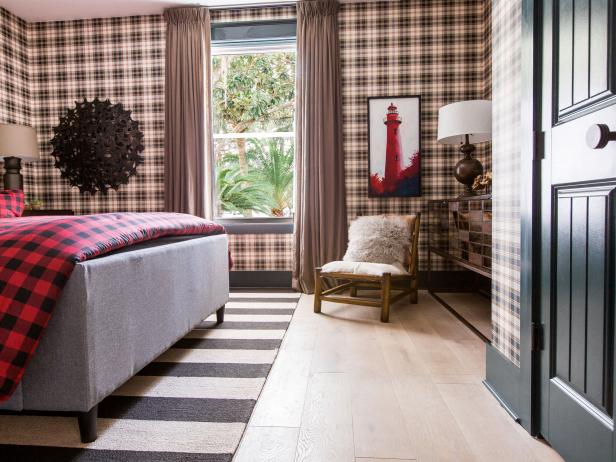 Comfort and Style
The perfect combination of colors and patterns gives this guest bedroom personality, while smart accessories and the right furniture offer stylish comfort.
The type of floor you choose for your main bedroom will go a long way toward setting the look and mood in your personal retreat. Choices include wall-to-wall carpeting, hardwood flooring, tile — even concrete. The best choice for your bedroom will depend on the look you want, the size and layout of your bedroom, the climate where you live and your budget.
The biggest dilemma often faced when choosing a floor for your bedroom occurs when partners disagree on what type of floor should be installed. In these cases, deciding on the best type of floor should be a team effort. If you love the idea of hardwood floors but your partner wants the warmth of carpet, you can both have your way. Compromise by laying down an area rug in either a solid color or a beautiful pattern that complements your walls, bed linens and window treatments. The rug can show just a bit of your wood floor around the perimeter (or more, if you like).
Hardwood floors are a popular choice for main bedrooms. Wood adds both beauty and value to any bedroom, and it can be used throughout the main bedroom suite, including the bathroom. In addition to classic oak, many homeowners are now choosing bamboo and eucalyptus for their durability, sustainability and affordability. If luxury is what you're after, consider a Brazilian koa wood floor. It's extremely durable as well as beautiful, but it's one of the priciest woods available.
Many homeowners choose wall-to-wall carpeting for their main bedrooms. Carpet provides both warmth and noise absorption, and it can make a large room feel cozy. Neutral shades work best for their versatility and value. You can choose from a wide range of colors and select either a loop or cut weave. A reputable carpet dealer can help you determine which type of carpeting is best for your room, depending on your tastes, traffic level and budget.
Tile may not be the type of bedroom flooring you've considered, but don't dismiss it out of hand. Whether or not it's right for your bedroom depends on your decorating style and the climate in which you live. If you live in a warm climate and prefer a Mediterranean style of decorating, tile may work for you. There are many choices, from ceramic to travertine, and you can carry the tile theme throughout your suite, including the bathroom.
Concrete is a very durable floor for any room in the house, including the main bedroom. Concrete accepts color well and can be polished to an attractive sheen. It's a good choice for warm climates and more modern styles of decorating. It is also durable and low-maintenance.
Given the wide array of flooring options available, you're bound to find one that fits your lifestyle and budget. Learn about 10 popular flooring types to find your match.
More Bedroom Flooring Ideas and Options