Designer Heather McManus created a stunning bedroom by mixing romantic floral decor with modern style throughout this space.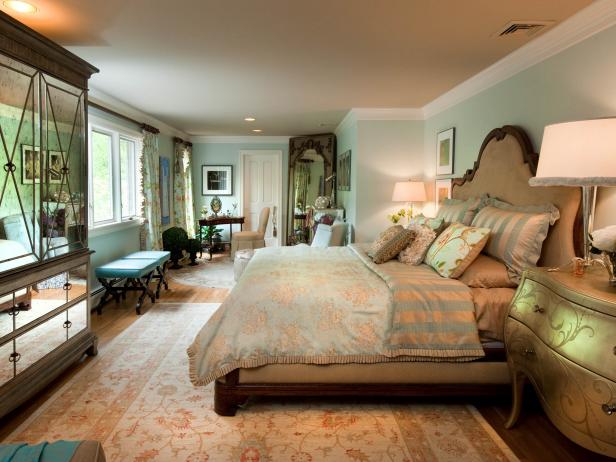 Classic Blue Master Bedroom With Mirrored Armoire
This blue, traditional bedroom has elegant decor that gives the space a sophisticated feel. The mirrored armoire is a beautiful piece that adds charm to the space.
When designer Heather McManus was given the task of designing this model bedroom, she put together a space that would be an ideal fit for a client seeking a feminine, romantic space. With the addition of floral draperies and bedding, a vintage-inspired vanity and pastel color palette, McManus designed a room fit for the ultimate girly girl.
What were the main items on the owner's wish list for redesigning this space?
This was a room I designed for the Designer Showhouse of New Jersey. I wanted to create a feminine bedroom that a girl of any age would love. The imaginary client that I invented for this room was a teenager about to go to college, so it's sophisticated and can also serve as a guest room.
What was the single-largest issue you wanted to address for the owner?
The room was very long and narrow with a smaller area near the closet. That seemed to be the perfect place for a dressing area. Very often the windows and door dictate where the furniture will go. This room was no different, so it was important to have every piece not only be beautiful but very functional.
What was your biggest obstacle in this space?
The long bowling alley-like shape was a challenge, but the right floor plan means a viewer would not notice just how challenging it was.
How does the end result match up with your original vision for the space?
This project came out exactly as I had hoped. We did have one setback: The walls are done by a faux finisher, and when they were taking out the bathtub in the connected bathroom the workers damaged the wall. It set us back time-wise, but was repaired and re-painted in a week.
What surprised you the most about this project?
Issues will always come up, but if you can roll with it and concentrate on the solution, then you won't get stuck on the problem.
What are the hidden gems in your plan?
There is a mix of antique replica and cleaner, more modern furniture that works seamlessly together in this room. The soft colors with the eclectic mix give the room a lot of personality. There are also little squirrels hidden throughout this room. The fabric I chose for the window treatments is called Kirkwood by Thibaut and it has a squirrel within the design, so I put little squirrels all over the room as small details.