Decorative String Lights for Bedrooms
Create warmth and romance in your bedroom with decorative string lights, which come in a wide range of styles and can be tailored to fit your decor.
Keep in mind: Price and stock could change after publish date, and we may make money from these affiliate links.
Decorating with string lights doesn't have to be limited to the holidays or your outdoor entertaining areas. In the bedroom, these lights can be a budget-conscious way to create a magical, romantic or playful effect while providing the ambient light you want.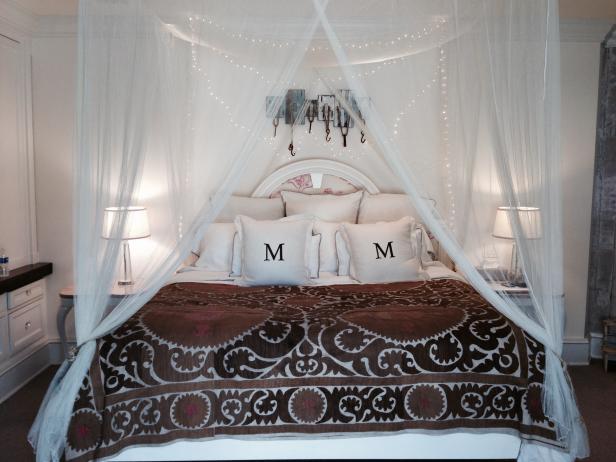 Eclectic Teen Bedroom is Relaxed and Chic
This dreamy teen bedroom features a canopy bed with sheer curtains and twinkle lights, Mediterraean-inspired brown bedding and monogrammed pillows. Matching curvy nightstands are paired with contemporary glass table lamps to anchor the space.
Choose small, clear lights, also called fairy lights, to add a touch of romance to your bedroom. These lights look pretty when paired with sheer fabric. Create the look of a headboard by hanging the lights with sheer drapes on the wall behind the bed, or hang them across the frame of a four-poster bed for a dreamy canopy.
Fairy lights may seem like the go-to style for the bedroom, but don't stop there. If you can dream of a design, there's a good chance there's a string light that has it, from stars to flowers to dragonflies.
Create a whimsical theme in a child's bedroom with string lights like colorful pom-poms, string lights with clips so they can display their photos or one that matches their hobby (like ballet slippers). Let your child choose based on his or her interests.
Shop String Lights for Kids' Rooms
Consider draping or winding lights along a curtain rod installed over blinds, or across a headboard or mirror. You could also hang a row of string lights along a wall or window for a special touch or to visually separate a room.
You can create your own unique fixture by inserting a string of lights into a vintage hanging lantern, empty Mason jar, wine bottle or glass brick. For a mystical touch, particularly in a child's room, twist strings of fairy lights into the shape of tree branches.
While incandescent bulbs provide a warm glow, you may want to consider LED lights, which are more energy-efficient, run cooler and last longer.
MAGICAL LIGHTING IDEAS
Keep these lights sparkling year-round with our creative ideas.
Get Inspired!
Use newer lights that have thicker wiring and safety fuses to prevent wires from overheating.
If using lights you already have, check wires for fraying.
Don't overload electrical outlets or link more strands than recommended by the manufacturer. Connect strings of lights to an extension cord before plugging the cord into the outlet.
Don't drive nails, staples or tacks through wiring insulation.
Occasionally check the wires to be sure they are not warm to the touch.
Do not leave lights on unattended. Unplug or switch off your lights before going to sleep.
Route cords inside your home so they won't trip anyone. Don't place them under rugs, furniture or other appliances. If covered, cords can overheat or become frayed and can cause a fire.
Shop Our Favorite Bedroom Products
More Bedroom Light Fixture Ideas