The 7 Best Murphy Bed Kits of 2023
Make the most of your space without sacrificing a place to sleep.
Keep in mind: Price and stock could change after publish date, and we may make money from these affiliate links.
Looking for ways to make the most of your space? You may want to consider adding a Murphy bed to your home or office. Created in the early 1900s, Murphy beds are specifically designed to save space. They're hinged on one end and fold vertically to tuck up against a wall. While most Murphy beds maintain their full length when folded up, others are segmented to take up less vertical space.
Curious to learn more about Murphy beds? Keep reading to find out who and what spaces they're best for, as well as what to look for when shopping for one. Then, shop our list of the seven best Murphy bed kits.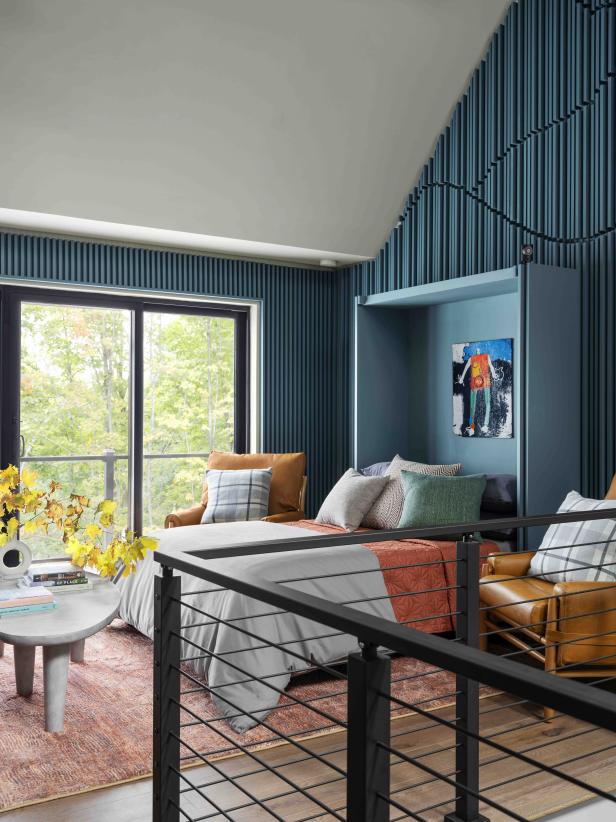 Murphy Bed for Overnight Guests
This flexible loft provides a comfy spot for overnight guests. When closed, the murphy bed cleverly blends in with the reeded walls. Open, the murphy bed adds autumnal pops of color to the space with orange and light-gray bedding, and brown, gray and moss-green pillows.
Robert Peterson, Rustic White
Who is the best candidate for a Murphy bed?
Murphy beds are great options for college students and people living in small apartments or rooms. While Murphy beds can serve as your primary bed if you live in an extra small space, setting up the bed each night and putting it away in the morning can be a little time-consuming, depending on the particular kit and if you need to move other items out of the way to make space to pull the bed out. For this reason, Murphy beds are often used as a secondary sleeping space when a dedicated guest room is not available or you just want the option for additional sleeping space. Murphy beds ensure that overnight guests will have a comfortable place to sleep when they visit throughout the year without taking up valuable space on the day-to-day when you don't have guests.
What spaces work best for Murphy beds?
As mentioned, Murphy beds are particularly convenient sleep options for small spaces. They can work well in studio apartments, dorm rooms, offices and dens. They can also be great additions to living spaces, as they won't take up much room when not in use and offer an additional place for guests to sleep when necessary. They're great to use in multipurpose rooms like an office that can convert into a guest room when needed.
What should you look for when purchasing a Murphy bed?
When purchasing a Murphy bed, you'll want to think about how easy it is to assemble. For the initial setup, you'll need to consider the wall you plan to place the bed in front of, as some Murphy beds need to be anchored to multiple studs in the wall to be secure. In addition to the initial assembly, think about your living situation. If you live alone, you'll want a Murphy bed that can easily be pushed up and pulled down by one person. It also helps to look for Murphy beds made of durable materials, as all the up and down movement can potentially lead to wear and tear. Lastly, consider your overall goal. If you're only concerned about sleep, a standard Murphy bed will work. If you're looking to make the most of your small space, however, a Murphy bed with built-in cabinets, nightstands and/or shelves can make a big difference for the piece of furniture to be functional when the bed is not in use.
INSPIRATION
We've compiled 30 designs that show just how stylish these practical, space-savers can be.
The Canora Grey Audet Solid Wood Storage Bed is sold in three colors and three sizes. Designed with a folding memory foam mattress, this Murphy bed takes up less space overall, making it look more like a small cabinet or sideboard. It's made of solid rubberwood, which makes it more durable, and features built-in USB outlets and plugs, which make it even more convenient. Additionally, it has a drawer for storage on the bottom, where you can hide away the bed linens for easy access.
Although the Novogratz Her Majesty Murphy Bed is admittedly still pricey, it's the most affordable option on our list, not to mention one of the most budget-conscious designs on the market. Sold in two colors and two sizes, the Murphy bed maintains its full length. What's most unique about this particular bed are the built-in shelves, which are on the interior of the bed. They allow you to store pictures, candles, your phone — whatever! Just keep in mind that the mattress is sold separately.
It's expensive, but shoppers say it's absolutely worth it. Rather than simply folding upward against the wall, this Murphy bed rotates, so when not in use, it's a gorgeous statement bookshelf, not just a plain wood door like most. It's sold in 10 colors and comes with a mattress.
While many Murphy beds have to be anchored to the wall, the Foundry Select Ambrosia Queen Solid Wood Mobile Murphy Bed, which is sold in three colors and comes with a fold-up cooling memory foam mattress, is built on wheels, so you can roll it wherever you need. This is great because when not in use, you can store it on a wall without having to worry about a clear path for it to fold out right there. Simply, maneuver it to the right location and unfold it there.
Best Murphy Bed With Nightstand
This Murphy bed, which is sold in five colors, looks like a well-made built-in with ample shelf and drawer storage. It even has pull-out nightstand trays, which can double as mini desks. One note: The mattress isn't included.
Best Murphy Bed With Storage
Here we have another Murphy bed that looks like built-in bookshelves but for a few hundred dollars less than the option with pull-out nightstands. This bed frame is a bit more traditional in its design and features 12 open shelves that would look great with large woven baskets on the lower shelves to store bedding and pillows when the bed is not in use. The mattress isn't included with this Murphy bed, so you'll need to buy a queen one separately.
If you're shopping for a kid's room or college dorm room, a twin XL bed is the way to go to maximize space. The Rosecliff Heights Agusta Storage Bed comes with a fold-up mattress that tucks nicely into the coastal-looking silhouette. Beyond the sleep situation, this Murphy bed comes with an under-bed drawer, as well as two USB outlets and two classic three-prong outlets on the side for easy charging.
More Furniture Finds You'll Love