Hanging Lights for Bedrooms
Pendant lights and chandeliers can add romance and elegance when hanging from the ceiling of your bedroom.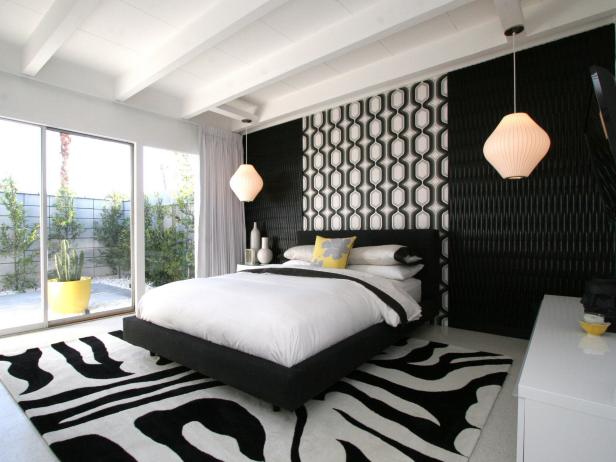 Black-and-White Midcentury Style Bedroom Made Lively With Geometric Prints
Mod design has come back strong, gaining a following among folks who weren't around when the style reigned supreme in the 1960s. HGTV fan ToreyCarrick perfected the look by covering a focal wall with textured MDF panels and geometric wallpaper. White pendant lights and a zebra-print rug complete the look.
Hanging pendant lights or a chandelier in your bedroom is a great way to add not only light but beauty and elegance. A hanging bedroom light can provide ambient lighting or add a focused spot of light for tasks such as reading. Typically seen in kitchens and dining rooms, hanging lights may seem unconventional in the bedroom, but many homeowners are finding them a perfect way to add light and art to their personal retreat.
Hanging lights fall into two categories: pendants and chandeliers. Pendants are usually simple in design, with a single cord/chain system for hanging. Despite their simplicity, they come in a large range of sizes and styles; they can be found as a single pendant or as two or three hanging globes.
Chandeliers hang in a branched system and tend to be larger and heavier than pendants. While the term "chandelier" may conjure up images of teardrop crystal and candles, modern chandelier styles with metal, glass and other materials can add a stunning touch to a contemporary bedroom.
Choose matching pendants or chandeliers for the sides of your bed to provide task lighting for reading and to free up some room on bedside tables for books, an alarm clock and other items. Hang a single, large pendant light or chandelier over the bed to create a stunning focal point. If your master bedroom suite has large walk-in closets and/or a dressing area with a high ceiling, a pendant light or chandelier is a good choice for lighting these areas.
String lights are another option that can add soft lighting to the bedroom. Pair the lights with sheer white curtains for a romantic look, either on the wall behind the bed or on the frame of a four-poster bed, to create a dreamy canopy. Hang bare string lights along a wall or window for a soft lighting effect.
When placing hanging lights in your bedroom, keep the overall design of the room in mind. The center of the room is not always the best place to put any type of ceiling lamp. Ceiling light fixtures should always hang in the center of the most important element of the room, whether it's a table, bed or windows. In the bedroom, this feature will most likely be the bed.
Be sure to place any type of hanging lights for the bedroom high enough so that you won't bump your head when getting in and out of bed. In addition, pendant lights and chandeliers hanging near the sides of beds should be a safe distance from fabric and other flammable materials.
Like other light fixture styles, hanging lights can be placed on dimmer switches, so you can create the mood you want.
More Bedroom Light Fixture Ideas and Options
Get More Ideas for Bedrooms