Consider adding pendant lights to your bedroom decor for an elegant look.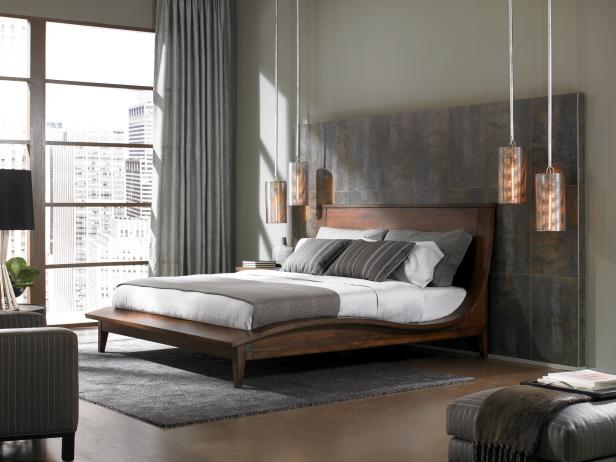 CI-Lexington-Home-Brands_modern-urban-bedroom_s4x3
To create a modern look in your bedroom that also saves space, hang low-watt pendant light fixtures from the ceiling right above your nightstands. To add even more interest to the space, hang the fixtures at different heights. The pendants offer a soft, soothing source of light and provide a contemporary decorative element. Since these won't completely light up the room on their own, add complementary light sources, like a table lamp across the room. Photo courtesy of Lexington Home Brands
Pendant lights, also known as suspenders or drops, can create an elegant look in the bedroom. Generally used over tables and counters, pendant lighting refers to any type of lighting that hangs from the ceiling. Chandeliers are considered a type of pendant lighting, although because they are typically heavier than pendant lights, chandeliers use a branched suspension system.
Pendant lights come in a wide range of sizes, from mini pendant lights to large pendants that can be hung over a table.
In the bedroom, pendant lights can be used to enhance a reading nook or sitting area; they can also be used to light a vanity in a master suite. Pendant lighting can be hung on either side of the bed and used as an alternative to a bedside table lamp or wall sconce—or even over the foot of the bed, as long as the light fixture is hung high enough that you can avoid hitting your head when you get in and out of the bed.
One important factor to consider when looking at pendant lights is your ceiling height. Unless the pendant is to be hung over a countertop or table, the style is best installed in rooms with a ceiling height of at least nine feet. When hanging a pendant light over a table or countertop, allow 28 inches to 32 inches above the surface of the table, adjusting slightly for personal preference, lighting fixture size or ceiling height. When hanging pendant lighting over a sink in a master bedroom suite, ensure that the fixtures are hanging high enough to clear the head of anyone using the sink. In addition, lights used in the bathroom should be made of materials that are rated for damp rooms.
It's important to scale the size of the pendant to the room. One general rule is to add up the length and width of the room in feet and use the same number in inches for the pendant's diameter. Also consider whether the pendant is providing ambient light or task lighting or accent lighting. You can coordinate your bedroom pendant lights with other lighting you've chosen, including recessed lights, wall sconces and flush-mounted lighting fixtures.
Pendant lights are available in a wide range of materials, including brushed steel, nickel, bronze, blown glass or stained glass. The lights can be suspended from a simple cord or a chain. Pendant light styles are typically simple, lending themselves to a modern or eclectic decorating theme. However, some glass styles, particularly stained glass or Tiffany glass, can add a stunning accent to a more traditional decor.
More Bedroom Light Fixture Ideas and Options
Get More Ideas for Bedrooms