Bedroom Wall Color Schemes
Your bedroom wall colors set the mood for the entire room. Choose from a wide array of colors for your room's decor to set a mood that is perfect for you.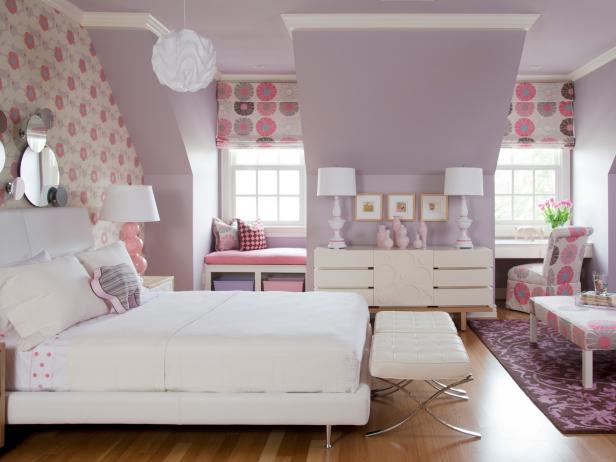 Original_TobiFairley-Summer-Color-Flirty-Pink-Kids-Room_4x3
We all know pink is the ultimate girl color — nothing else can give a room a feminine touch like this blushing hue. That's what makes it the perfect choice for a girl's bedroom. Highlighting different shades in a floral fabric and pairing it with purple only intensifies its playful appeal.
The colors you choose for your bedroom walls will set the mood for your personal retreat, and there are so many options. Will you paint? Will you incorporate stripes or other designs in your painting. Will you use wallpaper? Having such a wide range of choices may seem overwhelming; however, if you're armed with information, it can be one of the most enjoyable aspects to your bedroom remodel. Start with the colors you love, and work to find a look that will create the perfect retreat.
Think of the overall color look you want, and determine if that shade will work with the size and natural lighting of your bedroom. Color, which brings personality to a room, should reflect what you want from your space. You can let your personal tastes shine through, whether you prefer a palette of bright colors or soothing neutrals.
Peruse websites for color ideas, but also look around you, both inside your house and outside. How do the colors you see make you feel? Which ones feed and nurture your spirit? If you are choosing colors for someone else's bedroom, consider the age of the occupant or occupants.
Some shades, particularly bright colors, may not work as the main color in an adult's bedroom, but could work for a child or teenager.
When choosing wall colors for your own bedroom, think of the colors you love. Many people seek to create a calming look in their bedroom and choose neutral or cool shades. However, if you love the idea of a brighter color in your bedroom, you certainly can use that instead. Consider using a bright color on just one wall or as part of a pattern combined with white or a more neutral shade. For inspiration, turn to your color wheel. For a serene look, incorporate an analogous color scheme with shades that are next to one another on the wheel. If you desire more energy from your colors, try a triadic color scheme, which uses shades spaced evenly apart on the color wheel.
A more monochromatic look, which uses varying shades of the same color, creates depth and serenity if you're using neutral or cool colors. A touch of black in a paint or wallpaper pattern can add a look of sophistication to a room.
As you pull your look together, keep in mind that many designers advise not including more than five large areas of color. Too many wall colors can be distracting and cause visual tension. There are exceptions to every rule, however; go with what you love to create a bedroom that evokes a feeling of "home."
Other Bedroom Color Schemes
Get More Ideas for Bedrooms