Get ready for baby's arrival with a nursery color scheme that is soothing and cheery.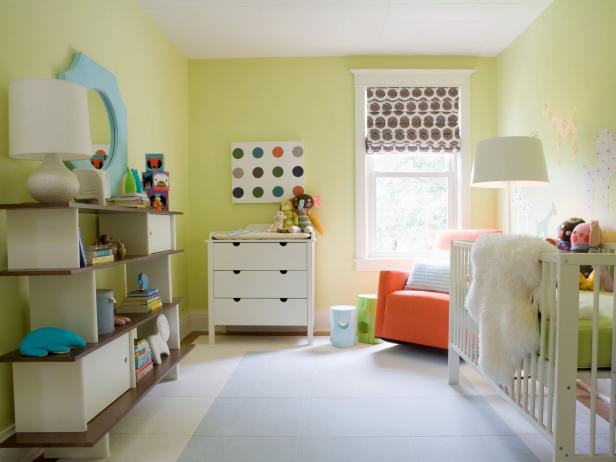 HPDSN1005_nursery-after2_4x3
If you want to incorporate bold colors in a nursery, design a room with soft neutrals first. The soothing green walls and light-blue carpet tiles provide the perfect foundation for this nursery. The orange rocker pops in the corner, and colorful accessories and toys are bold yet functional accents.
Designing a color scheme for your new nursery is a fun way to get ready for baby's arrival. You'll choose colors not only for your walls, but also for bed linens, rugs, window treatments and accessories to build a look that creates the perfect environment for your new addition while also reflecting your family's decorating style.
Color brings personality to any room, and you want your baby's bedroom to be nurturing as well as cheery. For colors, you can go soft or bright, or you can use a combination of the two. Neutral shades can create a nice backdrop for a non-gender-specific nursery that will have more staying power than pastel shades well into childhood as your baby grows. A room with neutral walls can be brightened by color in rugs, window treatments and accessories.
Oranges, blues, greens, purples and yellows are good choices for sunny colors, and earth tones work nicely for either a little girl or boy. A girl's nursery with sage green walls and warm pink accents in curtains or an accent wall creates a pretty look that will last as your daughter enters grade school. Blue and green makes a great combination for a boy's room.
For a serene look, incorporate an analogous color scheme with shades that are next to one another on a color wheel. A monochromatic look, which uses varying shades of the same color, creates depth and serenity if you're using neutral or cool colors. Or imagine a nursery with creamy white walls and soft white bed linens and curtains. Vary the textures you incorporate into the nursery through rugs, bed linens and window curtains.
If you desire more energy from your colors, try a triadic color scheme, which uses shades spaced evenly apart on the color wheel. Some color combinations lend themselves to certain themes, particularly in a baby's room. Themes such as airplanes, animals or storybook characters are popular, but keep in mind these furnishings, wallpaper and coordinating colors may be quickly outgrown and need to be changed sooner than more flexible, simpler color schemes.
When pulling your look together, keep in mind that many designers advise against having more than five large areas of color. Too many wall colors can be distracting and cause visual tension. Also, too much red, such as red walls, can confuse a small baby, because their eyes see that color before others. The best colors for babies to wake up to are softer shades, such as blues, greens and pinks, because those colors develop at around the same time in a baby's eye.
Other Bedroom Color Schemes
Get More Ideas for Bedrooms