To create a bedroom that is a cozy retreat, turn to the warm side of the color wheel.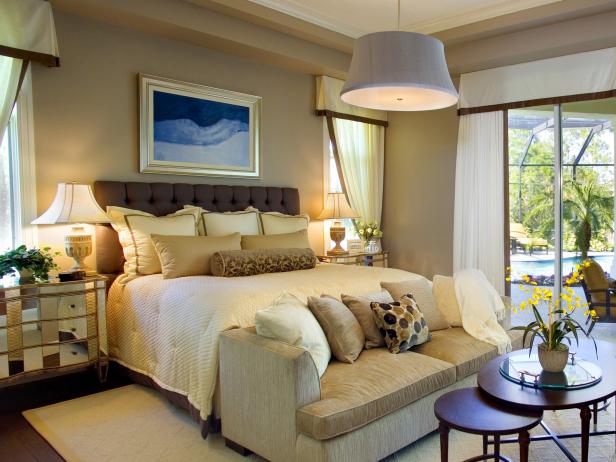 DP_master-bedroom-blue-frame_4x3
This bedroom is comfortable and light with its transitionally-modern look. Furnishings have clean, soft lines, the window treatments are breezy and the bedding, lighting and accessories are fresh and soothing. The colors are mainly neutral with hints of deeper golds and platinums, which are set off by a warm blue throughout. ©Photo by Stephen Allen Photography.
Warm colors, colors that wrap us in comfort as we settle into bed at the end of a long day, are a favorite for the bedroom. Yellows, reds, pinks and other warm hues can help turn your bedroom into a cozy retreat.
Warm colors can take the chill off north- or east-facing rooms. They are also good choices in rooms with small windows or no windows. Warms colors don't have to be dark: Yellow, even in pale shades, is warm, as is peach. There are even warm "whites," such as buttercream and vanilla. In general, muted shades of warm colors are a good choice if you don't want to be overwhelmed by color in your bedroom.
Yellow may be the quintessential warm color, as it's the color of sunshine. It's a popular pick for bedrooms, but be careful not to go too bright; choose a shade in soft buttery yellow or muted gold.
Brown, which can be considered neutral or warm, conveys comfort. Choices range from deep espresso to auburn to pale latte. You can go as dark or muted as you desire. Deep brown can work well in a room with large windows, especially if it is balanced with fabrics, rugs and other accessories that provide a touch of light or bright color. If you're choosing a more muted brown, create a monochromatic color scheme by pulling in different textures and materials in your furnishings—perhaps with a pop of color in a bright shade such as turquoise or orange.
Neutral colors can be warmed by pairing them with such rich colors as red, brown, orange or muted greens. For accent colors, look to nature. Terra cotta, green, gold and rich salmon shades found in a sunset are good choices.
Green, a mix of blue and yellow, can be said to have both warm and cool properties. Its soothing qualities make it a great choice for bedrooms. Soft, muted greens with gold and brown undertones can have a relaxing effect.
Red is a warm color that appeals to many people, but some find it overpowering for the bedroom. If you love red, consider a muted shade; if you want a true red, try painting just one wall as an accent. Some red peeking from behind a headboard or wall art can give your bedroom the right amount of sizzle. You can also balance red walls with accessories and fabrics in white, black or neutral shades. Remember that most wood tones don't combine well with red; that color will look better combined with painted furniture.
Other Bedroom Paint Color Ideas
Get More Ideas for Bedrooms