Designer Sarah Barnard infused traditional style to a guest room and patio area, giving it all the comforts of home.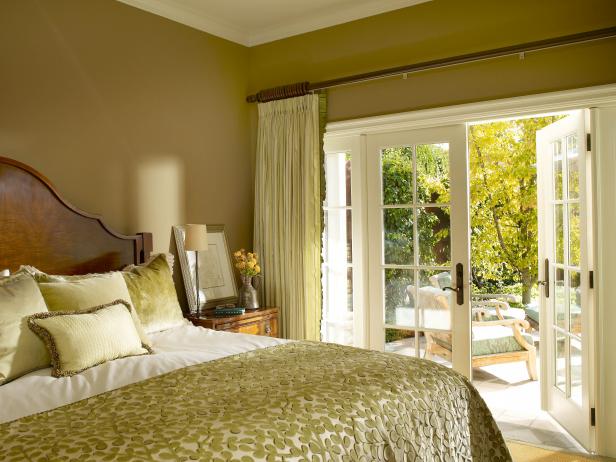 Traditional Yellow Bedroom With French Doors
A private patio can extend the square footage of a bedroom. A wall of windows and French doors create plenty of natural light, and a private outdoor oasis is the perfect place to enjoy a morning cup of coffee.
Los Angeles designer Sarah Barnard knows how to make space work—use the outdoors, keep to one main palette, and use furnishings and built-ins to compensate for what's not that architecturally—in this case—closets!
What were the main items on the family's wish list?
Luxury, comfort, quality with traditional design and personalized details.

What was the single largest challenge you wanted to address for this client?
We wanted to connect the indoors and outside by integrating the color palette.
What was your biggest obstacle in this space?
The room had no storage, so we built in armoires in place of closets and used the space beneath a window seat for more storage.
How does the end result match up with your original vision for the space?
It actually ended up like we planned – though we had to mix our own paint color for the bedroom walls because we couldn't find the perfect hue any other way.
What surprised you the most about the project?
Mixing patterns and textures within a single color palette can be beautiful but not overly dramatic, and connecting with the outdoors and nature always works!
What are the hidden gems in your plan?
Handmade custom bed furnishings and draperies and tiny hand-pleated ruffles and detailing made all the difference in the small quarters. The nightstand also has a hidden, pull-out writing surface.