Get tips for designing a just-the-basics bath for guests or secondary use.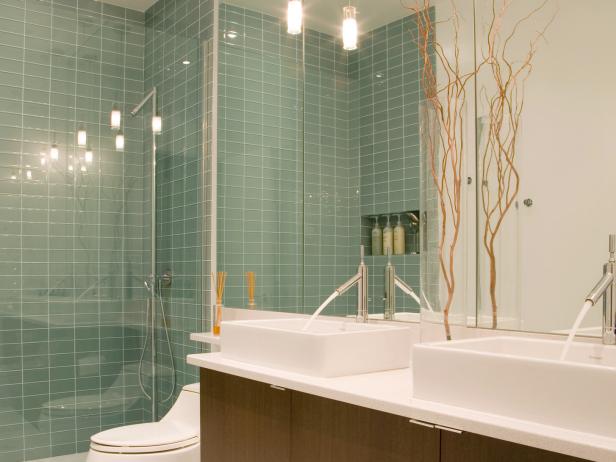 Contemporary Bath with Glass Tile Walls
Spa blue tile laid in crisp, straight lines forms a focal point in this clean and contemporary bathroom. A wood-tone vanity topped by a clear vase filled with twigs provides an organic, earthy element that grounds the space. Modern vessel sinks pair well with polished chrome fixtures.
Ideal for overnight guests or as the second bathroom—or perhaps the third full bath in a house—this configuration is designed around utility. The idea is to get in, do your thing, and get out: toilet, sink, shower—keep it simple. This basic theme doesn't mean the space has to be boring. Interesting tilework, updated fixtures, a high-drama mirror or decorative light fixture will dress up this down-and-dirty space.
Chances are, this is not your main family bathroom, and you might also have the luxury of a master bath in your home, as well. Still, by focusing some attention to detail in this bathroom, you can convert a purely functional space into a comfortable, stylish place to take care of your everyday bathroom activities.
Is this your primary bathroom?
How many people use this bathroom, and what are their ages?
Do the people using this bath have physical limitations/special requirements?
Is this a main floor bathroom, or located in a basement or upstairs (away from main traffic)?
What is the key purpose for this bathroom: for "basic" activities, or do you want to expand its functionality so it is more of a retreat?
What styles appeal to you? (color scheme, finishes)
Shower extras. You can elevate the basic shower to an "experience" shower by opting for a couple now-affordable extras, such as a rain shower head or hand showers.
Good medicine. The medicine cabinet is making a come-back, but updated designs are deep enough to include electrical outlets so appliances can stay plugged in all the time. The benefit of this cabinet configuration is its space-saving nature. You get the mirror plus storage without sacrificing wall space.
Natural light. Skylights and enlarged windows open up a small bathroom and bring the outside in, adding character to a "basic" space.
Other considerations. This space is probably too small to create a separate room-within-a-room for the toilet, but you can still hide the loo with a layout that positions the commode so it's not the first feature you see when you walk through the door.
Sleek cabinets made from exotic wood veneer dress up under-sink storage. "We're getting away from the panels and trim," says Rick Miller, president, Miller's Fancy Bath & Kitchen, Louisville, Ky. "Veneers are easier to maintain than a raised-panel door, and they're a transition look between contemporary and traditional."
Picture-frame mirrors are a pleasing statement piece in a simple bathroom design.