Make an Oversized World Map String Art
Whether you're a world traveler or just got your passport, this gorgeous world map with its intricate string art is the perfect addition to any eclectic living space.
world map
3/4" plywood cut to same dimension as map
1 x 2" trim to frame plywood (optional)
drill and drill bit
short, brass nails
string in desired color
scissors
paint and primer
paint roller
drop cloth
painter's tape
Get your plywood cut at the home improvement store to match the dimensions of your map. Then paint the plywood white with a high-quality paint and primer combination.
Once the plywood is dry, you're ready to begin prepping nail holes in the shape of the continents. Center the map on top of the plywood and secure it with painter's tape. Once secure, begin drilling holes around the perimeter of each continent (Image 1), making sure to leave about 1/4-inch between each hole. (You want to leave enough space to wrap the string around the nail head once inserted.) Once you've drilled all the holes, remove the map from the plywood (Image 2).
Using your hammer, gently tap the nails into the plywood about a 1/4 inch.
Tie a knot to one nail, then start wrapping string around the nails randomly and in a diagonal pattern each time (Image 1, 2). Try not to wrap around the same nail twice to avoid a clumpy look. As you move across the map, work one section at a time, cutting the string and tying it off periodically (Image 3). Continue the process until the entire world map is complete.
Hang the map using the proper hardware and wall anchors so its weight is fully supported.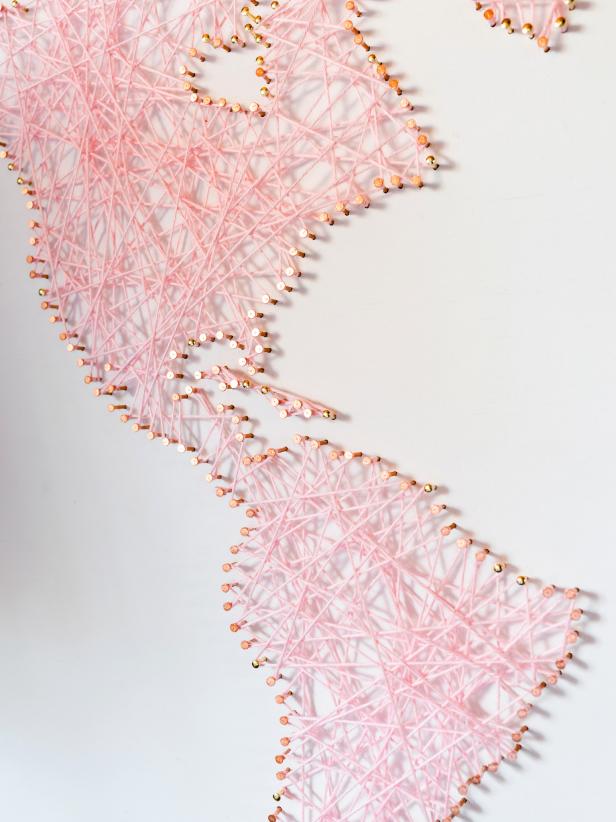 White, Blush and Brass
Blush is one of the most complex colors to work with, but when paired with the right accent colors, it can be super chic and rich. Here, blush is paired with a crisp white backdrop and accented with shiny touches of brass for a vintage look.
Photo By: Flynnside Out Productions