How to Make a DIY Leather Strap Shelf
Follow the steps below to make this blogger DIY project featured in HGTV Magazine.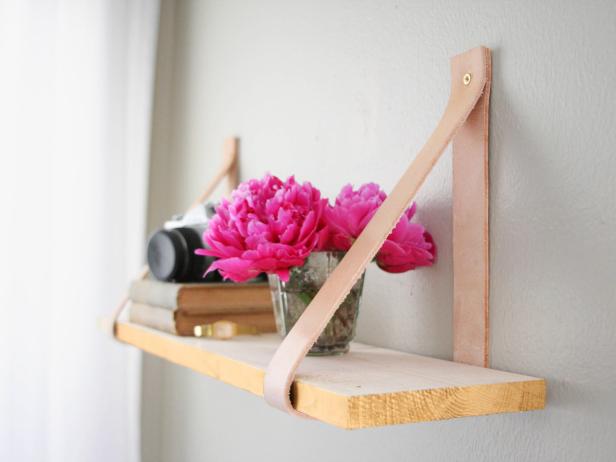 Blogger DIY Leather Strap Shelf
HGTV Magazine shares inspiring (and easy!) DIY projects from beloved design blogs. Use belt leather for the straps. It's precut the width and length you need.
1. Cut a 3/4-inch-thick pine board to 28 inches by 5 1/2 inches. Sand the edges with medium-grit sandpaper, followed by fine-grit sandpaper.
2. Using painter's tape, tape off the top and bottom surfaces of the board. Spray-paint all four of the board's edges gold. Remove the tape while the paint is still wet. Let dry.
3. With a pencil, lightly mark the middle of a 50-inch-long piece of leather. Using a crafts knife, slice the leather in half at the pencil mark, creating two strips.
4. Fold one of the strips in half. Drill a small hole  1/2 inch down from each end. Insert a screw through the holes so the strip forms a loop. Repeat with the second strip.
5. To hang the shelf, sink two drywall anchors into the wall. Insert the screws into the drywall anchors, and tighten. Place the board through the loops, as shown.