This whimsical headboard is budget-friendly, renter-friendly and so incredibly cute.
Rainbows are trending everywhere in decor right now and HGTV Handmade's Jill Tennant has a clever, budget-friendly hack for creating a padded twin headboard that looks ultra-chic and expensive. The secret: pipe insulation! And this headboard is also renter-friendly because you only need removable adhesive strips for mounting. It's a win-win-win. Watch the video below and read on for the full how-to for your own adorable rainbow headboard.
7 standard 6' pipe insulation tubes for 1" pipes
masking tape
fabric
8' insulation foam board (2" thickness)
low-temp hot glue gun
hot glue sticks
tacky glue spray adhesive
scissors
serrated knife
heavy-duty removable adhesive strips
poster board
project foam (2" thickness)
Cut six of the foam tubes to the following lengths for each rainbow color band: 65", 72", 76", 82", 88" and 96" (Image 1). Cut the seventh, spare tube into pieces if you need to make any of the six bands longer. Just use masking tape to hold the pieces together (Image 2).
Wrap a tube with a fabric of your choice (Image 1). Using a low-temp hot glue gun, glue the fabric to the tube, hiding the fabric seam in the pipe insulation slit (Image 2 + 3). Repeat for each tube (Image 4).
To make the giant arched backing for the headboard, measure and mark an arch on the foam insulation board that is 42" wide and 37.5" tall. Using scissors, cut out an arch. Don't worry if it's not perfect. The rainbow tubes will cover it. For the smaller, center arch inside the rainbow, create an arch template with a standard poster board. Measure and cut the poster board to 17.5" wide and 26.5" tall. Fold the piece in half to cut the arch (Image 1 +2). Using the poster arch template as a guide, cut the shape out of the project foam with a serrated knife (Image 3 + 4).
Attach the center foam arch to the foam board with spray adhesive (Image 1). Once attached, spray the top of the foam arch with spray adhesive and cover with fabric of your choice (Image 2). Using a low-temp hot glue gun, glue and secure the fabric on the sides and edges. To attach the rainbow bands, start with the shortest tube. Wrap the tube around the foam arch, hot gluing to secure as you go (Image 3). Make sure to keep the tube seam hidden in the back as you glue. Repeat with the next shortest tube (Image 4). Continue until all six tubes are attached (Image 5). Once finished, trim any loose threads or extra material with scissors.
To mount the headboard, use heavy-duty removable adhesive strips on the back of the foam board.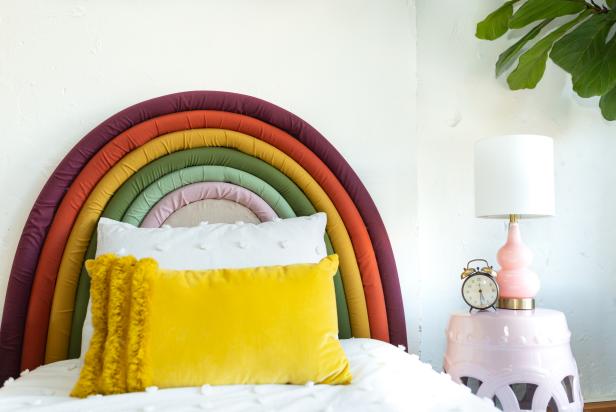 DIY Rainbow Headboard
Make a trendy rainbow headboard with some unexpected items: pipe insulation and a hot glue gun. Jill Tennant has a clever how-to that is budget-friendly and rental-friendly.
A one-of-a-kind headboard doesn't have to cost you a lot of money or time.
A faux barnwood headboard is the perfect piece to turn any room into a relaxing getaway.
Give your boring bedframe a boost with one of these budget- and beginner-friendly headboard projects and DIY design ideas.