DIY Colorful Wall-Mounted Stuffed Animal Storage
Keep the clutter off the floor by transforming wall shelves and elastic into colorful and kid-friendly storage for stuffed animals.
We're sorry, there seems to be an issue playing this video. Please refresh the page or try again in a moment. If you continue to have issues, please contact us here.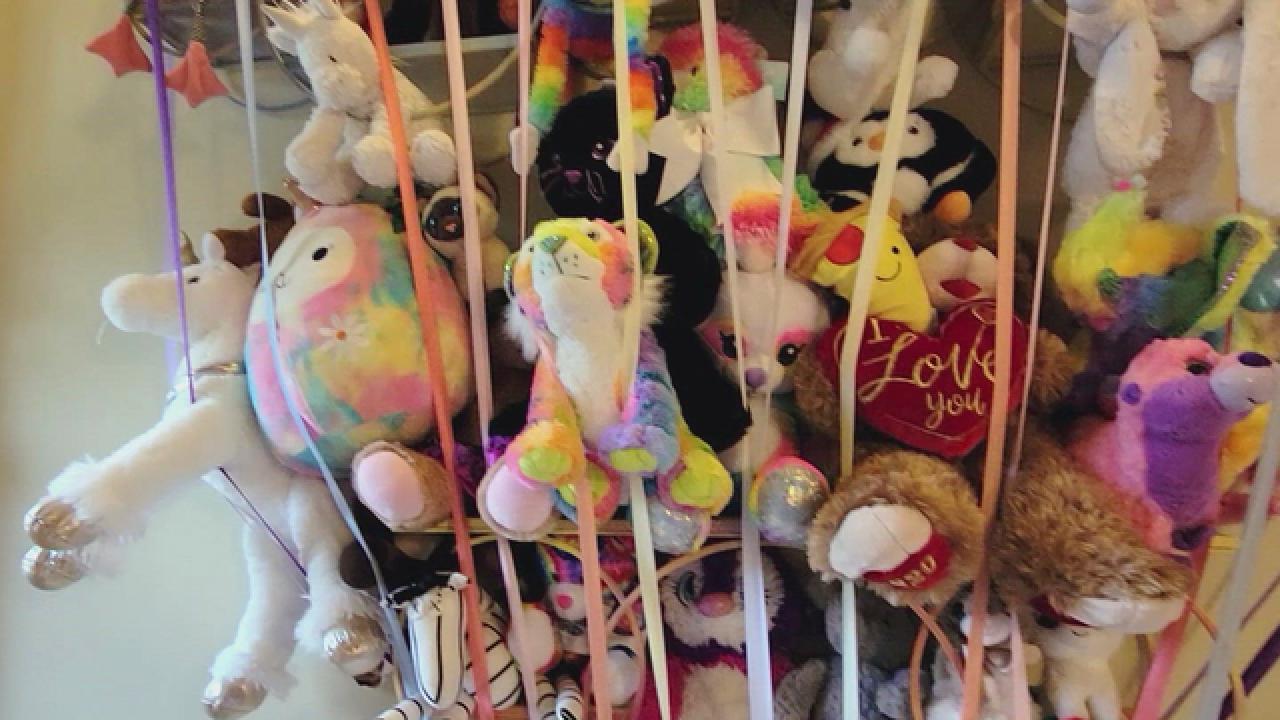 (3) wall shelves
spray primer
spray paint in various colors
5/8" elastic in various colors
scissors
fabric glue
stapler + staples
clothespins
Start by spraying the shelves with a white primer (Image 1). Once dry, spray paint the shelves in the desired pattern or color — soft pastels for our project (Image 2).
Map out on the floor how you plan to hang the shelves on the wall. Two shelves on top and one on the bottom worked best for our project. Next, decide on color patterns and lengths for the elastic and cut, leaving a few extra inches at the bottom to adjust once on the wall (Image 1). Fold over the top of each elastic piece on the top shelves and secure in place with fabric glue and staples (Image 2). Let the glue dry completely.
It's best to hang the shelves directly into a stud. If there is no stud available, use wall anchors to ensure support.
Pull the elastic taught from the top shelves at an angle to the bottom shelf. Since there will be tension now, use clothespins to keep the elastic in place as you glue and staple the bottom pieces as you did the top (Images 1 & 2). Once the glue is completely dry, cut off the excess elastic (Image 3).
Now you're ready to add the stuffed animals. The elastic will hold things in place as the toys go up the wall, giving you more storage than just the shelves alone.
More Kid-Friendly Storage Ideas
If your kids don't have a dedicated place to stash all their art and school supplies, then a rolling storage cart may be the answer.
When decorating your child's bedroom, keeping his or her wants, needs and interests in mind will create a space that is both fun and organized.
These cube tables are easy to make and are perfect to for kids of all ages to use as a nightstand, toy storage or a footstool.