10 Beds That Look Good and Have Killer Storage, Too
Utilize every single inch in your bedroom...starting with your bed.
If you live in a small space or have a tiny bedroom, you already know you need to maximize every square inch of your room. But you might be overlooking a great spot to create some additional storage: your bed.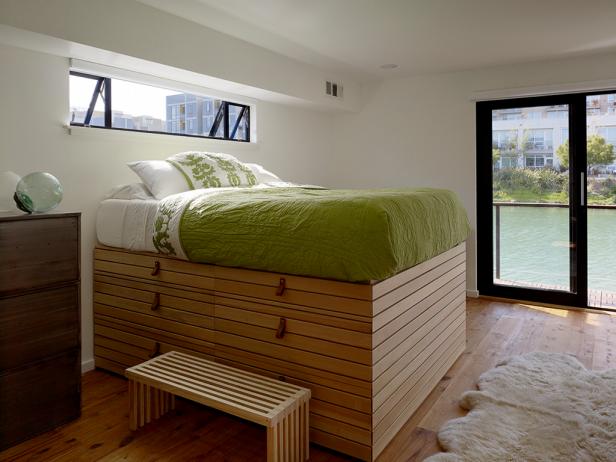 Floating House: Master Bedroom
To create additional storage, the master bed is raised to allow for storage underneath; this is called a "Captain's Bed" and is commonly used on boats. A step stool is needed to make the bed accessible.
If you're short on space, a raised platform bed will give you the ability to put the equivalent of an entire dresser underneath your mattress. This custom bed features pull-out drawers which can be used to store clothes, extra bedding or even shoes.
You'll need an extra bench or steps to get up and down from a bed this high, but it's a great solution for a particularly tight spot.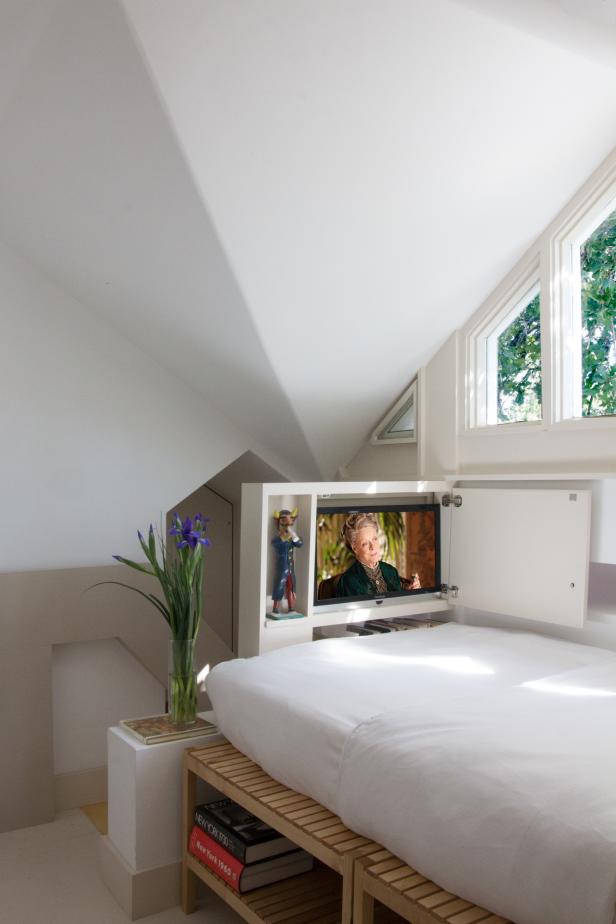 Twin Bed With TV Cabinet in Small Space
The footboard of this bed opens to reveal a television, perfect for late night (or nap time) viewing. The bed's platform is made from repurposed benches that also provide extra storage for books and pillows.
If you want to keep your TV out of sight, a built-in cabinet for your bed is the way to go. This set-up would require a custom solution that will vary in size, based on your space, the size of your TV (or whatever else you might be trying to hide) and the size of your mattress.
If you would like to create something like this, your best bet is to get an estimate from a local contractor or handyman to see if it will work for your configuration.
Nicole Feliciano, MomTrends.com
Lofted beds can free up a tremendous amount of space, allowing you to add a variety of storage solutions. This example includes many different sized shelves, drawers and even a desk play area. Stairs lead up to each child's bed and there's additional built-in storage in each of the two staircases.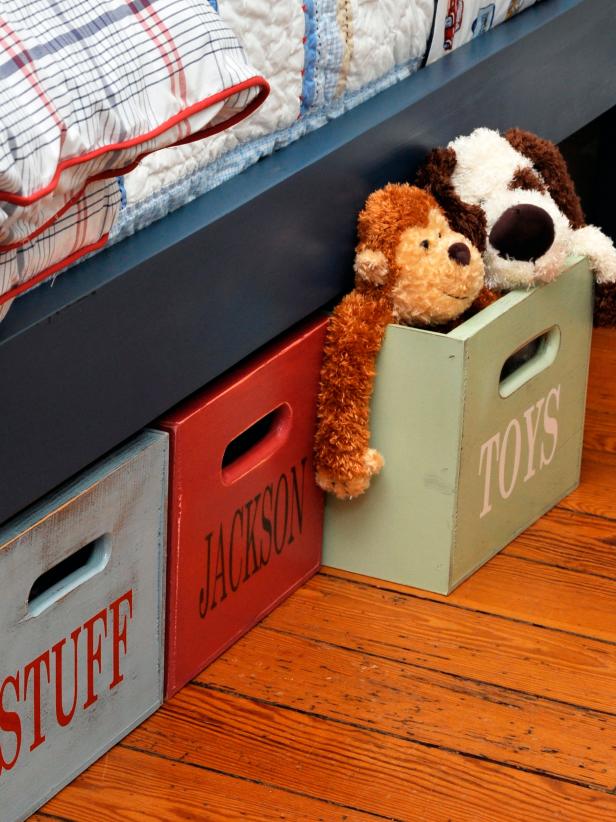 Boy's Room Under Bed Storage Boxes
Portable storage containers such as painted wooden crates or metal bins that can be personalized are a stylish option for children's rooms. With an endless array of colors, patterns, fonts and shapes to choose from, these storage containers are a cool and decorative addition to any room.
A solution which doesn't require any customization is simply making use of empty space underneath your bed. Measure your available space, then choose bins or rolling drawers that fit under your bed frame.
If you don't want your bins to be seen, you can push them in toward the middle of your bed so they are less visible. Alternatively, you can choose attractive matching bins and store them at the edge of the space underneath your bed so they become part of your room's decor.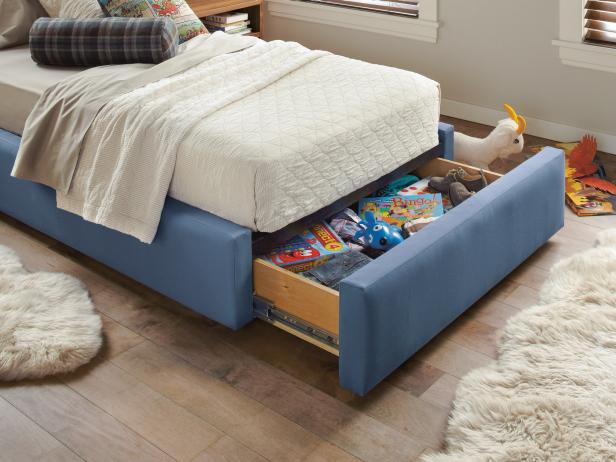 Kid's Room With Under-the-Bed Storage
When one closet can't hold all the clothes, shoes and toys that pile up in a child's bedroom, you need alternatives. A child's bed with drawer underneath like this one from Room & Board is a space-saving storage solution for books, shoes and toys, so you have enough room in the closet for your child's clothes.
If you're looking for a new bed for your small space, you might want to consider an option with concealed storage built-in.
This twin bed has a handy drawer at the footboard, allowing kids to quickly clear up all the toys and books off of the floor and easily put them away. In a guest bedroom, this drawer would be a great spot to store extra bedding pillows, towels and toiletries.
Platform beds also often have storage options built-in, like this one. Under-bed cubbies allow you to store books or other small items, using wire bins to help tame the clutter. Adding a cactus or a tray can add some visual interest and immediately bring some more personality and warmth to your space.
Trundles, or pull-out beds, allow you to store a second bed under your main bed. When you need it, you can simply pull it out, and when it's not in use, you can slide it back into its hiding spot under your own mattress. This is an often overlooked option but a great choice for a guest bedroom or kid's room.
If you don't have any room underneath your bed and need a quick, simple solution, try a basket or trunk at the end of your bed. For smaller spaces, you could even choose a narrow storage bench or two storage cubes placed next to one another.