5 Expert Bedroom Storage Ideas
A bedroom should be a haven from life's chaos, a place to relax and unwind. But it's hard to feel serene when looking at piles of dirty clothes, or searching through an overstuffed closet. Get five expert tips for stashing in style.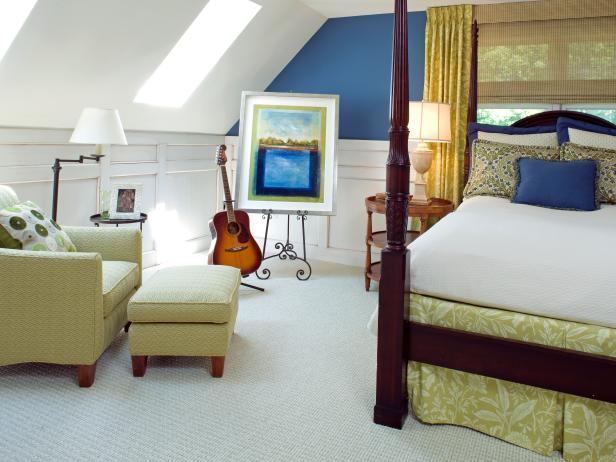 Traditional Bedroom With Cozy Sitting Area
This bedroom has a sloped white upper wall with a skylight, white lower walls and white carpet, beige chair with ottoman, and beige window treatments. The upper wall between the bed and skylight is bright blue, which complements the displayed painting and the pillow on the poster bed.
This bedroom has a sloped white upper wall with a skylight, white lower walls and white carpet, beige chair with ottoman, and beige window treatments. The upper wall between the bed and skylight is bright blue, which complements the displayed painting and the pillow on the poster bed.
There may be several square feet of potential bedroom storage hidden under your nose and your furniture. These five tips will help you find space to stylishly store clutter big and small:
1. Stick it under the bed
A king-size bed eats up 42 square feet of space. Why should the dust bunnies have it all to themselves? "Under-bed containers can hold the shorts and tank tops you're not wearing in January and make more room for what you are wearing," says Kristine Becker of Closet & Storage Concepts in Voorhees, N.J. "Flipping your seasons is a great way to save space."
Ikea sells sliding drawer units that fit under beds, or you can buy storage bins that roll in and out. "I'm the queen of under-bed storage," says Denise Schipani, who spent the first years of her marriage in a small Manhattan apartment. "When we lived in that apartment — and especially after we shoehorned a baby and all his things into it — there was so much stuff under my bed, I never had to vacuum there. No room to."
Lise Lingo stores luggage, backpacks and gear bags under her bed in compartments her husband built into their bed frame —basically a box with an overhanging platform and removable panels on each side. "He even ran rope light around the inside and hooked it to a motion sensor," she adds. "So the light comes on when you need to find a specific bag."
"Before buying bulky dressers or armoires, make sure you're getting the most out of your closet — especially when it comes to hanging space," says Kristine Becker. "You can always add drawer or shelf units, but it's harder to change the rods."
Before you start drawing up plans for your bedroom storage closet, analyze what you plan to keep there. To figure out where to install rods, for example, estimate how much space dresses and suits take up versus shirts and jackets. For longer items, you need full-length vertical space under the rod. If the bulk of your clothes extend less than 3 feet, hanging two sets of rods, one high and one about 40 inches above the floor, will double the amount of clothes you can hang in that space.
Consider what you need access to on a daily basis versus every few months. Your favorite walking shoes should be front and center, whereas those strappy Manolo Blahniks can be stashed in their boxes on an upper shelf for special occasions. Shoe cubes, tiered tie racks and slide-out laundry bins help keep things tucked away yet easily accessible.
Kristine suggests getting shoes off the floor, where they tend to end up in a mix-and-match pile, and putting them in individual cubbies. She also believes in minimal drawer use. "Stuff like sweaters and T-shirts should be on an open shelf where you can see them all at the same time," Becker says. "If you're looking for your favorite sweater and you've put four others on top of it in a drawer, you'll never find it. You might as well give it away. The only thing that should go in drawers is things that don't fold well — socks, underwear, bras. Usually four to five drawers per person is plenty."
Lise uses every inch of the bedroom closet she shares with her husband in Washington, D.C. Racks on the wall behind the door hold shoes and the door itself has a full-length mirror. In-season clothes, hats and belts hang from hooks on narrow side walls. "I'm a big fan of the slide-out tie racks that work with wire shelving systems. I use mine for belts," she says. "We also have built-in shelves in a corner behind the clothes rods that are good for deep storage — like shoes my husband seldom wears."
Stashing the bed itself can make a tiny bedroom double as a nursery by day. Diane Selkirk of Vancouver put a Murphy bed in her daughter's room, making the small bedroom's storage space more versatile. "When it's up, she has ample play space. And when down, it hides the toys."
It's in your best interest to make storage fun, attractive and easily accessible for your kids. Blankets and stuffed animals, for example, can be stored in a built-in chest that doubles as a window seat. "Kids find it easier to put stuff on shelves and baskets than hangers," Kristine says. "If something is out of sight in a drawer, they don't think about it. If it's in plain view, they're more likely to reach for it." A set-up that encourages kids to put specific things in specific baskets has the added benefit of teaching organization skills.
Stacked rods make it easier to flip seasons, so that clothes children are currently wearing are on the lower rod. "Even a child 3 feet high can reach a rod that's 38 inches off the floor, which means they can pick out what they want to wear by themselves," she says. Toys can be stored on extra shelves, and then traded for shoes and sweaters as kids get older and their wardrobes expand.
Despite its limited square footage, Denise Schipani's first apartment had very high ceilings. So when she and her husband ran out of storage space, they looked skyward. "We installed deep shelves high above our heads," she says. "They were great for stuff you don't need often, like luggage and boxes of off-season clothes."
To avoid extending shelves into the room itself, consider removing some drywall and creating recessed spaces between the studs. You can add doors to enclose them or install shallow shelf inserts.
If you have limited space around the bed, ditch the bedside tables in favor of a headboard with cabinets to hold lamps, books and glasses. Look for tall, narrow dressers, armoires and corner cabinets to stretch your small bedroom's storage space. Opt for a compact entertainment center for your TV, stereo and related media, or free up floor space by wall-mounting towers for DVDs and CDs.
If your attic is difficult to access, consider adding another attic door in one of the bedrooms. Installing a hinged door with a drop-down ladder in a large closet will allow you to tap hidden bedroom storage as you need it.
As we all know, discarded clothes pile up fast in the bedroom. Lise found the perfect way to keep her laundry organized and out of sight. Inspired by her in-laws' laundry chute, the Lingos cut and trimmed out a hole in the wall between their bedroom and laundry closets. Now they can throw clothes directly into bins sitting on their washer and dryer. "We call it the laundry lob since it's not really a chute," she says. "It keeps the closet more organized and makes it obvious when laundry must be done. If I can see the clothes above the lip it's time to do a load."