9 Best Pressure Washers Under $400
Take the guesswork out of pressure washer shopping. Whether you're looking for the most powerful, budget-friendly or portable model, check out one of these top-rated options reviewers love.
Keep in mind: Price and stock could change after publish date, and we may make money from these links.
Unlike simpler tools, it isn't a great idea to just go out and buy the first pressure washer you see at the best price. There are too many things to consider when deciding which one is right for you. Pressure washers typically come in gas or electric power, with both options offering a wide array of potential pressure, which is measured in PSI. Some washers are powerful and great for getting stains out of concrete and brick but would be overkill for cleaning siding, outdoor furniture or your car. Maybe you need a washer with a built-in detergent tank, or maybe you need one that's super portable. There are countless options available, so we've rounded up all of our favorites to help narrow your search.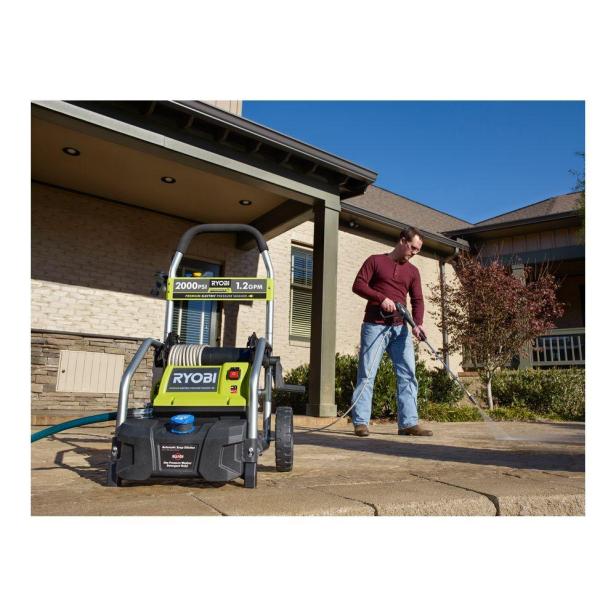 This powerhouse from Ryobi generates 2,000 PSI with its electric motor, making it a great general-purpose pressure washer. The built-in detergent tank is great for quickly washing vehicles and outdoor furniture, but the real plus is the included turbo nozzle that increases the cleaning power by 50 percent. While similar nozzles can sell for more than $100, you get one free with this $200 pressure washer.
Buy It
Why, yes, you can get a 1,450-PSI pressure washer for under $90. And what if we told you it weighed under 12 pounds and was ultra-portable? At this price point and size, this model makes the perfect second pressure washer if you have a lot of washing needs. When you don't need your powerful, gas-powered machine or just want something more portable, just pull this one off the shelf in the garage and put it to work.
Buy It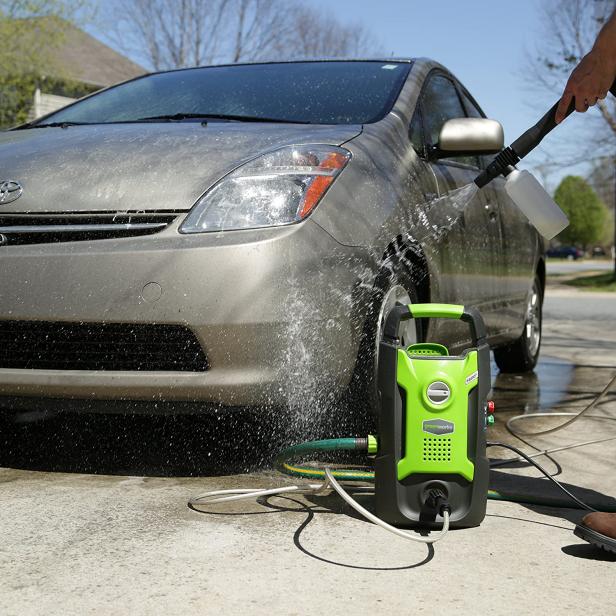 At just over $100, this Greenworks pressure washer is another great budget option, delivering 1,600 PSI. With 20 feet of hose and a 35-foot, GFCI-protected power cord, it's ready to take on even the biggest jobs. One stand-out feature is the ability to lay this pressure washer down horizontally for greater stability without hindering the washer's performance.
Buy It
When you need serious pressure-washing power, a standard electric motor might not cut it. Gas is the best (and also more expensive) option for power, and you also won't be limited on distance by your longest extension cord. The Honda engine in this washer generates 3,000 PSI, which is more than enough to run the included surface scrubber, making deck and driveway washing a quick chore instead of a weekend project.
Buy It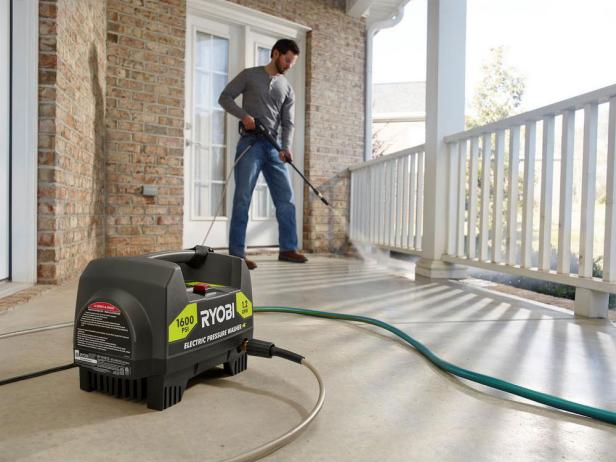 We get it. You don't always need the most powerful machine possible. Sometimes, the smallest option is perfect for the job. That's how we feel about this Ryobi. Coming in at just over 16 pounds, it's ultra-compact, easy to carry and easy to store, yet somehow still packs 1,600 PSI of power.
Buy It
If you're planning to tackle a variety of cleaning projects, you need this pressure washer. Rated at 2,030 PSI, it can handle whatever gunk and grime come its way. But if that wasn't enough, the two built-in detergent tanks will finish off the job. With nearly five stars and more than 5,000 customer reviews, you can't go wrong.
Buy It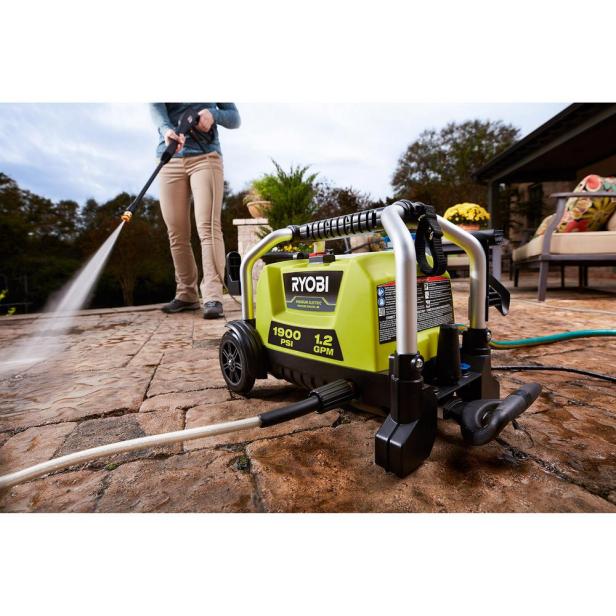 Somewhere between the two other Ryobi pressure washers featured on this list sits this model. If you were stuck deciding between the two, this 1,900-PSI washer will give you the best of both worlds. The high-output electric motor almost matches the PSI of the gas motor, while the ergonomic, telescoping handle and thoughtful design of the washer make it portable and a breeze to store. Plus, who doesn't love a built-in detergent tank?
Buy It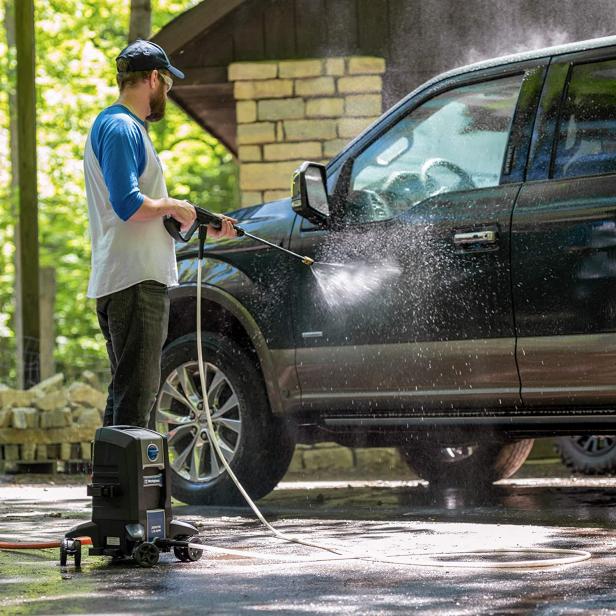 If you've used a lightweight, wheeled pressure washer before, you've probably experienced it getting off balance and falling over. Finally, someone got tired of that and designed a machine that could roll with the punches. This electric pressure washer from Westinghouse features four, wide-stance casters that will roll over uneven surfaces with ease, plus a max output of 2,030 PSI and a built-in foam cannon so you can restore your car's factory shine.
Buy It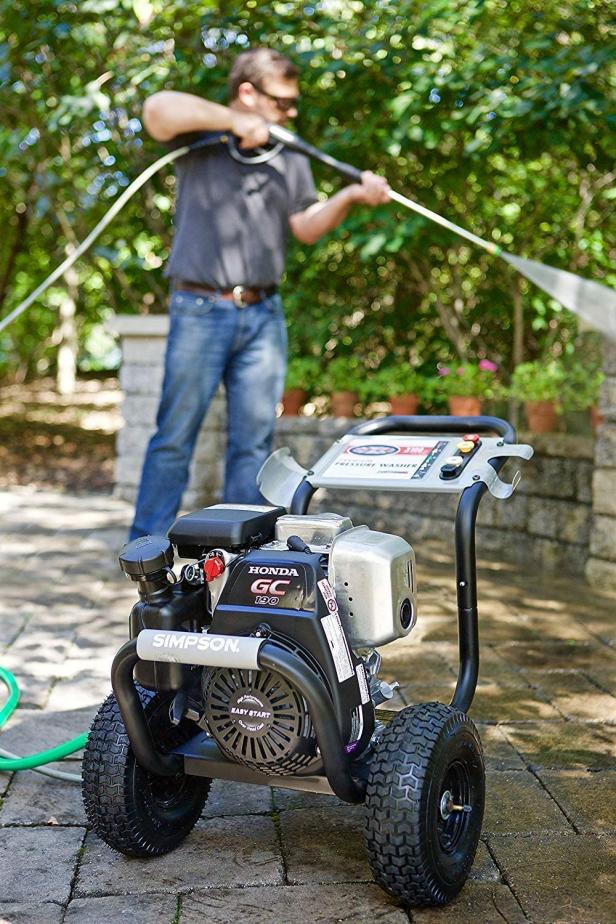 Topping our price range is this 3,200-PSI, gas-powered beast from Simpson. Sure, it's expensive, but we firmly believe you won't find a pressure washer this powerful and reliable at a lower price. Simpson is known for quality and even manufactures many of the popular name-brand pressure washers on the market. Though it's not the most portable, the welded-steel construction and 10-inch premium pneumatic wheels make this machine tough as nails and ready for any job you throw at it.
Buy It
More Outdoor Buys We Love