Get tips for cleaning your patio made of concrete, natural stone or flagstone without a pressure washer, plus get tips on cleaning and maintaining patio furniture.
Keep in mind: Price and stock could change after publish date, and we may make money from these affiliate links.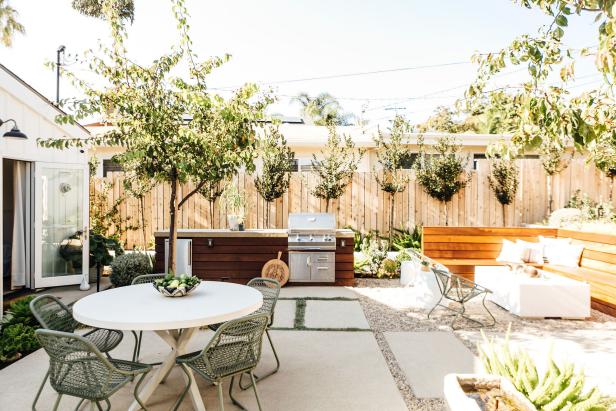 Modern Cement Slab Patio Features an Outdoor Kitchen and Multiple Sitting Areas
Use a detergent such as Dawn or Ajax dishwashing liquid mixed with water to brighten a concrete patio that hasn't been cleaned in a while.
Marie Buck
Use a detergent such as Dawn or Ajax dishwashing liquid mixed with water to brighten a concrete patio that hasn't been cleaned in a while.
Just as you would regularly vacuum the floor and dust your furniture inside your house, you should keep your patio clean so it's ready at a moment's notice to entertain. Start in early spring with a complete cleaning.
garden hose with nozzle
natural or synthetic bristle brush
dishwashing liquid
degreaser
bleach/water mix in ratio noted below
waterproof gloves
old clothes
How to Clean Concrete Patios
Remove all patio furniture, sweep off the patio and then hose it down with a garden hose equipped with a nozzle that provides a strong stream of water.


Use a mild grease-cutting detergent such as Dawn or Ajax dishwashing liquid mixed with water and

a natural or synthetic bristle scrub brush

to help brighten the patio surface. NOTE: Never use a wire brush as it can leave rust stains and scratch the concrete surface.


Use a degreaser made for concrete to remove oily spots, often found near the grill.


If your patio is heavily discolored, you should call in a professional. They will apply a solution of muriatic acid on the patio to bring it back to life. If you choose to do the work yourself, you can purchase the product at a home supply store, but be sure to wear long pants, closed shoes, gloves, respirator and goggles, and follow the directions on the container to the letter.
How to Clean Natural Stone or Flagstone Patios
Sweep, then hose off the patio and scrub stains using a detergent such as Dawn or Ajax dishwashing liquid.


For dark brown or black spots, and to remove moss, mold and mildew on patios in shady or damp areas: Mix a solution of 1 part bleach to 10 parts water. Test the solution on a small portion of the area. Don't use the solution if it causes discoloration or damage to the surface.

If the surface looks unharmed, scrub the stains with the solution of bleach and water while wearing your waterproof gloves.

NOTE: Bleach could damage plants and grass it contacts. Cover nearby plants and grass with a plastic drop cloth.


Flush the surface with plain water and repeat if necessary.


For a stone terrace or paver terrace: Power washing with the bleach solution will help break up moss or bacteria and keep it clean.
How to Clean Manufactured Paving Stones
Simply use a garden hose with an attached nozzle and blast off the surface debris. Low maintenance is one of the best reasons to install a patio made of manufactured paving stones.
Tips on Cleaning Patio Furniture
Wash cushions and furniture frames with mild soap and clean water. Let cushions dry completely before placing them back on the furniture to prevent mildew from growing. Learn more on cleaning outdoor cushions.


Use auto polish on metal furniture frames to make them shine.


Use a glass cleaner on glass tabletops and don't forget to clean the glass on the windows of your outdoor lanterns so the light shines through.


Use a kitchen degreaser on grill grates and the outside of stainless steel grills. Learn more on how to deep clean your grill.


Open your umbrella and wash the fabric with mild soap and water, and use a household oil — such as WD-40 silicone lubricant — on any moving parts to keep them working well.


Remove and discard any old potting soil from planters and clean the insides of pots with a bleach and water solution to kill any insects or bacteria that may have overwintered in the pots. Fill with fresh potting soil and put in new plants.
Have those outdoor cushions looking so fresh and so clean with our two simple and easy options.
Get ready to cook the perfect meal outdoors with this seven-step process for cleaning your grill and grates.
Erase years of wear and tear from your driveway in just a few simple steps with a pressure washer.
From convenience to landscaping needs, use these tips to evaluate where your patio should be.