22 Machine-Washable Rugs for Every Style Under $400
Machine-washable, on-trend and less than $400, these area rugs and runners are basically magic carpets.
Keep in mind: Price and stock could change after publish date, and we may make money from these links.
If you have kids or pets, a spot-clean-only rug just won't cut it. You need something that can go in the wash after mud-covered feet or paws walk all over it and come out looking like nothing ever happened. Enter machine-washable rugs. Yes, really — there are rugs out there that you can just stuff into the washer like towels. This used to be a small niche in the rug world, but it's come a long way, and these days you can find area rugs that are just as stylish as they are functional.
Rug designer Lorena Canals, for example, creates bright, whimsical rugs that are so cheery and fun. Technically, these are designed for kids, but with the maximalism trend in full force, these designs are the perfect way to add a punch of color and personality to any space and would also be a great addition to a dorm room.
And it's not just printed canvas or tight weaves. The eco-focused, washable rug company Ruggable just released a new line of washable shag rugs. You can have a fluffy, white rug in your home like a chic magazine spread without any worry that it will immediately turn into a messy hellscape with your family.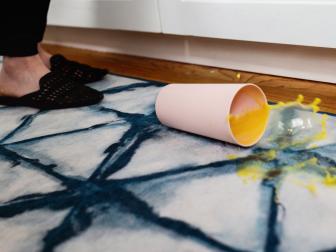 Editor-Approved
Editor-Approved
How well do Ruggable washable rugs stand up to stains, dirt and pet accidents? Our editors tell all.
If you're in the market for a new area rug, it might be time to try machine-washable rugs. We've hand-picked our favorite rugs in popular trends, from boho to neutral styles. Take a peek at these gorgeous designs and shop our top picks below.
Funky '70s decor is trending big time — especially rainbow arches, terrazzo and abstract flowers. If you're not ready to embrace orange glassware or mushroom lamps, start with a rug.
Everyone wants an antique rug, but have you actually looked up prices for a certified 8-by-10 antique rug? You could buy a car for the same cost, or maybe even two! And then, on top of the sticker price, you have to have it insured and professionally cleaned. Basically, it turns your living room into a museum. But there is a way to get a similar bohemian look for a lot less — Ruggable has an entire line of Persian-style area rugs that you don't have to baby at all. Just wad 'em up and toss in the wash.
If you love Southwestern style, say hello to this stunning, colorful area rug. It looks cute styled in this dining room, but can't you just imagine it in a living room with cognac leather seating and a kiva fireplace? Simply swoon-worthy.
If you're obsessed with tropical style and have lost count of how many plants you have, this Lorena Canals rug is the perfect rug for you. And, if you accidentally spill some potting soil, just toss this beauty in the washing machine. Palm leaves aside, florals are popping up everywhere in design right now. It's a great way to add bold personality to a room if you're not ready to commit to floral wallpaper.
Neutral rugs don't have to be boring! You can still have tons of texture and pattern play with a neutral area rug. With rugs, the higher the pile typically means the less likely it is to be machine-washable. But if you want that super plush look, try a low-pile rug with tufting. This oatmeal rug has really interesting, modern tufting plus fringe, and it's still washable!