The 10 Best Travel Mugs and Tumblers
When you're on the go, grab one of these travel cups to keep your drink at the right temp — piping hot or freezing cold. We'll guide you through what to look for in your next tumbler and help you pinpoint the best one for you.
Keep in mind: Price and stock could change after publish date, and we may make money from these links.
Travel mugs and tumblers are lightyears ahead of where they once were, keeping drinks at the perfect temperature, without condensation, and easy to carry or fit in your cup holders. If you're in the market for upgrading your on-the-go cup, we'll walk you through the best designs and our favorite picks.
Choosing the Best Travel Tumbler
When selecting your tumbler, you have two materials to choose from: plastic or stainless steel. Both versions are reusable, making them a smart alternative to disposable water bottles and cups, and prevent condensation — no sweaty exterior or water rings.
Plastic: Plastic tumblers are double insulated with either air or foam in between the two walls. Air-insulated options maintain your drink's temperature for the shortest time (around two to six hours), yet they are significantly lighter than their stainless-steel counterparts.
Stainless Steel: Most stainless-steel tumblers are vacuum-insulated, an airless gap between the inner and outer layer that provides the most effective heat and cold retention, maintaining your beverage's temperature for up to 16 hours. In addition to being dishwasher safe, their metal construction is more durable and longer-lasting than a plastic tumbler.
Choosing the Best Travel Coffee Mug
Turn your all-important coffee run into an at-home ritual with a travel mug that holds your beloved brew when you're on the move. First things first, look for leak-proof solutions — no one wants a lap full of hot coffee. Flip-top lids and magnetic closures are your best bets for securing your hot beverage, while still being able to drink with ease.
For material choice, there are a few things to consider. Plastic will absorb odors and flavors over time. Stainless steel doesn't absorb flavors but can sometimes add a metallic taste to hot beverages, while ceramic neither absorbs or adds flavors. Stainless steel does retain heat better than ceramic, though. Fortunately, most travel mugs today don't get super hot for you to hold, so when deciding on handle or no handle, it's mainly a personal preference — just make sure the mug will fit in your cup holders if you want it while driving.
We've found top-rated insulated tumblers that go from summer to winter, car rides to outdoors and workday to happy hour. Head out for your everyday and extraordinary days with your essential cup of coffee, tea or sparkling water.
Best Insulated Water Bottle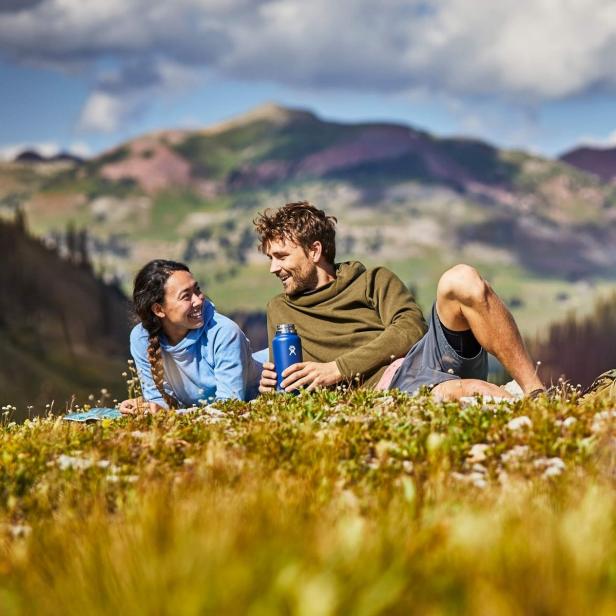 My brother works outside the majority of the day and grabs his ice-filled Hydro Flask before he heads out the door. He says it keeps his water cold with ice still remaining at the end of his long workday. The durable stainless-steel design is tough enough to take to any job or adventure, and in addition, to the fan-favorite water bottle, they also have a 22-ounce tumbler.
Buy It
Best Insulated Tumbler for Everyday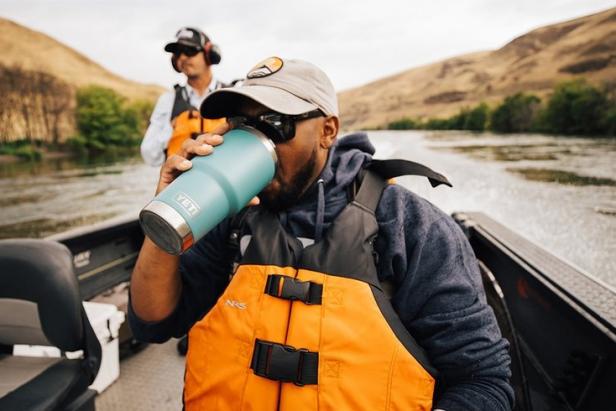 This is my personal favorite. My drink of choice is unsweetened tea with lemon, and my YETI keeps it cold and not watered down for almost the entire day. The 30-ounce design with the narrow base fits in my car's cup holders and is similar to grabbing a large drink through a drive-thru — but with the benefit of being reusable. Though the Rambler comes with a magnetic sliding lid, I prefer the straw top.
Buy It
Best Spill-Proof Insulated Tumbler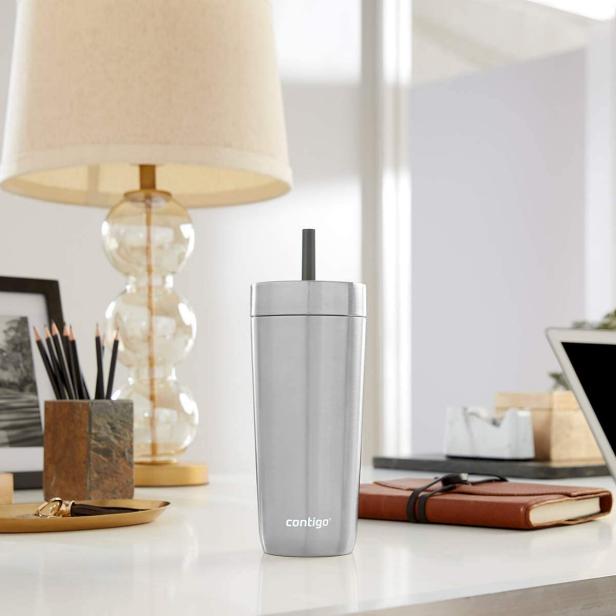 Give yourself peace of mind with this top-rated no-spill tumbler. The lid is fully sealed around the top and straw, and the straw has an inner valve, so liquid stays inside even if you tip over or drop your cup. Plus, the double-wall vacuum insulation keeps drinks cold for up to 18 hours.
Buy It
Best Travel Mug for Coffee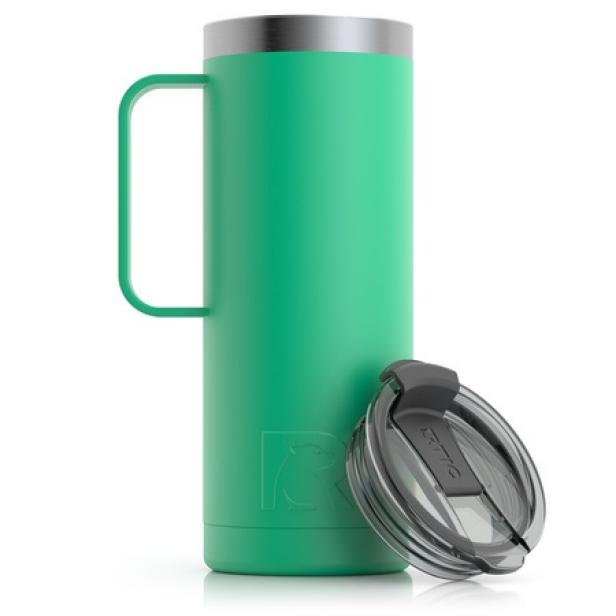 For those who love a handle to tote around their mug, this is your cup. The double-wall insulation keeps your hot drinks hot and cold drinks cold, all with a no-sweat exterior. Available in 12, 16 and 20 ounces, you can find the mug that fits your needs.
Buy It
Best Insulated Cup for Kids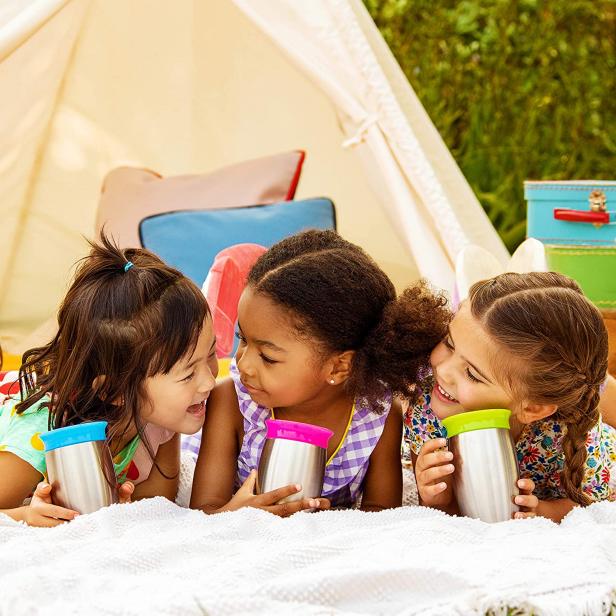 This is my go-to cup for little ones, and now they have it in a stainless-steel design. The 360-degree lid is helpful for kids learning to drink, and from personal experience, the cup is very easy to clean. The included lid helps prevent spills when you toss it in a bag.
Buy It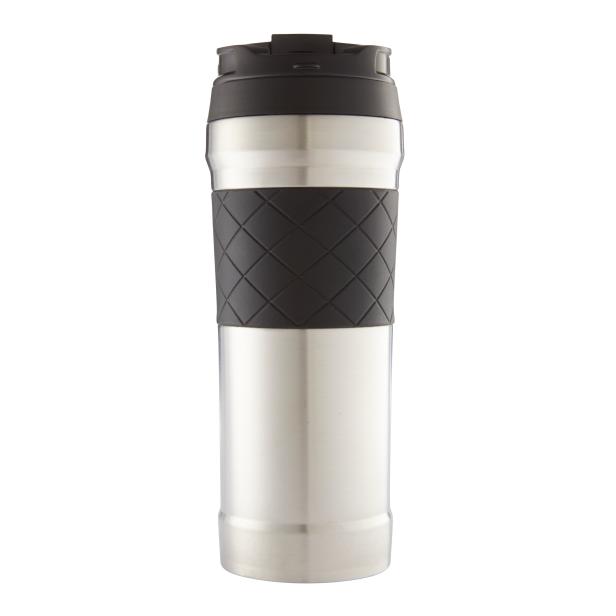 This travel mug has the best of both worlds as it features ceramic and stainless-steel material. The stainless-steel exterior keeps drinks hot up to six hours and cold up to 24 hours, while the ceramic lining ensures you only have the fresh flavor of your beverage. The leak-proof lid is easy to clean and ultra-secure.
Buy It
Best Insulated Cup for Camping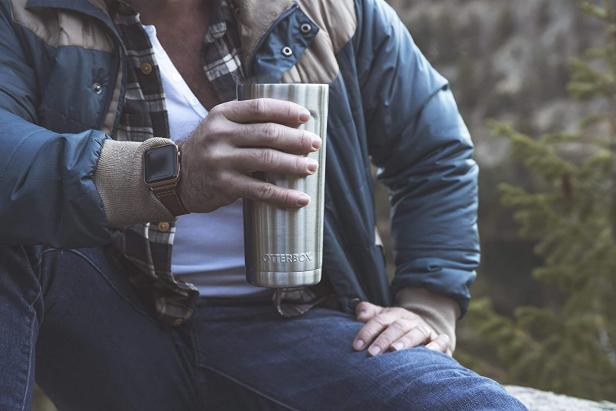 Otterbox has been protecting our phones and other technology for a while, so it's time to let them take care of our drinks. These tumblers have an internal copper linking and 100-percent stainless steel construction so that they survive any tumble or adventure.
Buy It
Best Insulated Wine Tumbler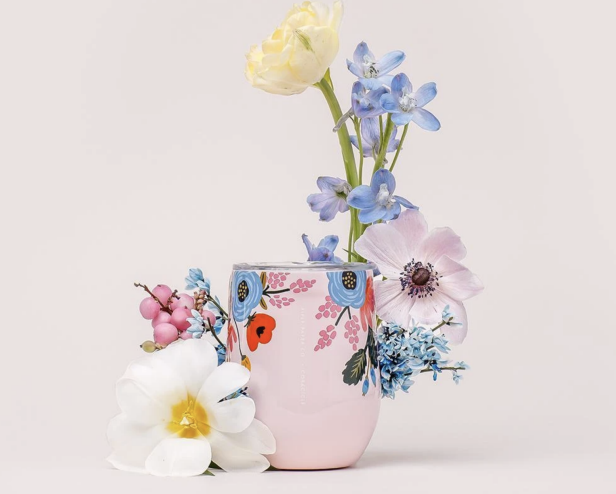 It's hard to beat the designs of Corkcicle, especially if you're a fan of Rifle Paper Co., like I am. These wine tumblers are triple insulated to keep your red or white chilled for at least nine hours. The sleek design is easy to hold and is topped with a sliding, shatterproof lid.
Buy It
Best Insulated Beer Tumbler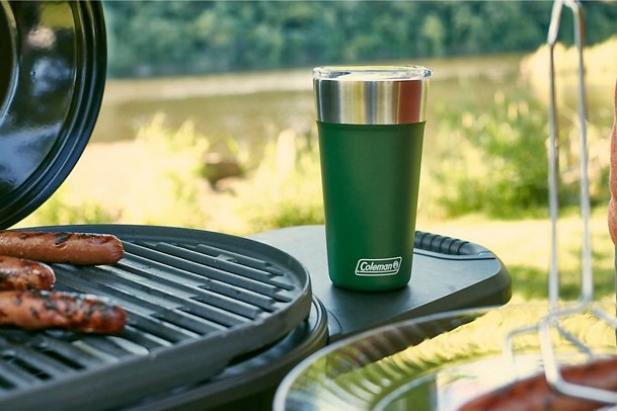 As the weather heats up, you want to keep your beer as cold as possible. The vacuum-insulated construction chills your brew for 15 hours, perfect for outdoor grilling and hanging outside. Forgot your bottle opener? No worries. There's an integrated bottle opener on the bottom of this tumbler.
Buy It
Best Tumblers to Buy in Bulk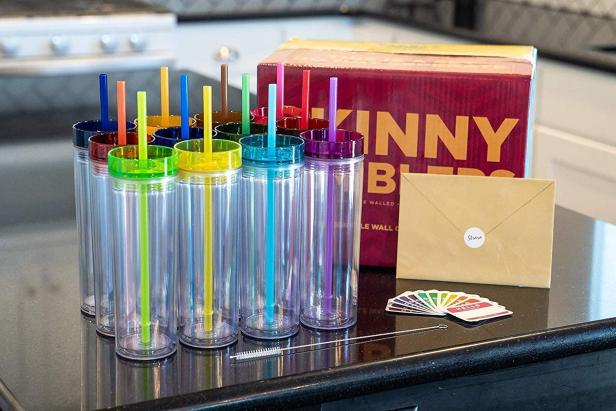 This colorful set is ideal for a party, family gathering, playdate or last-minute hangout. Each tumbler has a different color so that everyone can keep track of their drink, and the splash-proof lids allow for full fun without worrying about major spills.
Buy It
More of Our Favorite On-the-Go Buys