13 Best Coolers and Cooler Bags for Every Occasion
Whether you're headed to the pool, beach or park, these soft, insulated cooler bags and rugged hard-sided coolers are quick to pack, easy to tote and super stylish.
Keep in mind: Price and stock could change after publish date, and we may make money from these links.
Summer travel this year will likely trend toward road trips and closer-to-home adventures. As you plan your next family vacation to cities and towns where restaurants may not yet be open, consider what kind of cooler is best for your adventure. For short day trips and overnight stays, trips to the beach and long car rides where you'll have access to a freezer or fridge at night, a small, lightweight, packable soft-sided cooler bag is likely perfect for your needs. For multi-night road trips and camping trips where you'll have no access to electricity or family gatherings in the backyard, you're probably going to want a hard-sided cooler that can hold ice for long days in the sun. Some hard-sided coolers are also bear-proof if you loop padlocks through the holes in their corners.
As you think about what kind of cooler is best for your needs, take into account size, weight, expected use, brand reputation, price and versatility. We've recommended several YETI coolers here, which you'll notice are far from the cheapest options available. But we've tested many of their products under harsh conditions — dragging one of their soft-sided coolers behind a tube in a shallow river, going on a weeklong adventure with the Tundra, leaving their lunch bag out in the sun all day — and they all perform well. YETI is certainly a hype brand with a dedicated following, but it's for good reason: the products work, and as long as you take care of them, you'll likely never need to replace them.
For your more everyday use, like a picnic with your partner or kids or an afternoon at the beach, we've pulled together quite a few stylish and budget-friendly options. Many of these cooler bags, lunch bags and backpacks won't keep cans of iced tea chilled all day in the sun, but they're ideal for short, close-to-home adventures when you don't need to go overboard on performance or budget.
Here are our favorite picks for summer 2020.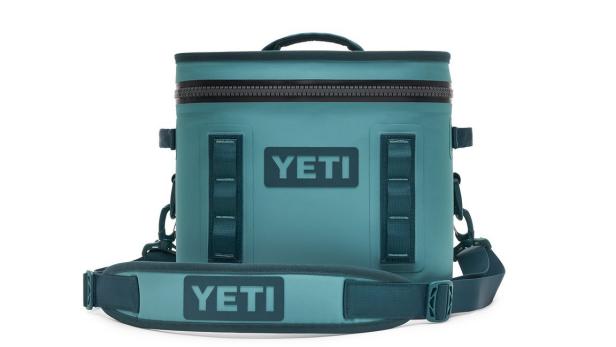 This soft-sided cooler might look like a glorified lunchbox, but it's a fantastic, lightweight solution to a bulkier cooler when you're just packing a few small things. It's also extremely rugged: I once clipped this cooler to an inner tube when floating down a river near Jackson, Wyo., and it stayed afloat and didn't even get a scratch in spite of bumping against quite a few rocks along the way. YETI's soft-sided coolers don't hold ice for quite as long as their hard-sided ones, but this cooler will indeed hold ice for a couple of days or longer, depending on the conditions and how much ice you use. The shoulder strap is comfortable to use, making it easy to port.
Buy It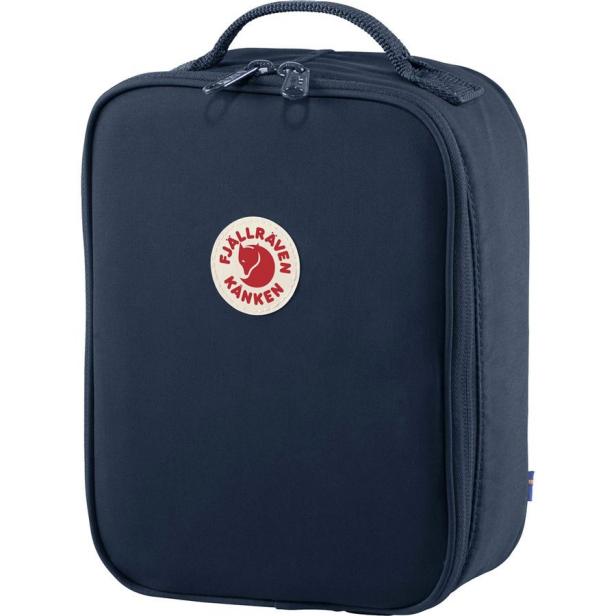 Fjällräven's Kånken line is classic and timeless. This simple lunch bag from the Swedish outdoor company will keep your lunch or a few drinks cold for an afternoon outing.
Buy It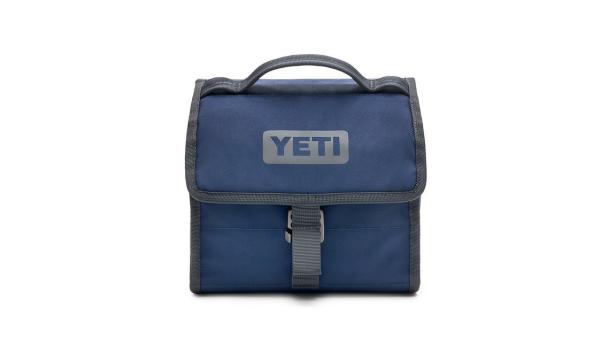 This is not your average lunch bag. I stuck an icepack in it and left it outside in the sun on a hot day in Boulder, Colo., and at the end of the day, the ice pack was still mostly frozen. If you often pack your lunch and are sick of your food not staying cold, it might be time to upgrade. The bag snaps shut with a magnetic closure and folds over to clip into a series of loops on the front to stay securely fastened whether it's completely full or a lighter lunch day.
Buy It
This soft cooler from Carhartt helps you keep your lunch organized. There's enough room in the main compartment for a six-pack, and you can protect more vulnerable food items in the top compartment. The front pouch will store napkins, utensils and other small items.
Buy It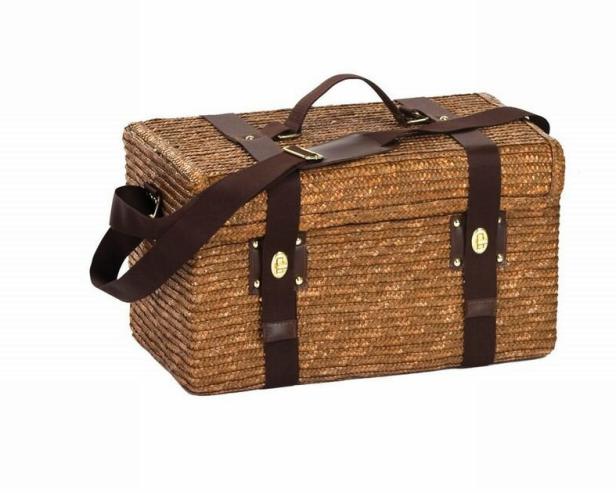 This cute picnic set contains everything you need for an outdoor lunch (well, except for the fancy cheeses). A soft-sided cooler tucks inside the basket to keep your perishables safe from the elements en route to a dreamy day in the park.
Buy It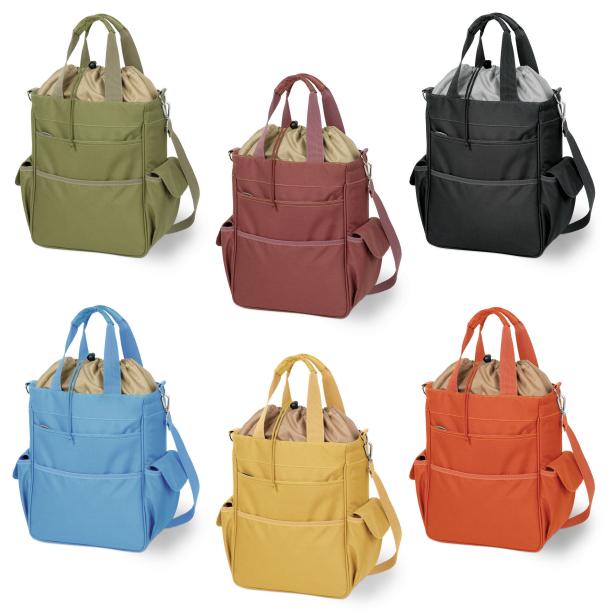 This versatile cooler bag is great for keeping groceries cold on your ride or walk home from the supermarket, as well as for carrying essentials on trips out of town. The interior of the bag is insulated but it doesn't shout "cooler," so you can get away with using it as a regular tote as well.
Buy It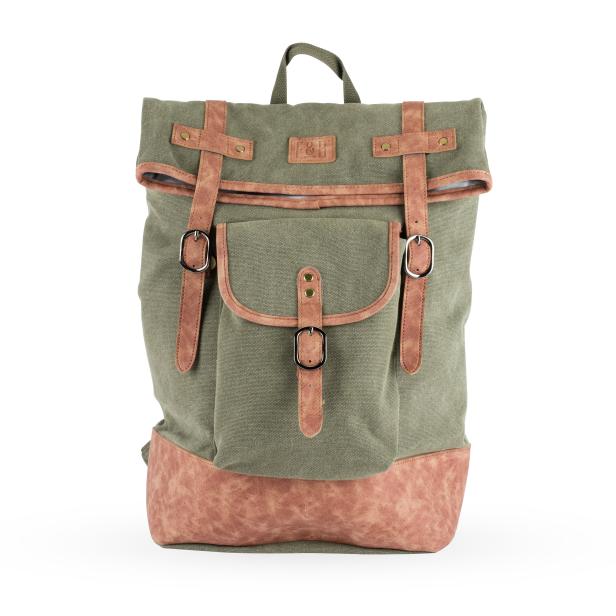 You'd never guess at first glance that this insulated canvas pack is a cooler. Its retro style and buckle straps make it a cute way to carry your groceries, your lunch or a chilled bottle of wine. It's also available in navy.
Buy It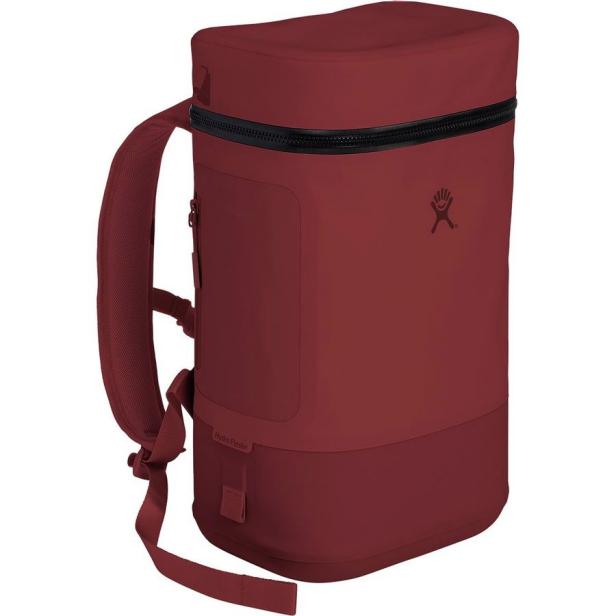 This burly cooler backpack from Hydro Flask means business: It can keep items cold for up to two days. Its padded backpack straps will help keep you comfortable if you're hiking to your picnic spot, and its watertight seal keeps ice in and the elements out if you manage to get caught in a storm.
Buy It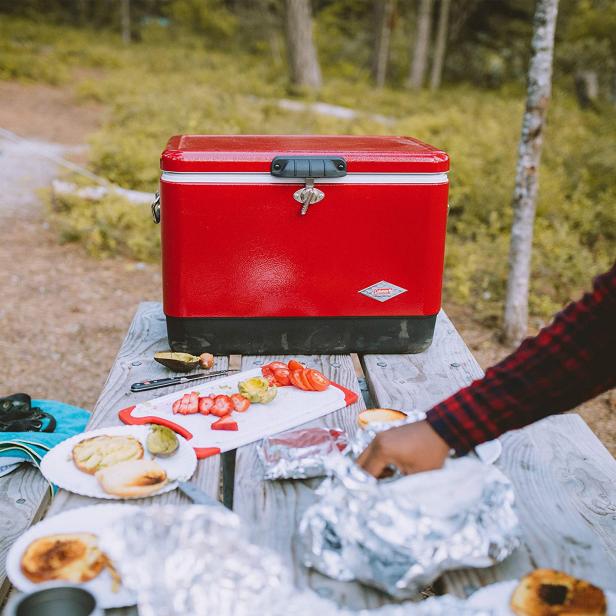 This gorgeous retro-style cooler from Coleman is more impressive than it looks from the outside: It can hold up to 85 cans, and Coleman claims it'll keep them cold for up to four days. We love this bold red color, but it's also available in turquoise, matte black, forest green, silver and stainless steel.
Buy It
This cute, retro-style cooler box is perfect for toting drinks to the beach or park or for sitting in the backyard with a book and a few bottles of kombucha. It's attractive enough that you don't have to clear space in your closet or pantry to hide it out of sight when not using it.
Buy It
This is the cheapest cooler on this list that's also certified bear-resistant when you padlock the lid shut. If you're heading out for a weekend in bear country and want a small, easy-to-tote cooler that will keep your goods safe from wildlife, this is the one you're looking for. It's sturdy enough to sit on, has a fish measuring ruler and two cup holders on the lid and a bottle opener in the front.
Buy It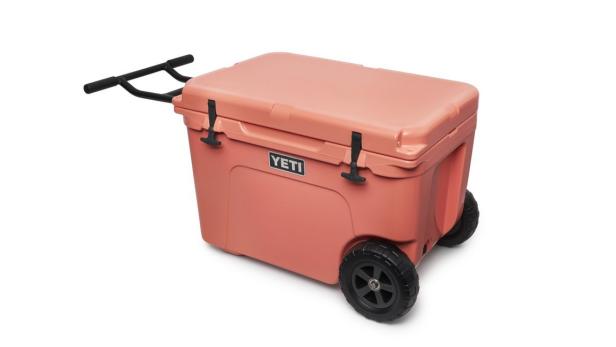 YETI coolers are expensive, yes, but they do exactly as they promise. The Tundra, which comes in several sizes and with and without wheels, truly does hold ice for days. This is the cooler you want if you're heading out on a long trip and need to keep food cold without constantly buying more ice. It's bear-resistant when you padlock the lid shut and more than sturdy enough to make a solid seat.
Buy It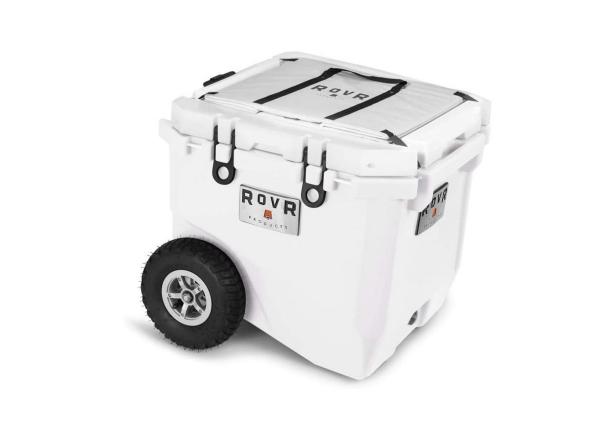 This cooler won't just haul your perishables and beer, it'll also help you carry all the extra odds and ends, thanks to the collapsible wagon bin that secures to the lid of the cooler. A cutting board slides into brackets on the side of the cooler to give you a little extra room for food prep and the burly wheels easily handle rugged terrain. Want to bike to a picnic? An optional bike attachment lets you pull the cooler like a trailer.
Buy It
More Must-Haves for Outdoor Adventures