Peanut Butter Ice Cream for Dogs Recipe
You scream, I scream, we all (including your pup!) scream for ice cream. When the weather turns hot and sticky, treat your furry best friend to a frosty treat. This homemade ice cream recipe uses ingredients that are not only safe for your pet, they're also healthy.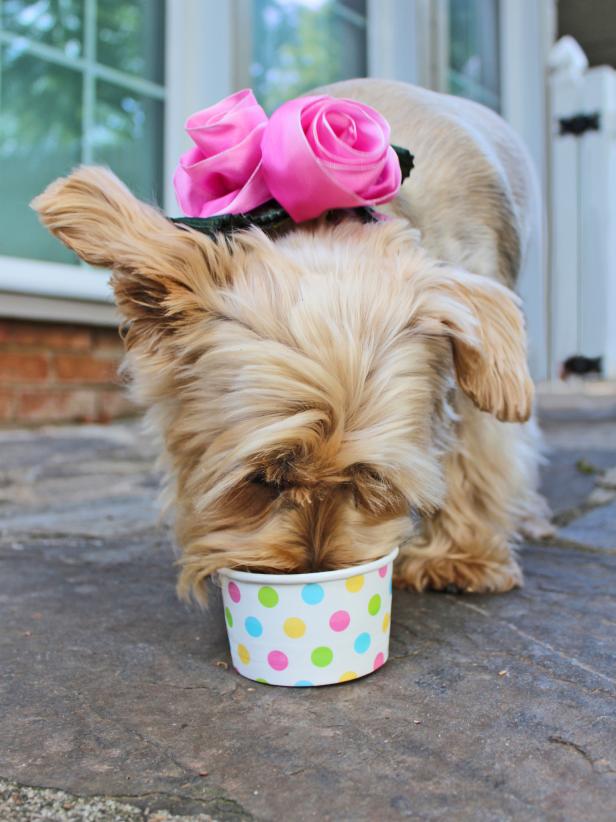 Cute Dog Enjoying Peanut Butter Ice Cream for Dogs
2 cups plain, nonfat yogurt
1 cup creamy peanut butter
1 package apples and chicken baby food
2 tablespoons honey
small paper treat cups wide enough to accommodate your pup's muzzle (available at party supply or craft store)
wax paper
Yield: 6–8 cups (dependent on the size of cup used)
1: Place 1 cup peanut butter in a microwavable container and heat for 20 seconds to slightly melt the peanut butter which will make it easier to blend. Add all ingredients to a large bowl and stir to thoroughly blend (Image 1). Spoon or pour mixture into treat cups, till about 2/3 full (Image 2). Note: the mixture will expand a bit as it freezes.
2: Tap cups on counter to settle ingredients, then place them on a flat surface in the freezer. Allow to freeze for a minimum of 3-4 hours.
3: Remove from freezer and cover the now-solid cups of ice cream with wax paper so the cups can be stacked to take up less freezer space. Optional: If you like, you can even make cute lids with coordinating card stock. Using an empty treat cup as a stencil, trace around the top and sketch a pull tab onto one side. Cut out the shape with scissors, being sure to cut about 1/2" inside your pencil line so the lid will slide down into the treat cup.
4: Return ice cream cups to freezer, they'll keep indefinitely making it easy to treat your pup to a lip-smackin' frozen treat anytime.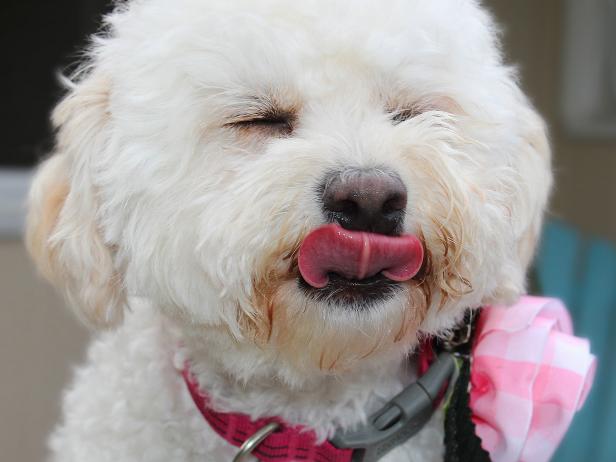 Cute Dog Licking Her Lips