Throw Some Shade With This DIY Beach Tent
Escape the sun's powerful rays with this DIY project.
We're sorry, there seems to be an issue playing this video. Please refresh the page or try again in a moment. If you continue to have issues, please contact us here.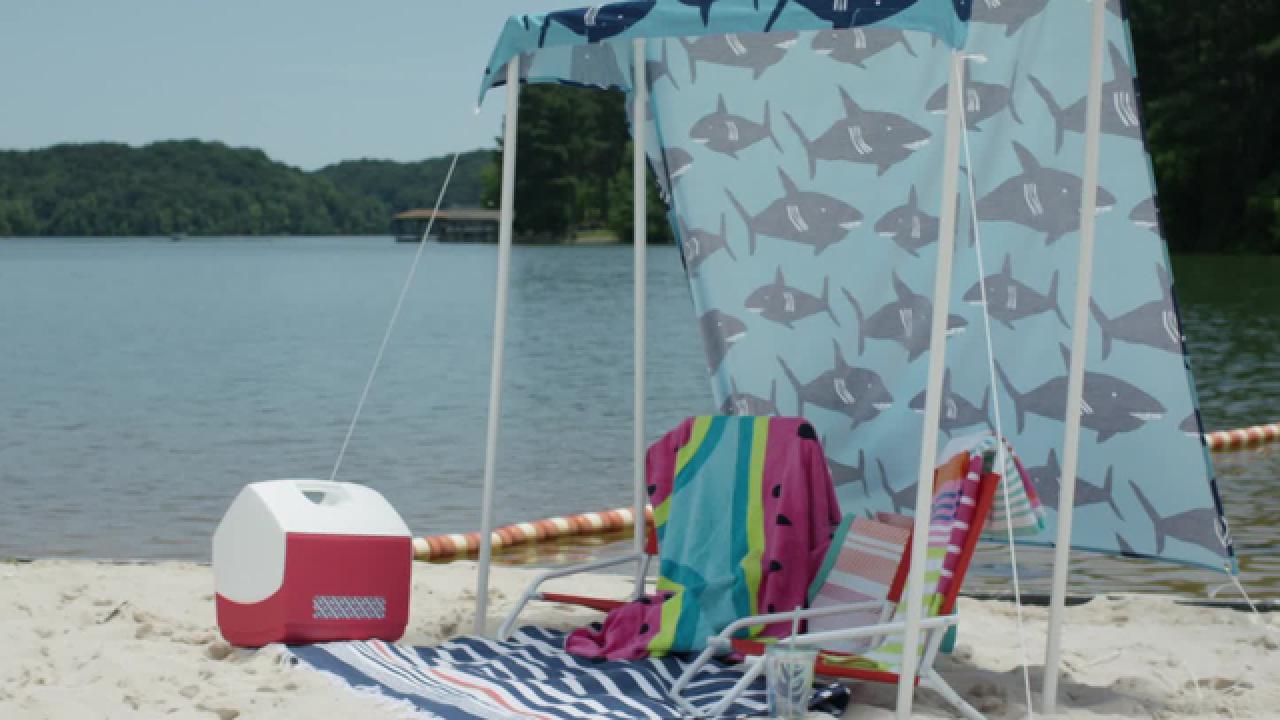 Protection from the sun is important when you're at the beach, which is why this DIY project is so great. With just a few inexpensive materials, you can create your own beach tent that will keep you shaded while relaxing on the beach. Here's how to make your own:
shower curtain
block of wood
grommets
4 sets of 10' nylon rope
(6) 5' PVC pipe
(2) 1' PVC pipe
(2) 3-way PVC connectors
(4) tent stakes
yoga mat strap (optional)
Pick a shower curtain with a fun design and lay it on a table with a block of wood nearby. Start with one corner of the shower curtain and spread it across the block of wood and add grommets. The wood will protect the table when you hammer the grommets into place. Do this for all four corners.
For this step, you'll need four sets of 10-foot nylon rope. Start with one corner and thread the end of one set of rope through the grommet and tie a double half-hitch knot. Do this for all four corners.
Bring the shower curtain and rope with you to the beach along with six 5-foot PVC pipes and two 1-foot PVC pipes with 3-way connectors on each end. Stand two of the 5-foot pipes up and join them together using the PVC connector and 1-foot pipe. Do the same with two other 5-foot pipes. Then, join the two sets of 5-foot pipes together at the top with the unused 5-foot pipes and slide them into the remaining connector slot. Your frame is now complete.
Drape the shower curtain over the top of the frame. The fabric should fall nearly to the ground but not all the way. Unravel the rope on the two bottom corners and tie them to a sand stake. Hammer the stake into the sand so that the fabric comes out at an angle. Do the same for the two corners at the top where the fabric just hangs over the frame slightly.
Set a couple of chairs under the tent and enjoy a cold beverage, a good book or both! When the sun starts to set, packing up is a breeze. Simply roll the PVC pipes in the shower curtain and use a yoga mat strap for easy transporting.