How to Wash a Tie-Dye Shirt
See our favorite tips and tricks to keep your freshly tie-dyed shirt vibrant for years to come.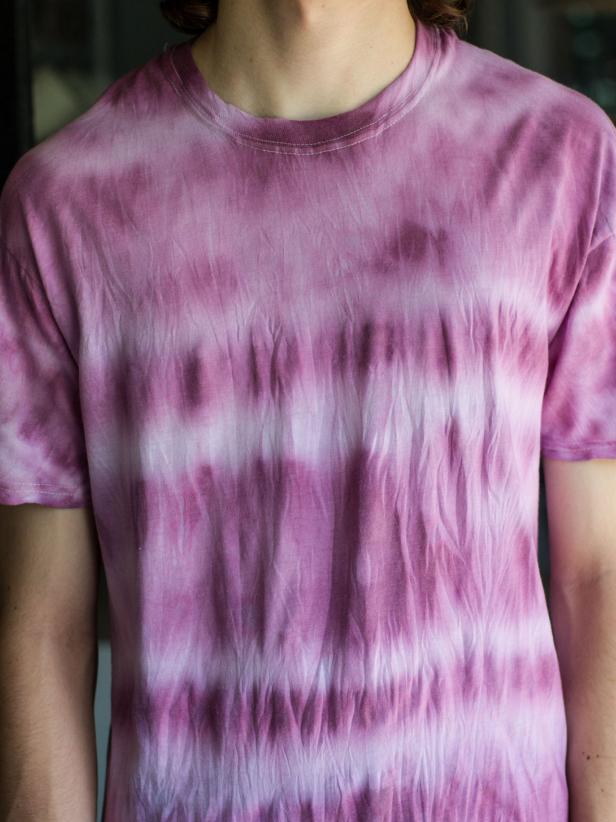 Blueberry dye
Make the blueberry dye by adding 1 cup of blueberries for every 3 cups of water. For a medium or large men's t-shirt you will need about 12 cups of water and 4 cups of berries. To enhance color you can add blackberries. Bring the berries and water to a boil in a large pot. Reduce the heat and simmer for 10 minutes. Place t-shirt in a large bowl and strain out solids to cover with the water/dye.
While tie-dyeing a cotton T-shirt can be a relatively easy process, it comes with a challenge: how to wash that freshly dyed cloth. Here are some steps that will keep your newly stained shirt bright and prevent your other clothes from joining in on the new look.
Note: Make sure you check your dye's instructions before beginning your project. Every tie dying kit is slightly different. Some dyes require the additional step of soaking the shirt in a solution of water and soda ash prior to dying, while other kits are one-step, meaning you can skip the pre-soaking process. Also, check the type of fabric you are using as this will impact both the dying process and the washing process. We are giving instructions on how to wash cotton fabrics.
Place the cotton T-shirt in a plastic bag, close the bag, and leave that shirt alone. You will likely be tempted to untangle the shirt from its rubber bands and get straight to the washing process. However, doing so will result in a dull shirt. In order for the dying process to work, the shirt must be left alone for eight hours, but for best results and a more vibrant color, let it sit for 24 hours. This allows time for the fabric's fibers to absorb the color.
2. Rinse Shirt in Cold Water
After you've waited for at least eight hours, it's time to begin the washing process. First, rinse the cloth under cold water. This can be done in a sink (avoid porcelain to prevent potential staining), in a washing machine's rinse cycle, or outdoors with a hose. Continue to rinse the shirt until the water runs clear.
3. Place Shirt in Vinegar Solution
Fill a bucket with a gallon of water and add 2 cups of vinegar. Place the shirt in the solution, and let it sit for 30 minutes. This process helps set the shirt, allowing the colors to remain bright for many washes to come. After 30 minutes have passed, it's finally time to remove those rubber bands and see your unique pattern! But the washing process is not quite done.
Place the shirt in the washing machine. You will want to wash it alone or with other similarly colored tie-dyed items. Avoid putting more than a few tie-dyed shirts in at the same time so that there is plenty of room for the shirts to rinse again.
Turn the machine on to cold water to prevent the colors from bleeding together, and DO NOT use fabric softeners or bleach when washing your tie-dyed shirts.
5. Dry Shirt on Low/Medium Setting
After the cycle ends, remove the shirt right away to prevent the colors from bleeding. Place the shirt in the dryer and use a low/medium heat setting to prevent fading. Or you can air dry the shirt, but don't put it in direct sunlight, as this will also cause the colors to fade.
Once the shirt is dry, it's finally time to wear it!
6. Wash Shirt Separately A Few More Times
For the next few washes, continue to wash the shirt on its own. This will ensure that any excess dye will not stain other clothing. Consider turning the shirt inside out to help preserve the colors.
After those first few washes, you will finally be able to wash the tie-dyed shirt with your other clothing. Continue to use a cold water setting and avoid fabric softeners and bleach for best results.
Enjoy wearing and showing off your tie-dyed shirt!
Additional Tip! How to Remove Tie-Dye Stain From Your Skin
Hopefully you remembered to wear gloves during the dying and washing process to prevent the dye from staining your hands. But, if you didn't (and you don't feel like having neon blue hands for the next couple of days), there's an easy way to remove the tie-dye stains.
According to Silver Bobbin, there are several methods for removing the stains. For instance, try mixing 2 tablespoons of baking soda with water until it forms a paste. Then, rub it on your hands where they are stained and rinse. If some stain remains, you can repeat the process.
Also, you can use a little laundry detergent or dish soap to scrub off some of the stain.
Remember, if any of these methods start to irritate your skin, stop.