How to Clean Rust Off Concrete
Follow these directions to remove an unsightly rust stain from your concrete patio, driveway or garage floor.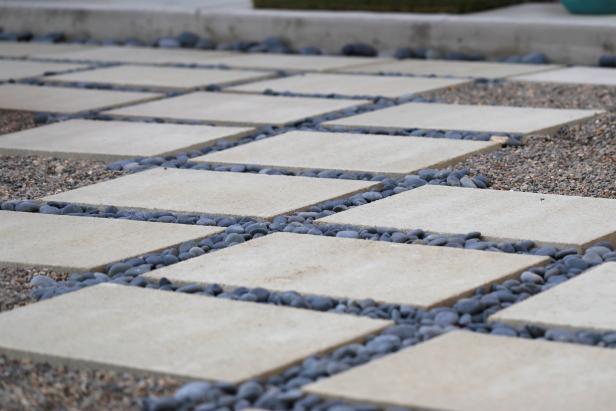 Concrete Paver Walkway With Pebble Joints
Square concrete paver walkways with Mexican pebble joints connect the different areas of the backyard, and pea gravel makes for a clean and budget-friendly mulch material.
If you've ever left metal furniture on a patio or old garden tools on a driveway, you've probably noticed the unsightly, brownish-orange stains these items can leave behind. When metal gets wet, it can rust, and that rust can transfer to your concrete surfaces. Homes that rely on well water are also prone to rust stains, as well water tends to be high in iron. However it happens, a rust spot can really tarnish the look of your home.
It's important to note that the longer the rust stain has been on your concrete, the more difficult it will be to remove. With that in mind, we're breaking this tutorial down into two categories: minor versus major rust stains. If you're not sure how old your stain is, we recommend starting with the treatment for minor rust stains and then, should that not work effectively enough, move on to the treatment for major rust stains.
Before you begin, take into consideration if your concrete is painted or delicate in any way. If it is, you may want to dilute the following solutions with one equal part water and use a brush that won't strip away paint.
Start by cleaning the surface with soap and water, no matter what level of rust stain you have. This will wash away surface-level grease or dirt that could prevent the acids from effectively removing the stain. Simple dish soap should do the trick.
After the surface is clean, start with pure lemon juice — not a diluted version, as the stronger the acid the better it will remove the stain. Once you've soaked the stain thoroughly with the lemon juice, let it sit. This is key. We recommend letting it steep for 10 to 15 minutes.
Once you've let it sit, use a wire brush to scrub at the spot. This is another instance when the delicacy of your concrete comes into play. If you're worried about the paint wearing, use a gentler nylon brush. If your concrete is extremely delicate, you can use a sponge; however, this won't be quite as effective as a brush.
Next, rinse the spot and let it dry. You may have to go at the stain again with the same process. If the stain is especially deep, you can substitute the lemon juice for something stronger, such as white vinegar. Follow the same process with white vinegar if necessary.
We're sorry, there seems to be an issue playing this video. Please refresh the page or try again in a moment. If you continue to have issues, please contact us here.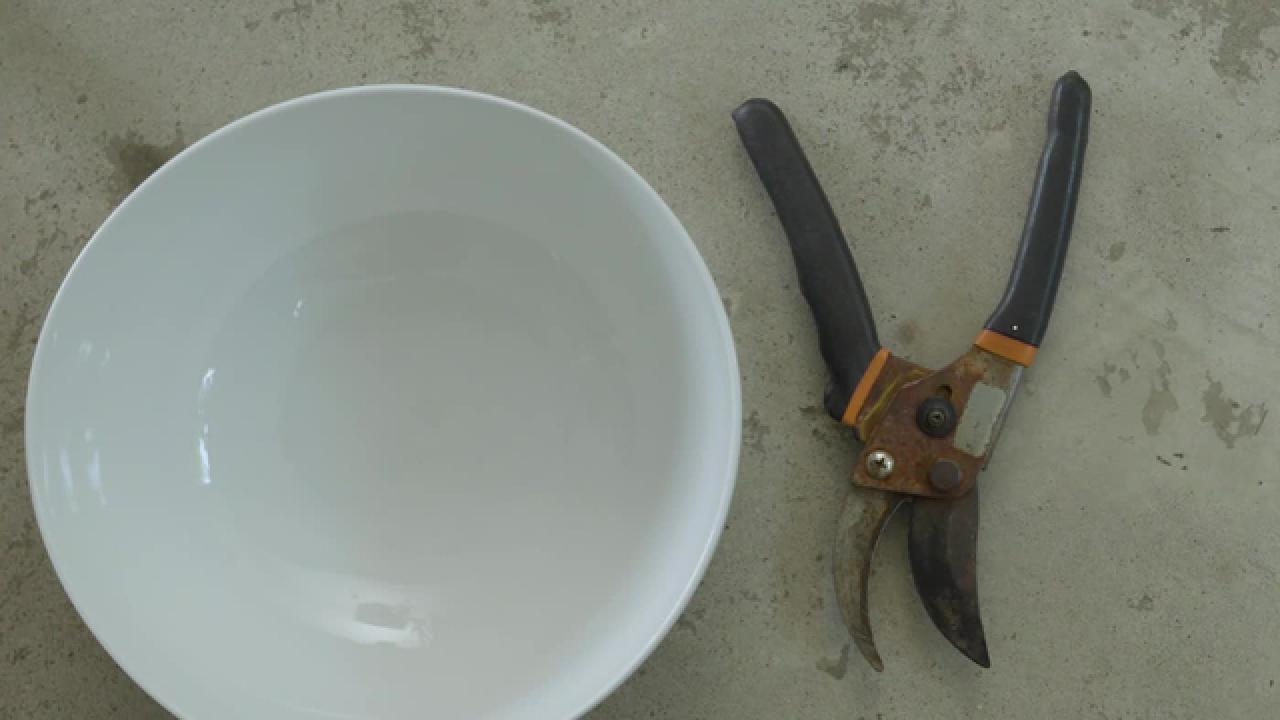 If the lemon juice or white vinegar method doesn't work, try a commercial rust cleaner.
Look for a rust remover that contains oxalic acid, as that's the ingredient that will really get the job done. Other acids that are effective include trisodium phosphate, which you'll mix with water, or hydrochloric acid. When left on too long, hydrochloric acid can turn your concrete blue; mix two parts acid, one part water to attempt to prevent this.
When working with acids, be sure to follow any and all safety precautions on the bottle. Wear gloves and eye protection, and protect your skin with long-sleeved shirts and pants.
Follow a similar process to the lemon juice method. Make sure the surface is clean, apply the rust remover or acid (following the instructions and safety precautions on the bottle), let it sit for five to 10 minutes, then scrub and rinse. Use a brush that's appropriate for your concrete to avoid damaging it. For particularly stubborn stains, rinse the acid away with a pressure washer.
As with any home improvement project, by following the correct instructions and observing safety precautions, you can remove your stain and probably save some money while doing so.
Plain concrete gets a stylish makeover with customized approaches.