Learn how to clean a mattress and keep it deodorized in six simple steps.
Keep in mind: Price and stock could change after publish date, and we may make money from these affiliate links.
You probably change your sheets weekly, but do you ever think about how to clean your mattress, and how often?
We spend a lot of time in our beds — a third of our lives on average — or more than 12 years! That's a lot of time in bed and on a mattress you probably don't clean.
Mattresses collect dead skin cells, sweat, stains, dust mites and all manner of unpleasant things from your body. Some dirt and dust will inevitably get down to the mattress, even when consistently changing linens and mattress pads.
How Often to Clean a Mattress
Cleaning your mattress twice a year not only promotes better sleep but takes care of the sweat, dust mites and allergens that build up over time, not to mention it helps prevent pest infestations.
We're sorry, there seems to be an issue playing this video. Please refresh the page or try again in a moment. If you continue to have issues, please contact us here.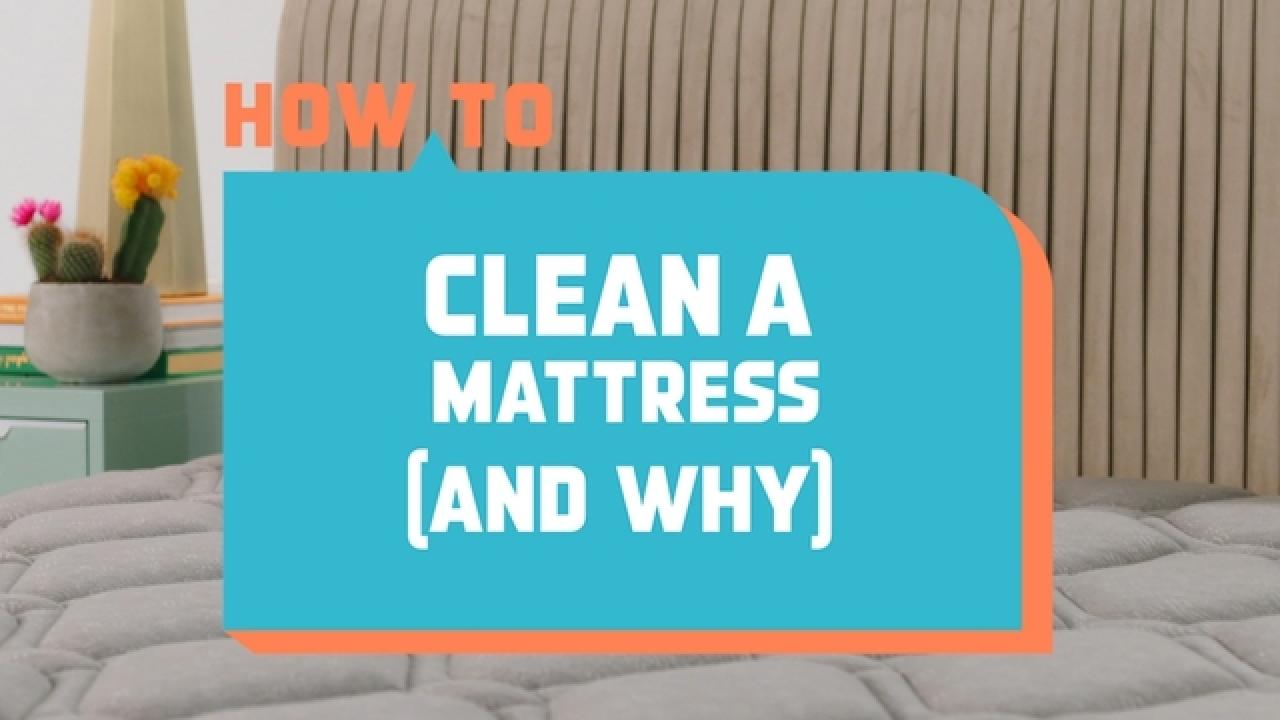 Steps to Cleaning a Mattress
Step 1: Strip the bed and toss everything in the washer
Use the hottest water setting possible when washing your bedding and always dry on high heat.
Step 2: Vacuum the entire surface with the upholstery tool
Vacuum the mattress using your vacuum cleaner's upholstery tool. Just removing the sheets and giving the mattress a good vacuuming gets rid of a good amount of dust, pet hairs and other dirt that has accumulated over time.
Pay special attention to seams and crevices. That is where icky stuff tends to accumulate.
Tip: A HEPA-rated vacuum will provide the best suction.
Step 3: Check for stains and then spot clean
Whether you're an in-bed snacker or have small children or pets, there are bound to be some stains to treat. An upholstery cleaner or enzyme-based pet odor remover should take care of the job. Enzyme cleaners chemically break down stains and odors and work wonders with children's mattresses that may have had bedtime "accidents."
If you don't have an enzyme cleaner on hand, vinegar or hydrogen peroxide can also be used to remove urine stains and odors from a mattress. If the stain is still wet, blot up as much moisture as possible using a clean cloth or paper towel. Once the stain is mostly dry, spray with undiluted white vinegar, let sit for five to 10 minutes, then blot dry.
For older urine stains that have already dried, mix 8 ounces of hydrogen peroxide, 3 tablespoons of baking soda and a drop or two of liquid dish soap in a spray bottle, swirling gently to combine. Spray the stain with the solution, let sit for 10 minutes, then blot dry. Reapply if needed. Note that this solution should be used immediately, as it will lose its effectiveness over time. It's also best used on white mattresses because it may bleach colored fabrics.
Let the mattress dry completely before the next step.
Step 4: Freshen and deodorize with baking soda
Sprinkle baking soda liberally all over the mattress surface. Don't skimp — you can use up to a 1 pound box. For best results, let this sit for 24 hours or at least do it early in the morning and let it work until that evening.
Tip: Add a couple of drops of essential oil to the baking soda to add a lovely scent.
If your mattress can get some sunshine, even better. Sometimes the best way to get persistent odors and stains out of a mattress (or any cushion) is good old sunshine. This is a natural way to eliminate bacteria.
Step 5: Vacuum the mattress again
Use the upholstery tool to vacuum your mattress again after the baking soda has had a chance to work its magic.
Step 6: Use a mattress pad or cover
After cleaning your mattress, put a pad or cover on it. Mattress covers are a great first line of defense against dirt and stains. Plus, they are easy to wash. Also, whenever possible, let your mattress breathe. When you go out of town, strip the bed and let the mattress sit uncovered.
How to Clean a Memory Foam Mattress
To clean a memory foam mattress, start by vacuuming the entire surface to remove hair, dirt and lint. To treat stains, mix 2 parts water with 1 part mild detergent in a spray bottle. Spray the stain, then use a cloth to gently scrub. Use a second damp cloth to remove the cleaner and lift the stain. For particularly stubborn stains, follow the same process with a mixture of 1/4 cup white vinegar and 3/4 cup water.
Like a traditional mattress, you can also use baking soda to absorb odors and freshen up your memory foam mattress. Sprinkle on any problem areas (or over the entire surface). Let sit for eight hours or overnight, then vacuum up the baking soda.
Memory foam is highly absorbent, so you want to make sure your mattress is completely dry before replacing the sheets to prevent mold and mildew growth. Pat any damp areas with a clean cloth or towel to absorb excess moisture, then open the windows or run a fan in the room to promote speedy drying. You can also periodically use a hairdryer on a low heat setting on damp spots; avoid using high heat or holding the dryer too close to the mattress, which can damage the foam.
Keeping a washing machine clean and well maintained will help keep it working for years to come.
Sanitize and sterilize your most-used appliance with a single cup of vinegar.
Follow these simple steps for cleaning an auto-drip coffee maker for a germ-free home brewer and a fresh tasting cup of joe.