How to Clean Your House in 45 Minutes or Less
Master the skill of speed cleaning, and make your home presentable in under an hour!
Is it possible to clean your entire home in 45 minutes? We think so. The key to speed cleaning, experts say, is setting priorities: Focus on the spaces you live in the most.
Think about your home. Make a list of the most impactful chores, and focus on the rooms that should be presentable and comfortable for your lifestyle. Be realistic too. The 45-minute game plan for a 1,200 sq. ft. home might look a lot different than one for a 2,800 sq. ft. home. Create your chore list wisely. Maintain the goal of having solidly cleaned your home while bypassing spots that require lots of extra attention. (Save those tasks for a rainy day deep clean.)
Experts suggest that the most important areas to clean are the places where people congregate in your home, such as your foyer, living room, kitchen, and bathroom. Let's consider what needs to be done in those spaces, set our stopwatch, and see how much we can tackle:
Small Foyer With Built-In Bench
This foyer's tiny amount of space has tons of style. A built-in bench has drawers underneath for storage. And a wall-mounted shelf is a floor-saving spot for houseplants, accessories and art.
Clean the Foyer - 5 Minutes
Most entryways serve as a sort of dumping zone, so let's fix that:
Open the door to your home and let in the fresh air as you clean. It's more effective than any air freshener or candle.

Put outerwear away. Leave some coat hooks or hangers available and uncluttered, so that guests have a space for their own belongings.

Store odds and ends that don't belong in the foyer in a single basket so that it's somewhat contained. You'll carry this basket along with you as you move about the house.

Sweep the floors, but avoid vacuuming or mopping. If necessary, a damp cloth will help spot clean dirty spots left on the floor by wet shoes. Save deep floor cleaning tasks for a day when you have an extra 10 minutes.

Close the door when you're done.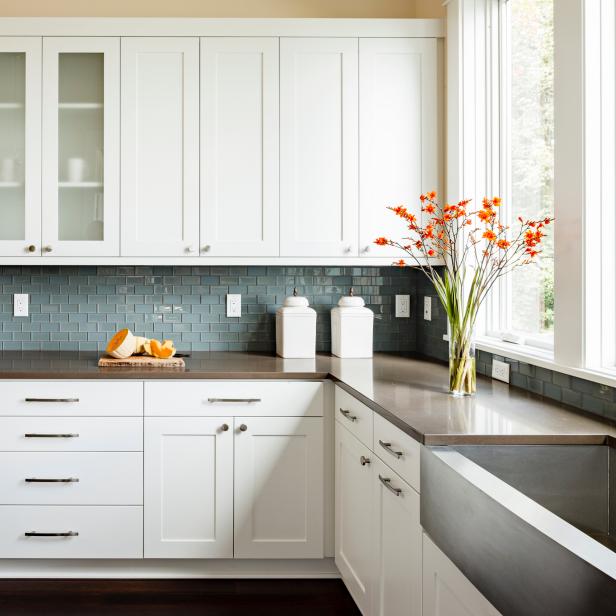 Concrete Farmhouse Sink & Shaker Cabinets
Shaker-style cabinets and a concrete farmhouse sink strike a polished note with their clean, structured lines.
Clean the Kitchen - 15 Minutes
We all know that everyone hangs out in the kitchen, so focus on achieving clean, uncluttered surfaces:
Open a window in the kitchen to help circulate air.

If any clutter from the foyer belongs in the kitchen, put it away. If there's clutter in the kitchen that belongs elsewhere, put it in your carry-along basket.

Stash away any unnecessary tools or appliances that are cluttering the countertop.

Spray disinfectant on the counters to remove grime and on high-touch areas, such as the refrigerator handle.

The sink is a high-maintenance area: Put dishes in the dishwasher, and clear off the drying rack. Use spray cleaner to get out every spot from the sink basin. Then, wipe down the faucet and around the drain.

If you have stainless steel appliances, use a cleaner to rid the surface of fingerprints.

Sweep – especially around the perimeter of the room and around cabinet bases.

Wash pet dishes, and use a damp rag to spot clean the floor area that surrounds them.

Hang fresh dishtowels and toss the dirty ones into the laundry.

Use a damp paper towel to wipe splatters from your cooktop and backsplash behind your stove.

Empty the recycling and trash, and take all bags out of the house. Add a spritz of disinfectant into the bottom of the cans before you insert new liners.

Don't forget to shut the kitchen window.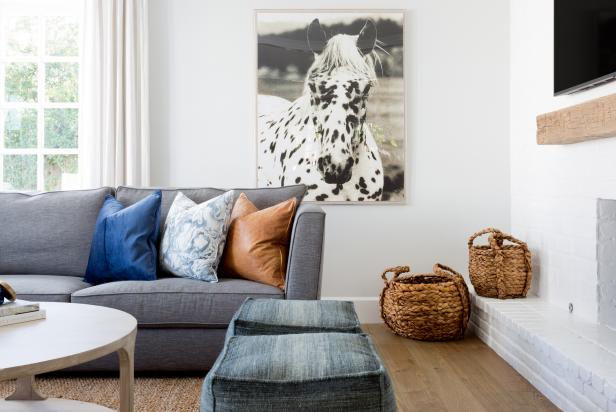 Simple Organization in Cottage Family Room
Woven baskets in this family room are perfectly for stowing away toys or books for quick clean up. For a personal touch, as well as design contrast, a large horse portrait fills the wall behind the sectional.
Clean the Living Room - 10 Minutes
A tidy living room is an inviting space – both to you and to guests:
Do a walk around the room and clear clutter. Add to your basket, and put away anything from the foyer or kitchen that belongs in your living room.

Stack magazines and books neatly in a basket or on an end table.

Use a microfiber cloth to dust any horizontal surfaces, as well as the TV and coffee table.

Organize remotes in a single spot, either in a drawer or neatly on an end table.

Straighten couch cushions and pillows, and fold any throws.

If you have pets, run a sticky lint roller over furniture to collect any visible fur.

If carpeted, use the vacuum – fresh vacuum marks on a rug always make a room look well-maintained.
Clean the Bathroom - 15 Minutes
Ironically, this area — not the kitchen or the living room — is where you want to be the most fastidious. The lighting is usually bright, and the room is free of distractions, making dirty areas easy to spot. (You might turn a blind eye to dirty areas, but your guests will not.) That doesn't mean you have to get down on your hands and knees and scrub the tub. Focus instead on cleaning the toilet, mirror, sink and counter.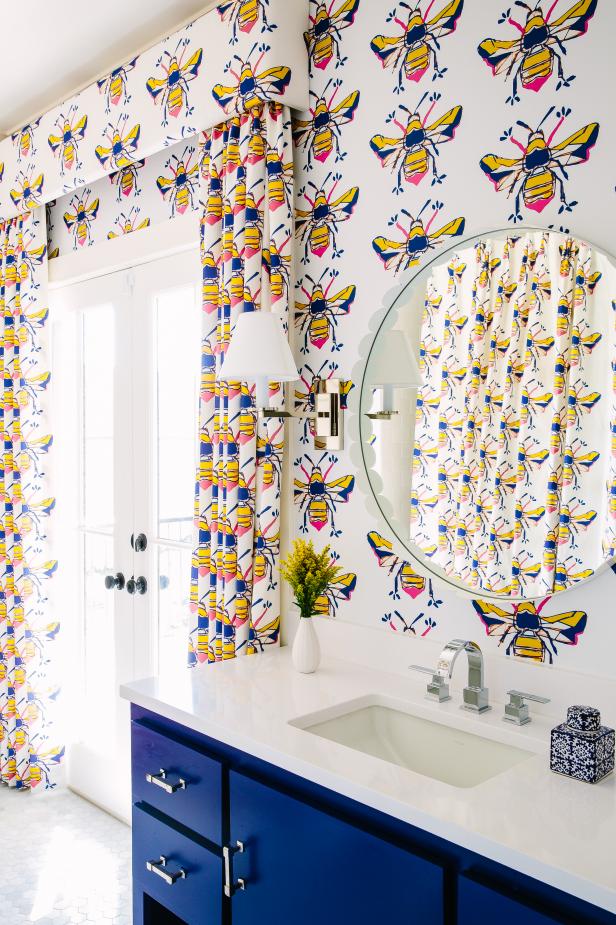 Bee-autiful Bathroom
This unbee-lievably cute bathroom is both fun and elegant. Plenty of natural light comes into the space from two French doors that open onto a private balcony, while the cool patterned wallpaper brings life to the space. The clean lines of the cobalt blue sink with clean, white countertop make the space feel sophisticated and modern, while the gray penny-round tile adds a calming aspect to the busy walls, tying the design together.
Turn on the vent and open a window to help air circulate.

Clear the counters, shelves and back of the toilet of any excess cosmetics, curling irons, hairbrushes, etc. Stash it all under the sink or in a drawer.

Pick up any dirty clothes, and throw them in a hamper.

Are any other items misplaced? Put them in your carry-along basket.
Collect any loose children's bathtub toys into a shower caddy.

Squirt toilet bowl cleaner in the bowl, and let it soak while you clean.

Spray and wipe down the mirror to remove splatters and streaks.

Disinfect the sink, faucet, stopper and the counter. Use paper towels to wipe down the counters first, and then polish the sink and faucet.

Put out new folded hand and bath towels.

Scrub the toilet with a brush and flush. Use disinfecting wipes to wipe down the seat and outside of the toilet.

Shake out the bathroom rug so it looks fresh, and then sweep the floor.

Close the shower curtain or door.

Close the window, and turn off the vent.

Take out the trash, and mist disinfectant into the empty container.