Brilliant Junk Drawer Organizing Tips You've Never Tried
9 tips for turning cluttered drawers into useful storage space.
A junk drawer gone wild is a frightening place. Need to find something fast? Forget it. BUT there are ways to reclaim that overstuffed space. Here are our best tips for getting the junk drawer under control.
1: Use a cardboard bottle divider from a liquor or wine case to create compartments in a drawer.
2: Use ice-cube trays to hold small items that normally slide around in the drawer.
3: By using a cutlery tray and grouping similar items, you can transform a junk drawer into an office-supply drawer, a tool and utility drawer or just a more organized junk drawer.
4: If you have an old dresser you're planning to throw out, save the drawers. Just buy four caster wheels and screw them onto the bottom corners of the drawer. Now you can roll the drawer under a bed to store out-of-season clothes or blankets.
5: Empty junk drawers and throw out all the unused items. You'll be surprised how much space this will give you.
6: Line drawers with wallpaper or self-adhesive paper so that when you clean them there won't be anything stuck in the cracks and corners.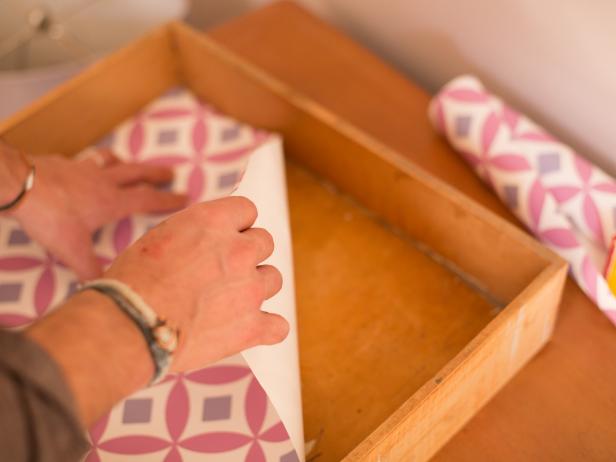 BPF_original_wallpaper-drawers-coordinating-knobs_step-3_4x3
Step 3: Place Wallpaper Place the wallpaper into the drawer completely dry (without paste) to ensure a perfect fit. Following manufacturer's installation directions, permanently attach the paper to the drawer. This may require adding paste or simply wetting the back of the paper with water to activate a pre-pasted coating, then smoothing air bubbles out from the paper using wallpaper smoothing tool. Repeat for each drawer. TIP: If a valuable heirloom dresser is being used, consider simply laying the paper down inside the the drawer completely dry, holding it in place with double-sided tape rather than adhering with paste.
7: Use empty pill bottles, film canisters or even old muffin pans to hold thumbtacks, paper clips and other tiny items.
8: Using drawing pins (available at craft stores), attach elastic along both sides of the drawer for holding small bottles, film canisters or baby-food jars in place. Grip drawer liners can also keep plates and saucers secure and prevent sliding when opening and closing drawers.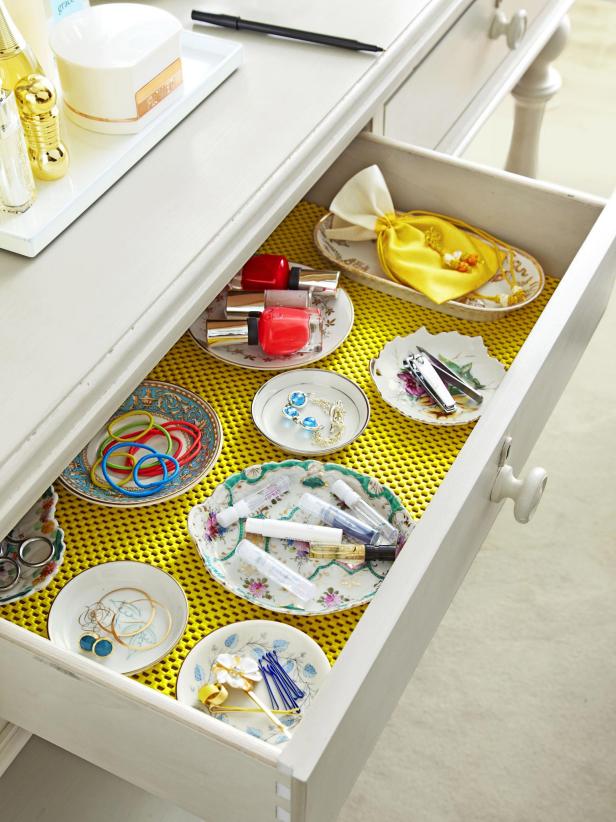 Pretty Saucers Organize a Vanity Drawer
Brightly colored grip drawer liner keep pretty saucers in place that hold makeup and accessories in a console table turned vanity.
9: Extension cords — that staple of junk drawers — can be conveniently stored, without tangling, by simply winding the cord loosely and slipping it into a cardboard paper-towel tube, or dividing the drawer into labeled "cubbies."
No More Tangled Cords
It's frustrating enough to have to dig through drawers and find a cord, let alone to discover it's a member of an intertwined mess. Keep unruly cords organized by using media boxes that are divided into "cubbies" with scraps of cardboard, like Jennifer Jones did for her home office. Label each section, so you'll never confuse the camera cord for the phone charger again, and give the boxes a bit of color by decorating the cardboard with scrapbook paper.
Photo courtesy of Jennifer Jones