Glass Kitchen Cabinet Doors
Glass kitchen cabinet doors will turn boring, plain wood into something spectacular.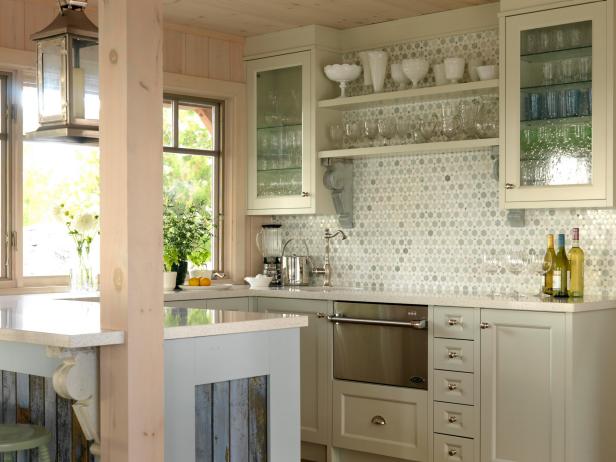 HSSUH105_kitchen-with-glass-face-cabinets_4x3
Two long runs of counter space give plenty of room in this cottage kitchen. Blue-painted antique corbels hold open shelving and support the peninsula overhang, bringing vintage-inspired whimsy to the space. Sarah chose three different cabinet colors to create a dynamic color palette. She used natural materials and a lighthearted color for the backsplash, and the seeded glass cabinet doors bring an extra touch of softness.
There is something elegant and beautiful about glass kitchen cabinet doors. They seem to open everything up and make the room seem bigger and more alive.
Kitchen Cabinets
Learn more about beautiful, efficient, kitchen cabinets.
From beveled glass to frosted glass, to smooth and crystal clear, glass cabinet doors in your kitchen put just the right finishing touch on any update to your kitchen. When choosing the glass for your cabinets, you need to decide exactly what the purpose of it is. A clear glass is going to show everything in your cabinets, so you probably won't want it on a cabinet that will be storing oatmeal and cereal boxes, and other canned and dried goods. On the other hand, clear is a beautiful choice to show off your flatware and china, wine glasses and champagne flutes.
The less clear the glass is, the easier it is to obscure the less attractive items in your cabinets. Adding a touch of mystery and softness, a frosted glass is a perfect choice for those cereal boxes while still adding style to the room. For something in between, a water drop, block or dimple pattern in the glass is a good choice to give your unsightlies a little privacy while showing off the good stuff with a unique look.
Having glass kitchen cabinets doesn't mean you have to replace your cabinets. If your existing cabinets are in good condition, you can install glass inserts instead. Adding muntins to a plain glass design that mimics the architectural designs and moldings of the house will add a sense of continuity and bring all the elements together for a finished look. Ultra-contemporary glass designs like river ice, spun fiber and deco add an artistic flair and convey a sense of drama. I really like this look on just one set of tall cabinets in one place to reinforce or contrast the tone and color scheme of a room.
Glass cabinets can also be used in conjunction with solid cabinetry for a bigger impact, especially with an interesting design pattern, such as net or leaf. The glass becomes art in itself to give your kitchen a unique style. Leaded glass on a corner cabinet will open it up and make it appear bigger, so it isn't fading into the background, and glass cabinets are a great alternative to the two-toned look to break up and tone down the overwhelming impact of one solid color throughout the room.
More Kitchen Cabinet Door Ideas and Options
Other Kitchen Cabinet Ideas