Gather metal backsplash ideas and get ready to install a contemporary and attractive backsplash in your home.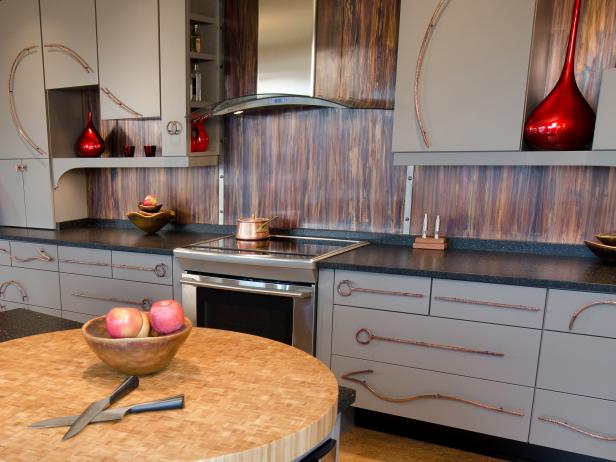 kitchen-backsplash-metal-ideas_4x3
Fanciful swirling metal pulls, fun red sculptural wall elements and a copper backsplash break free of the ordinary. Two sinks and two pullout trash containers eliminate prep conflicts. Generous counter areas avoid bottlenecks for large prep, along with two appliance garages.
Backsplash materials run the gamut from tile to stone to wood, but metal kitchen backsplash ideas abound as well, and they can add a substantial, modern feel to any kitchen design.
There are several types of metal that lend themselves particularly well to backsplash designs, and each comes with a range of pros and cons.
A good place to start when planning to add a metal backsplash to your kitchen design is with the overall scope of the project. You'll need to define the square footage the backsplash will cover in order to estimate the amount of metal and other materials you'll need for your backsplash. Obviously, this scoping exercise will go a long way to defining the required budget for your project, so you'll want to make sure it's the first step you take. To calculate the amount of material you'll need, first decide if you want your backsplash to cover the entirety of the wall space above your countertops or just a portion thereof. Once you've decided on the amount of coverage, mark the area off and measure the square footage.
When the scope of the metal backsplash project has been defined, you'll want to begin thinking about which metal you want to feature in your backsplash design. One of the more common metal backsplash choices is stainless steel. Popular in recent times as an appliance feature, stainless steel has begun to appear more and more in backsplashes as its bright, reflective, easy-to-clean surface makes it an attractive and efficient choice.
Punched or hammered tin is another metal that's becoming more common in backsplashes—it can add a great deal of texture and weight to any kitchen design, and it's also durable and easily maintained. Copper and brass are two more metals that many homeowners feature in backsplashes. Each of these metals offers the added benefit of "evolving" over time—exposure to air and moisture can cause slight or even drastic color variations over time, often deepening their hue or resulting in attractive striations and patterns.
One you've decided on the right metal for your kitchen backsplash design, it's time to begin construction. You'll have two options here—hire a contractor to install the metal backsplash for you, or go the DIY route and install it yourself (or, if you're lucky, with some assistance from friends and family). Depending on the complexity and size of the project, you may be able to save a considerable amount of money by installing the backsplash yourself. On the other hand, hiring a contractor will save you time, and you won't have to break a sweat; this is an especially attractive option if you've never installed tile before or aren't particularly handy.
More Kitchen Backsplash Ideas
Kitchen Backsplash Inspiration