How to Cut a Quartz Countertop
With the right tools and a bit of planning, you can cut a quartz countertop to size by yourself.
Have you ever wondered if you could order your own quartz countertop material and cut it to a custom size yourself? With the proper tools, a dedicated workspace and a penchant for detailed measurements, you can effectively and efficiently make cuts to pieces of quartz yourself during a home remodel. This isn't a project for a novice craftsperson, but with the right tools and patience, we think that you'll feel empowered to handle this DIY project. You'll find that making cuts in quartz is not much different than cutting through other stone or countertop materials.
"Cutting quartz is difficult when you consider the technicalities involved," Alejandro Martinez of Krome Construction tells us. "I do think this is something that a handy person can do themselves as long as they have the proper tools and have done some research in the process."
If you're considering replacing the countertop on a bathroom vanity, building a kitchen island or going all-out with all new countertops throughout your kitchen, these are some important tips to help you navigate the process of cutting a piece of quartz countertop yourself.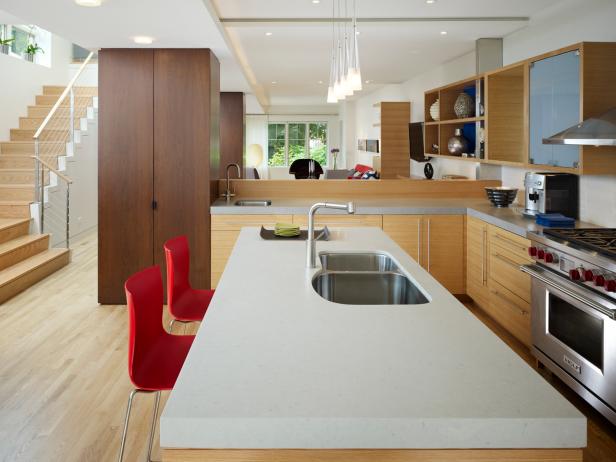 Midcentury Open Plan Kitchen With Red Chairs
This vintage 2-unit building was transformed into a contemporary single-family home. Instead of walls, walnut and light oak cabinetry of varying heights delineates the kitchen and dining area, the den and living area.
Scott McDonald, Hedrich Blessing
Martinez, who has marked experience as a general contractor, offers more detail about what you can expect if you cut your own quartz countertop as part of a kitchen or bath remodel:
Helpful Tools to Have on Hand:
wet saw with a diamond blade
grinder wheel with polishing attachment 
speed square
level
"When cutting quartz, it's a good idea to be in an open area (preferably outside) because even with a wet saw, you'll produce a tremendous amount of stone dust. Using a wet saw with a diamond blade will help to keep airborne dust controlled, but the amount of water produced by the saw does cause the work area to get messy." If you have a piece of test quartz to practice on, consider using it to observe how easily it cuts and what kind of mess it creates.
Be sure to wear proper protective gear to protect yourself from flying debris and airborne dust. Eye and ear protection is a minimum for this project, but long sleeves and pants will also help protect your body, and a full face mask will help shield backsplash from the wet saw.
"Remember that quartz is not only expensive, but it's also unforgiving," adds Martinez. "Mistakes cost a lot of money when you're working with high-end materials." Measure twice, use rulers and squares to ensure that your cuts are exact, and be more assured that the quartz will be perfectly cut.
Have a solid work surface, and an extra set of hands when you're cutting quartz and any large pieces of stone. "Your assistant will help support the piece being cut so the weight of it doesn't prematurely crack the stone."
Once the cuts have been made, it's likely that they'll be jagged and unfinished. This is when the polishing wheel and oil come into play. "Polishing the stone smooths out imperfections and gives it a really clean look."