How to Pick Bathroom Faucets
Think of faucets as bathroom bling and choose one that suits your style, needs and budget
Popular in Faucets
Find fixtures that enhance the style and design of your bathroom.
In any bathroom overhaul, the faucets are the crown jewels. Available in a spectacular array of shapes and finishes, even modestly priced faucets present worlds of possibility. Add in the options for interactivity and water conservation, and today's bathroom faucets offer homeowners every convenience.
Before choosing bathroom faucets, you'll need to consider a few factors, such as whether you're using an existing sink or buying a new one, where are the faucet opening. You'll also need to consider which features you want, as well as how much faucet your budget will allow. Other considerations include the size of your bathroom and what sort of faucets are typically found in similar homes in your area.
Explore your options in integrated, mounted and deck-fastened faucets for the bathroom.
If you're retrofitting a new faucet to an existing sink or buying a complete sink ensemble, be sure to match the type of faucet to the hole openings in your sink.
Single-hole faucets combine the spout and mixing handles—often a single lever—into one unit that requires only one drilled sink hole. For retrofits, some models include a bottom plate that will cover existing three-hole openings. Single-hole faucets are ideal for smaller sinks, such as powder room baths. Their simplicity reflects modern sensibilities.
Center-set faucets fit standard three-hole sinks (with outer holes drilled 4 inches apart). They'll have either a single lever or two handles mounted on a 6-inch plate. They're ideal for most bathroom sinks.
Widespread mounts have three separate pieces: Two handles and the spout. The standard distance between the handles is at least 8 inches, and the three pieces tend to be larger than other types of bath faucets. Smaller versions, called minispreads, are designed for standard holes drilled 4 inches apart.
Wall mount faucets have gained popularity along with freestanding or vessel-type sinks that require longer spouts that extend well over the top of the bowl.
Not every faucet fixture can be easily categorized. Kohler, for example, makes a faucet that's integrated into a mirrored wall cabinet. All you see is the tiny flow control lever peeking out from the bottom of your mirrored self.
The good news: In their zeal to bring new products to market, fixture manufacturers have created more finish options than Lady Gaga has costumes. Thanks to modern protective clear-coat sealers, even not-so-expensive faucets can boast of lifetime warranties for their finishes.
The bad news: You'll have to choose from a mind-scrambling cornucopia of possibilities that include polished chrome (the long-standing industry stalwart), brushed chrome, polished nickel, brushed nickel, hammered nickel, stainless steel, bronze, brushed bronze, oil-rubbed bronze, polished brass, black, white and decorative ceramic.
Let's not overlook gold, which today might be considered an investment as well as a decorative preference.
If the choices give you sensory overload, try these decision-making tips:
Forget the metal and concentrate on the look. Visit a showroom where all the finishes are on display, and select the one you fall in love with.
Coordinate all your finishes in each bathroom so that your hard surfaces—including towel bars, lighting fixtures and door hardware—have the same finish.
Polished finishes are elegant but require constant upkeep to keep them looking sparkly
Brushed finishes are better at hiding water spots and fingerprints, which is great if you have kids
Bathroom Fixtures: What You Should Know
Most major manufacturers consider faucet style the way Louis Vuitton does shoes—haute never rests. In fact, many manufacturers hire well-known designers to craft their most eye-catching models. Kallista, for example, offers fixtures from well-known kitchen designers Mick De Giulio and Barbara Barry. A sleek, Lamborghini-esque sink faucet from Kallista's Jeton collection by Bill Sofield lists for $1,843 in brushed nickel.
Not surprisingly, much of the design focus is on the spout, and recent introductions include spouts that deliver water through narrow tubes, down open chutes and through roller-coaster curves. Articulating-arm faucets have migrated from the kitchen into the bathroom, presumably so you don't have to move your toothbrush to the stream.
How low can you go? In an effort to create a basic water conservation standard, the Federal Energy Management Act of 1992 requires that new faucet fixtures made in the United States have a maximum flow rate of 2.5 gallons per minute (gpm).
The savings over pre-1992 faucets is substantial—almost 8,000 gallons of water per year for converting all the faucets in an average house. Add to that the savings you'll get from reduced hot water heating, and retrofitting your pre-1992 faucet with a newer model is an easy decision.
And your flow rate can go even lower. In 2008, the Environmental Protection Agency (EPA) put into service a program entitled WaterSense. The program uses third-party testing to determine if faucets and showerheads meet criteria for high-efficiency water flow of about 1.5 gpm or less. Most manufacturers have extensive product lines that conform to WaterSense criteria.
The technology used to achieve these exceptionally frugal flows either is built into the faucet body or applied to the aerator, the little screw-on tip that fits on the end of your faucet. To date, most manufacturers have focused on the aerator to avoid wholesale retooling of product lines. Smartly engineered low-flow aerators will automatically adjust for pressure fluctuations, successfully restricting water while maintaining a full, powerful flow.
In many instances, you can replace your regular aerator with a WaterSense-approved aerator. If you do, the EPA estimates you'll save about 500 gallons of water per year for every faucet you retrofit.
We're sorry, there seems to be an issue playing this video. Please refresh the page or try again in a moment. If you continue to have issues, please contact us here.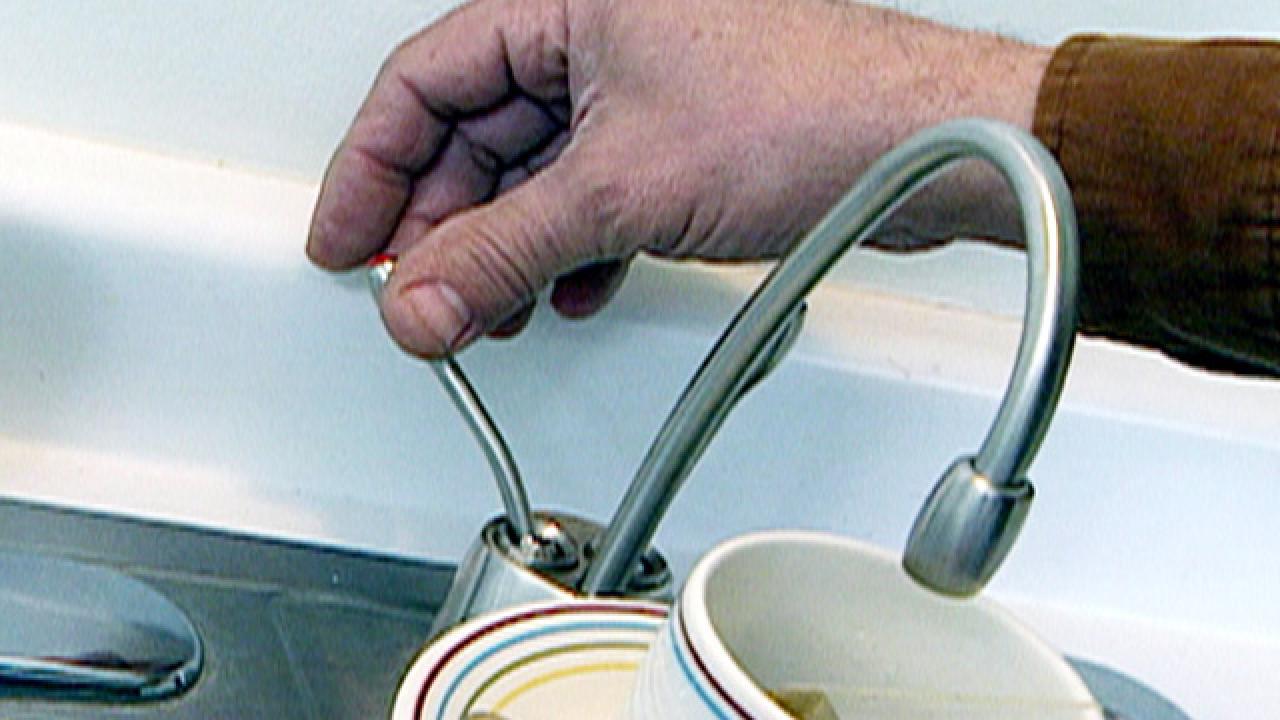 A faucet aerator is a small screen on the end of a faucet that introduces air into the water stream. The purpose is to soften the stream, making it splash less. Restricted-flow aerators help reduce water usage, although certain tasks such as filling the sink, simply take longer. Replace your aerator every 2 years to keep your faucet flowing freely. You'll spend $2 to $22 for a new aerator.
Take your old aerator to your home improvement or hardware store to ensure a proper fit. Environmental Protection Agency-approved aerators will carry the WaterSense label and have the flow rate etched into the side of the device. Some aerators have flow rates as low as .5 gpm, though some homeowners may want a faster water flow.
Sanitizing. Do your kids like to play in puddles and dig for worms? Maybe you do? If so, you might be interested in an ozone-activated antibacterial bath faucet. The Cashido O3On Sanitizer injects a stream of ozone into the faucet water stream, killing germs. The company claims the ozone kills up to 99 percent of all bacteria while remaining perfectly safe for washing and drinking. They come with the technology built into the faucet or as retrofit kits that attach to the aerator. List price: $300.
Motion-activated. A not-too-long-ago novelty, the hands-free faucet is gaining wider acceptance. Newer models, such as the Muirsis Pinnacle in satin nickel ($2,000) include motion-activated on/off, flow control and temperature adjustment with multiple pre-sets. Although some motion-activated faucets operate in a less intuitive manner than conventional faucets—for example, turning up the temperature may require steadily holding your finger in front of a sensor—the novelty is enough to encourage some folks to add them to their bathroom repertoire. These faucets require battery or AC power.
Self-powered motion activated. A refinement on motion activation, which requires battery or AC power, is a faucet that generates its own electricity. Using a tiny turbine that's powered by water flow, faucets from Autotap create and store electricity used to power the infrared sensors that detect motion. The Autotaps AMA-5201 single-hole sink faucet sells for about $350 in chrome finish.
Laminar flow. If you like your water soft and silky—and really, who doesn't?—check into laminar flows faucet technology. Standard aerators add air to the water stream to make the flow feel lighter—the bubbles make the water stream appear frothy white. But laminar flows are created from dozens of tiny, parallel sheets of water. The water flows in a clear, solid-looking stream that won't splash when you're washing your hands. Laminar faucets, such as Moen's Fina ($560), can be WaterSense approved.
Consider factors like bathroom size and features when shopping for a tub for your remodel.