Make These Cute Cactus Push-Pins With Hot Glue
Add a dash of cuteness to your mood board with these 3-step DIY cactus push-pins. It's that easy!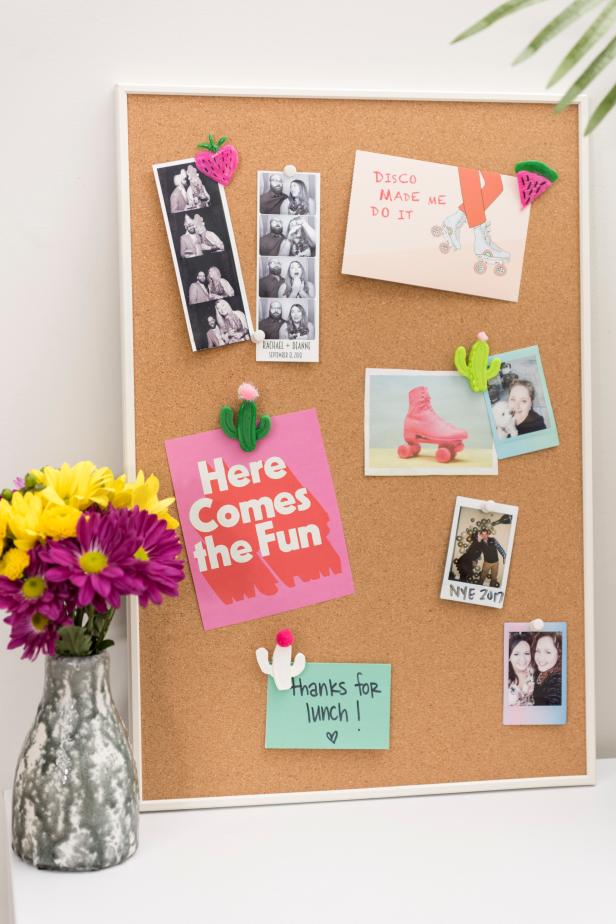 Hot Glue: Strawberry and Cactus Push Pins
Colored hot glue sticks are super fun to work with. You can make anything from magnets to push pins to necklaces only using glue. You'll need a silicone cactus mold and strawberry mold, some green and pink glue sticks and a low temp hot glue gun to make these really cute push pins. Before you start, make sure your glue gun is very hot. Then, flood the mold with green hot glue for the cactus, or pink for the strawberry. Before the glue dries, place a push pin in the middle of the mold with the pin facing outward. Once dry, add a mini pompom with a clear hot glue stick to the cactus, or draw on strawberry seeds with a black permanent marker. Once dry, enjoy!
You won't see any frowns while making this happy little cacti craft. HGTV Handmade's Danielle Boaz shares a quick and easy guide to making mini cactus push-pins with hot glue, a silicone mold and green glue sticks. Add a pink pom-pom topper to each and stick them all around the house.
Place one green glue stick into the low-temp hot glue gun (Image 1). Once hot, fill each cactus mold with melted green glue (Image 2). Before the glue dries, add a push-pin to the center of each cactus, pin facing up (Image 3). Let dry for several hours. Last, use a small dab of hot glue to add a pink pom-pom topper to each cactus (Image 4). Stick these cuties on a mood board or share a few with friends (Image 5).
Hot Glue Guide
Let's go on a hot glue adventure — from low-temp to high-temp, basics to advanced and even ways to clean up those pesky hot glue wisps. Then grab a glue gun and make these nine easy DIYs, including the cutest little cactus push-pins and a party-ready balloon arch.
Vacation starts now. Your plants can hit the road and see the sights in style in this vintage-inspired concrete camper.
Add Southwestern flair to your sewing space with this adorable pincushion.
HGTV's talented team of makers share the craft tools and supplies they can't live without.